Document
Foolproof Guide – How to Unprotect an Excel Sheet
While the integration of "protection" function in Excel strengthens the security of important files, it can also cause many complications if you are not the author of the file (i.e. you may not be able to directly unprotect it) or have forgotten or are unaware of the password (in case of the file being protected through password). This issue is exasperating if the document is protected in any way and thus cannot be edited or formatted by you at all.
There are two types of protected Excel files, one that is barred from editing, and the other type that is barred from opening. The article will provide a solution to both circumstances.
We will provide a comprehensive and easy guide to unprotecting an Excel Sheet or Workbook, thus making it fully editable at your convenience.
Unprotect Excel the Straightforward Way
An author may protect an Excel file through several methods. The most common and straightforward circumstance is when you either have a password available or do not even require a password at all. In this case, the process is quite simple on Excel 2010, 2013, 2016 and 2019.
The file may be "Marked as Final" which makes the spreadsheet "Read-Only", disallowing any further changes to be made to it and a tag will be displayed at the top ribbon. To access such a file, you may simply click the "Edit Anyway" button in the ribbon which will give you full access to edit as you please.
The author also has the option to password-protect a file via "Protect Current Sheet" under "File > Protect Workbook". You may open a file in this case but some of its functionalities won't be available. To edit such a file, click on "Review" tab and then click on "Unprotect Sheet". After this, you can easily enter the password and fully access the Excel file.
If the file has been protected with "Encrypt with Password" option under "File > Protect Workbook", you will be barred from opening the file without entering its password. When you double-click such a file, a prompt will pop up asking for the password to the file. Simply enter the password there and hit Enter. You will have complete access to the file and all its functionalities.
To stop the protections, go to "File" > "Info" > "Protect Workbook", then click on the highlighted boxes.
Unprotect Excel Sheet by Removing Restrictions
If you do not have a password available, you can face many hurdles when trying to edit or format an Excel file.
This is where a very convenient software such as Passper for Excel is a viable option. Passper is highly effective at intelligently and quickly removing any encumbering restrictions from Excel and making a file fully ready to edit and format at your convenience.
Some of the helpful features provided by Passper for Excel are:
100% efficacy at unprotecting an Excel worksheet/workbook.
Simple and intuitive interface that requires no hassle.
Is very broad in its compatibility options, and it can unprotect Excel 97/2000/2003/2007/2010/2013/2016/2019.
You can click this Download button to get Passper for Excel.
Free Download
This step-by-step guide will show you how to use Passper to unprotect your Excel workbook/worksheet:
Step 1: Select the Required Action
After the installation process is completed, launch Passper on your PC and click on "Remove Restrictions".
Step 2: File Selection
Click "Select a File" to choose the Excel file you want to Unprotect.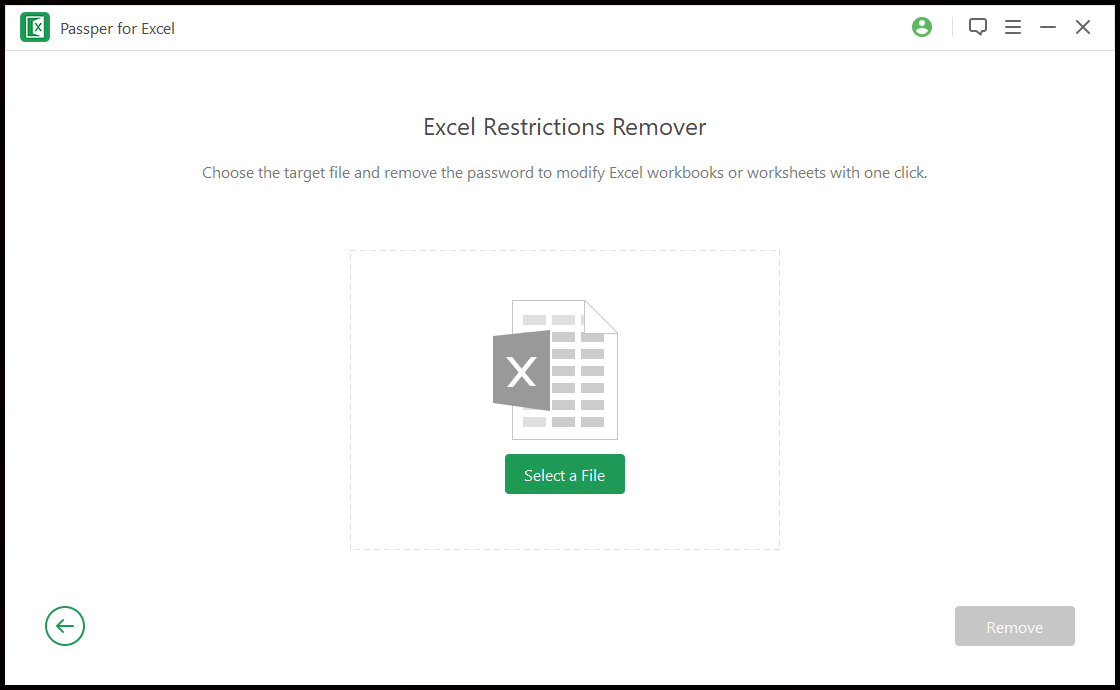 Step 3: Remove Restrictions
After you have selected the relevant file, all you have to do is click the "Remove" button, and all the restrictions from your Excel Worksheet/Workbook will be promptly removed. You will have access to a fully editable and Unprotected Excel File.
So we see that Passper for Excel unlocks a key feature in your digital arsenal allowing you to access a virtually unlimited amount of Excel files at your convenience. It is an application that is definitely worth downloading if you are tired of the hassle associated with working with protected Excel files that present unnecessary challenges.
Unprotect Excel File by Recovering the Password
If you are dealing with an Excel file that is protected with an opening password, Passper for Excel has a prompt solution to address this issue. Passper has the ability to open certain Excel files that have been password-protected and cannot be opened for viewing if you do not have access to the password in question. The relative complexity of the password in question has to be taken into consideration when trying to crack it with Passper (it may not be able to crack overly complex and lengthy passwords).
A simple guide showing how Passper can be used to unlock a Password-Protected Excel File is given below:
Step 1: Select the Required Action
After installing Passper for Excel on your PC, you have to start the program and press "Recover Passwords", and then subsequently press the "+" sign to search for your file and select it.
Step 2: Select Attack Mode
After doing this, you can select from the four different attack modes depending on your specific requirements.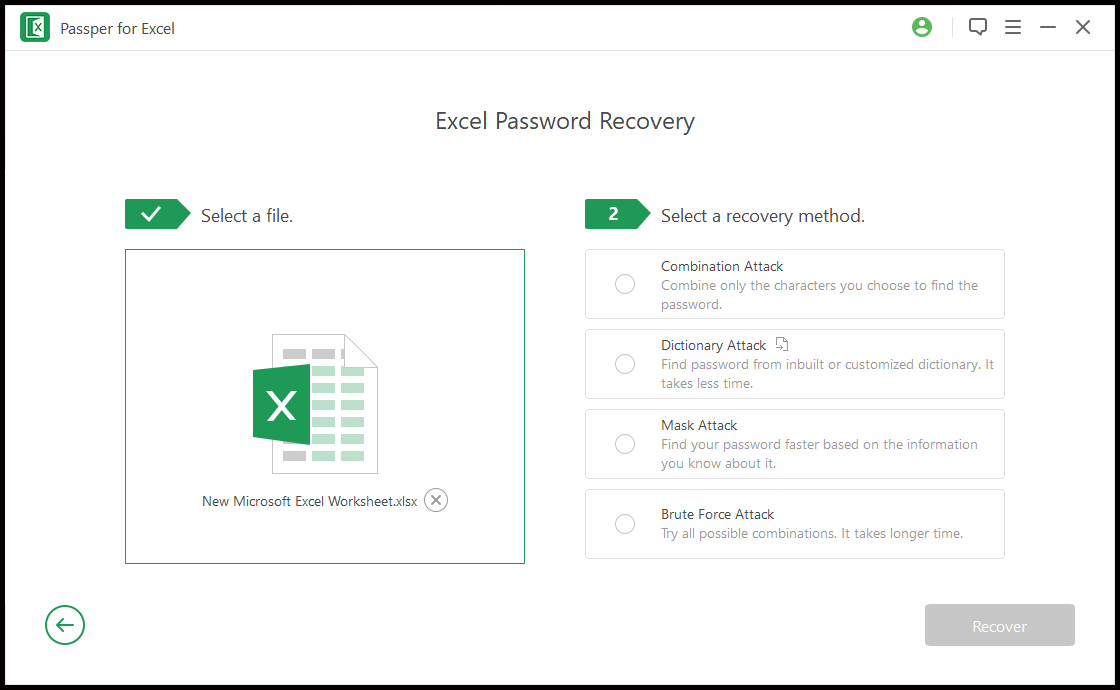 These options give you a wide variety of approaches depending upon your knowledge (or lack of) about the relevant password. This versatile approach promises maximum speed and productivity when dealing with password-locked files.
Step 3: Recovery
After this, all you have to do is click on the "Recover" button and Passper for Excel will begin the process of retrieving your password. The password recovery time depends on the length and complexity of the password.
You can then easily copy the newly acquired password and store it safely. If you are bothered again by a similar issue Passper for Excel will be readily available to aid you in obtaining a password again and unlocking the full use of an Excel file. You can make use of the unlocked password and freely edit and format your Excel Worksheet.
As has been observed in the article, dealing with Unprotected Excel files can be a convoluted affair, it is especially tricky when you have Excel documents that are not accessible at all without a password.
Excel is an exceedingly important tool in the world of business and commerce. These roadblocks can be very costly to deal with and can present a user with many issues that are both financial and logistical.
Luckily, Passper for Excel is there to alleviate all of these concerns, it is a "Fix It All" tool that deals with each and every one of these problems intelligently and efficiently with minimal cost to the user. You can use it to easily remove or crack Excel passwords and unlock the file to have full unhindered access to a spreadsheet. When compared with other programs, Passper provides a much simpler and intuitive setup that surpasses the competition in both technology and convenience.
Free Download