Document
The Best Flipbook Makers for Professional and Personal Use
Imagine being able to present your company's portfolio in an interactive and engaging way, or show off your vacation photos in a fun and animated flipbook. With the right flipbook maker, you can easily turn PDFs, images, and even videos into high-quality flipbooks that will capture your audience's attention.
There are a number of flipbook makers on the market, so how do you choose the best one for your needs? Here are a few things to keep in mind:
Ease of use: The best flipbook makers should be easy to use, even if you're not a tech-savvy individual. They should have a user-friendly interface that doesn't require any coding skills. Buttons and options should be clearly labeled, and the overall process should be intuitive.
Output quality: Although the output quality of your flipbook will be largely determined by the quality of the original PDF or image files, the best flipbook makers should be able to optimize your files for the best possible output. It also must be compatible with a wide range of devices, including PCs, tablets, and smartphones.
Features: When choosing a flipbook maker, consider the type of features that are important to you. This could include things like social media integration, video support, password protection, and more. Some flipbook makers are more feature-rich than others, so it's important to choose one that has the features you need or will need in the future.
Price: While you don't want to skimp on quality, you also don't want to overspend on a flipbook maker that offers more features than you need. Look for a plan that fits your budget and offers a free trial so you can test it out before making a purchase.
Now that you know what to look for in a flipbook maker, here are our top picks.
Best Flipbook Makers for Creating Amazing Flipbooks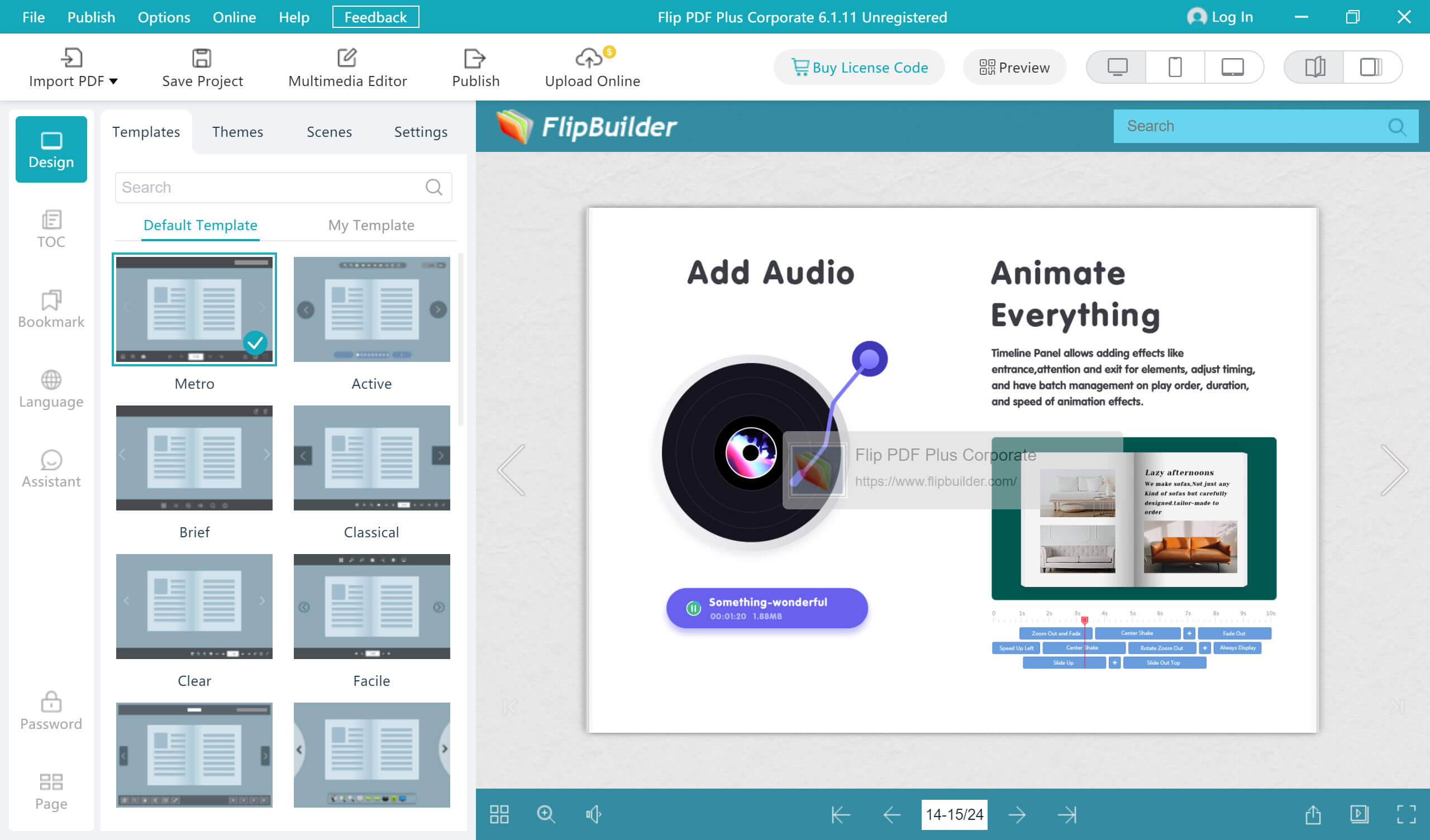 FlipBuilder is a brand that makes powerful and easy-to-use flipbook software that lets you create stunning publications with a few simple clicks. It has three main products: Flip PDF Plus, Flip PDF Plus Pro, and Flip PDF Plus Corporate. All of them are available in both Windows and Mac versions.
The company has a long list of satisfied customers who use its products for different purposes such as creating magazines, eBooks, catalogs, newspapers, and more. The products come with a variety of features and options, making them ideal for individuals and organizations wanting to publish their own digital flipbooks.
With FlipBuilder, you can easily create publications from scratch with images or convert existing PDFs into beautiful flipbooks. The software provides a lot of templates and themes to choose from. You can also add multimedia content such as videos, audio, phone calls, and QR codes to your publications.
In addition, FlipBuilder lets you customize the toolbar buttons and logos of your flipbooks. You can also password protect your publications, add a voice assistant or track their performance with Google Analytics.
What we like:
Available in 26+ languages.
Beautiful designs.
Lots of customization options.
Allows you to save all the settings as a new template for future use.
Has the function of creating a virtual bookcase to display on your website.
You can save your flipbook as HTML, WordPress Plugin, EXE, APP, and APK.
What we don't like:
Pricey for users with just a few or dozens of flipbooks that wish to keep on FlipBuilder's server since their plans do not include free hosting (except that the Corporate plan has one year of free hosting). You will be charged extra for that and it isn't inexpensive.
Heyzine is a cloud-based flipbook software that is simple to use and doesn't require any downloading or installation. It has three pricing plans: The Basic plan is completely free, while the Standard and Professional plans are $49 per year and $89 per year respectively.
With Heyzine, you can create flipbooks from PDFs, Word documents, or presentations. You can also add hyperlinks, videos, audios, forms, and web iframes to your flipbooks.
Heyzine offers a simple and user-friendly operation interface that makes it easy to create flipbooks. It also has a range of features that allow you to customize your flipbooks to suit your needs. If you're looking for a simple and effective way to create flipbooks, Heyzine is a great option.
With no watermark in the free plan, you can create and host up to 5 free flipbooks with unlimited pages. You also get full access to all customization options. The disadvantage is that you won't be able to white brand your flipbooks, download them offline, or get access to customer support.
What we like:
Offers a free plan with no watermark.
Provide good quality products at very reasonable costs.
What we don't like:
You can't convert images to a flipbook.
It would be desirable to have more customizable settings.
FlipBuilder and Heyzine are both great flipbook makers with a variety of features that allow you to create beautiful flipbooks and they're really easy to use. If you're looking for a simple and effective way to create flipbooks, either of these tools is a great option.