Kindle
How to Convert Kindle Cloud Reader to PDF
Important Message: "Download & Pin Book" was cancelled by Amazon Kindle Cloud Reader this year, which means Kindle Cloud Reader now becomes an absolute online-only platform – you can't download anything from it for offline reading.

The way to convert Kindle Cloud Reader was obstructed by Amazon, but you can still convert encrypted Kindle eBooks to normal PDF (and other formats) with an amazing tool called Epubor Ultimate, we have a detailed article about using it to remove Kindle DRM and convert to PDF.
In 2011, Amazon released a web-based version of its Kindle reader for reading and downloading Amazon Kindle books. That is Kindle Cloud Reader, which enables you to read your Kindle purchases online or offline on any device with a web browser. If we could convert the books in Kindle Cloud Reader to PDF, we would be able to read our purchased books on even more applications and reading devices.
I have tried to find where does Chrome stores offline books downloaded using Kindle Cloud Reader and I found them in C:\Users\user name\AppData\Local\Google\Chrome\User Data\Profile 1\databases\https_read.amazon.com_0. They are stored as an SQLite file, but not actual eBook files. SQLite files can't be imported into a program like Calibre for decrypting and converting to PDF. You will need a specific Kindle Cloud Reader converter to finish this job.
KCR Converter is what I found and I recommend it after using. It is used to convert books downloaded from Kindle Cloud Reader to decrypted EPUB/MOBI/AZW3 files. PDF is not included, but after converting protected Kindle Cloud Reader books to DRM-free files, converting the file to PDF is not difficult. You can download the free trial of KCR Converter. We are going to talk about how to convert Kindle Cloud Reader to PDF.
Free Download Free Download
[Detailed Guide] Convert Kindle Cloud Reader to PDF on Windows/Mac
Step 1. Install Kindle Cloud Reader Chrome Extension
Get to Kindle Cloud Reader on Google Chrome. It must be Chrome because the converter only supports books downloaded via Chrome.
The domain name of Kindle Cloud Reader in some countries is as follows.
Kindle Cloud Reader: read.amazon.com
Kindle Cloud Reader JP: read.amazon.co.jp
Kindle Cloud Reader UK: read.amazon.co.uk
Kindle Cloud Reader Canada: read.amazon.ca
Kindle Cloud Reader India: read.amazon.in
After log in to Kindle Cloud Reader with your Amazon account, the web page will remind you to set up Kindle Cloud Reader for offline reading. At this point, you will need to install Kindle Cloud Reader Chrome extension and then refresh the web page.
If you didn't install the Chrome plugin for Kindle Cloud Reader, clicking "Enable Offline" is useless. I have tried using the latest version of Google Chrome but to no avail.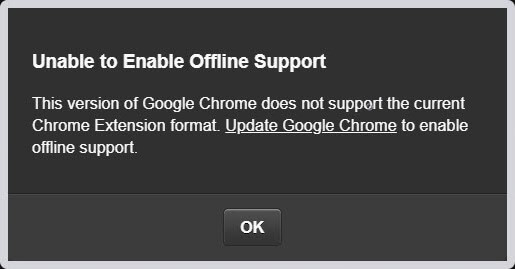 Step 2. Download and Pin Books in Kindle Cloud Reader
After the Chrome extension for Kindle Cloud Reader is already installed, Kindle Cloud Reader allows users to download & pin books. Move your cursor to the book cover, right-click on it, and select "Download & Pin Book".
The book is downloading and pinning. Your downloaded book will be displayed in "Downloaded".
Step 3. Launch Kindle Cloud Reader Converter to Decrypt Books
Launch KCR Converter on your PC or Mac. The books you have downloaded in Kindle Cloud Reader will be auto-synced to this program. Check the wanted books, and then you can click on "Convert to EPUB" or select another output format. The converted books' location can be easily found by clicking the folder icon.
Step 4. Convert DRM-free Kindle Books to PDF Format
Many reading software can open EPUB/MOBI/AZW3 files directly. But if you want to convert to PDF, that's simple. You can choose a free tool like Calibre.
KCR Converter is the only software I have found that can convert Kindle Cloud Reader books to DRM-free files. The free trial version allows you to convert three books. You can download it and have a try.
Free Download Free Download