Audiobook
How to Convert Audible Audiobooks to MP3 on PC/Mac
Audiobooks (whether it is a paid book or a free book) that coming from Audible are under the protection of DRM. Audible DRM allows its books to be played only on a platform or an application authorized to the Audible account. Though it supports major platforms, there are still some devices that you might want to play on cannot play Audible books.
In situations like this, you can convert Audible to MP3 and remove its DRM. MP3 is the most widely used audio format. Almost all the playback devices, even some of the car audio head units support MP3. It is not hard to convert Audible, you just need to download the Audible book to your computer as an AAX or AA file, and import them to an Audible to MP3 converter for decryption & conversion.
Audible Converter is designed for this purpose, and you only need two main steps to convert Audible to MP3 – add downloaded books to the program, and then click on "Convert to MP3".
Main Features
Convert Audible AAX/AA files to MP3, M4B.
Support batch conversion.
Allow splitting the books by chapters.
100% decrypt and convert purchased Audible books with only 1 click.
Download the free trial of Audible Converter and let's start to convert Audible to MP3.
Free Download Free Download
4 Simple Steps to Convert Audible AAX/AA to MP3 Format
Step 1. Download Audible Books to Your Windows or Mac
Step 1 is the relatively most complicated step. The key is to get a .aax/.aa audiobook file after download. You can only download Audible books on Windows or Mac for generating the files in AAX or AA format. If you downloaded an Audible book on your Android, what you might get is an AAXC file. None of the converters can decrypt AAXC files at this moment. So remember to download books on your computer.
On Mac: Visit the Library page of Audible desktop site and click on "Download".
On Windows 8.1/8, 7: Visit the Library page of Audible desktop site, click on "Download", and use Audible Download Manager to open the file.
On Windows 10: Install "Audiobooks for Audible" in Microsoft Store and download the AAX files like the image below.
Tips: We have written a detailed article about how to download Audible books on Windows 10, 8.1/8, 7, and Mac. If you encounter any problems while downloading the book or finding the download location, please click the link to read before going to the next step.
Step 2. Import AAX/AA Files to the Audible to MP3 Converter
There are two ways to import the downloaded books. One is you can click on "Add" to add books, the other is you can drag and drop Audible books in bulk to the program.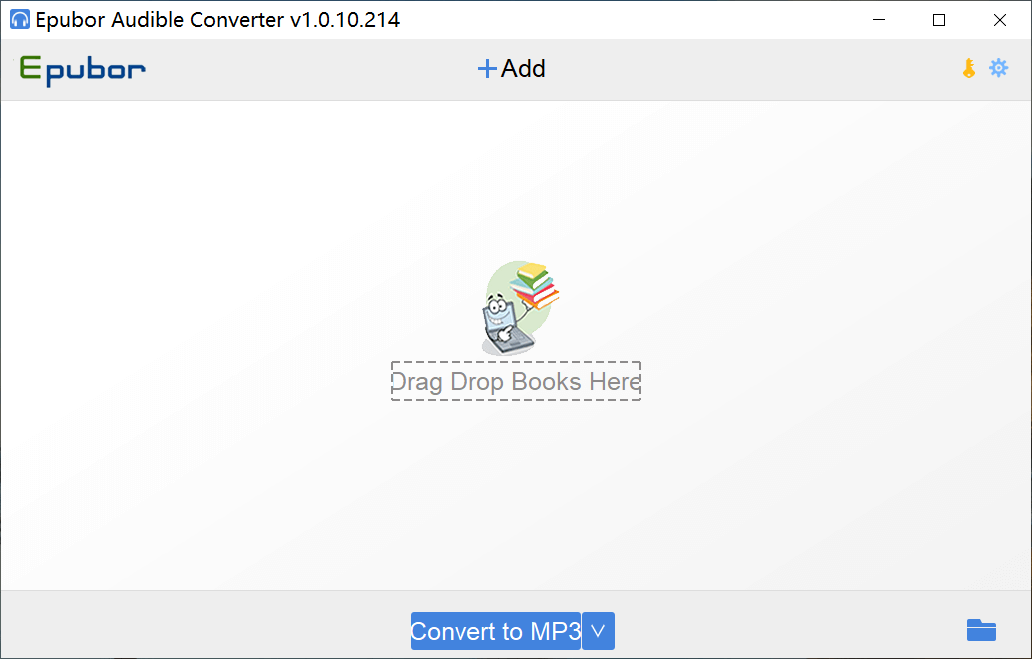 Step 3. Click on "Convert to MP3" to Convert Audible Books
When you click on "Convert to MP3", the Audible books will be decrypted and converted all at once.
Step 4. Click on the Folder Icon to Check the MP3 Files
The program can convert Audible books to MP3 at the fastest speed. After done, click on the folder icon on the bottom right to find the location of your MP3 audiobooks.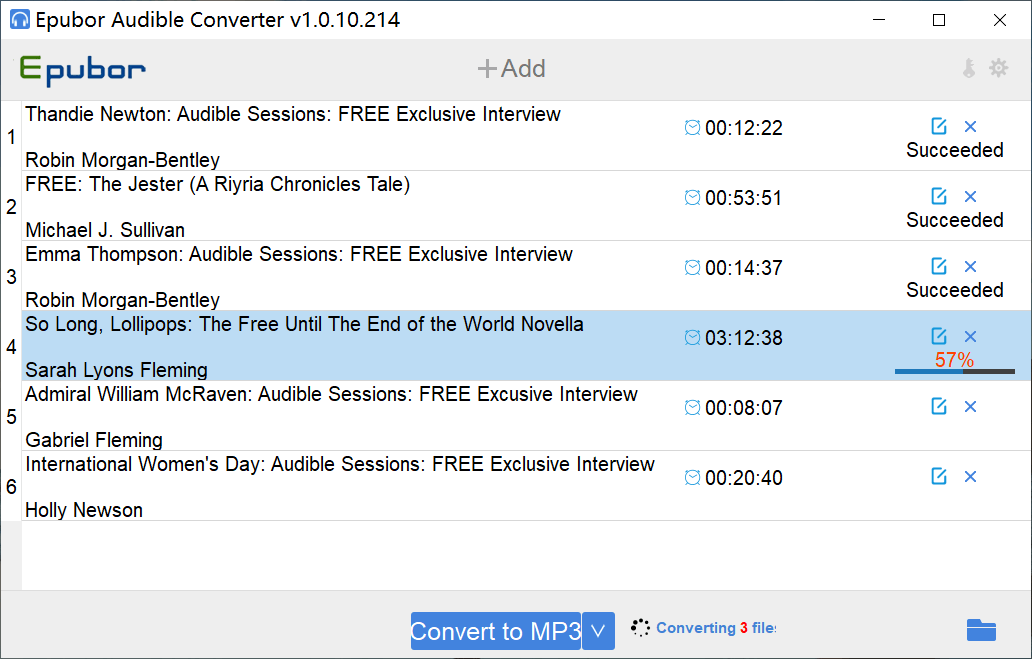 When using the trial version, it is notable that Audible Converter can only convert a few minutes of each of your Audible books. So, it would be normal that you found the length of the converted MP3 file was shorter than the original one. After purchasing the license, all the limitations will be removed. If you tend to do that, please download the free trial and check if it can successfully convert.
Free Download Free Download