Document
How to Convert PDF to Flipbook in 4 Easy Steps
If you want to create a digital version of your PDF files that is more engaging and interactive than the traditional PDF, flipping book software can help. Converting PDFs into interactive flipbooks is easier than ever before thanks to new conversion tools designed specifically for the task.
This type of software usually offers a wide range of features and customization options. In just a few easy steps, you can convert your PDFs into stunning digital publications that can be viewed on any device.
In this article, we'll show you how to convert a PDF to a flipbook using Flip PDF Plus by FlipBuilder, a top-rated flipping book software. Follow these simple steps and you'll be creating amazing digital publications in no time that will keep people engaged and interested in what they're reading.
The key features of the FlipBuider programs include:
Convert PDF or images to page-flipping brochure, magazine, catalog, eBook, etc.
Various built-in templates and themes.
Customize the appearance of your book with colors, branding, etc.
Add multimedia like audios, videos, images, links, hyperlinks, and buttons.
Share your flipbooks online or make them available as an EXE, APP, or APK for offline viewing.
Integrate with your website or blog.
Offer free trials so you can test the products without spending a dime.
And much more!
Let's get started!
Converting Your PDF into Eye-Catching and Interactive Flipbook
The first thing you need to do is download and install the software onto your computer. There are three different plans available: Flip PDF Plus, Flip PDF Plus Pro, and Flip PDF Plus Corporate. You can find the comparison chart on their pages to see which one is best for you. As previously said, we'll be using Flip PDF Plus for this tutorial. You can get it from the official website or by clicking the button below.
Step 1: Import your PDF file
The first step is to select the PDF file that you want to convert into a flipbook. This can be done in several ways, including dragging and dropping your file or clicking "Import PDF" on the program's interface.
If you want to convert multiple PDFs at once, go with the "Batch Convert" button and set some basic parameters for all of the flipbooks.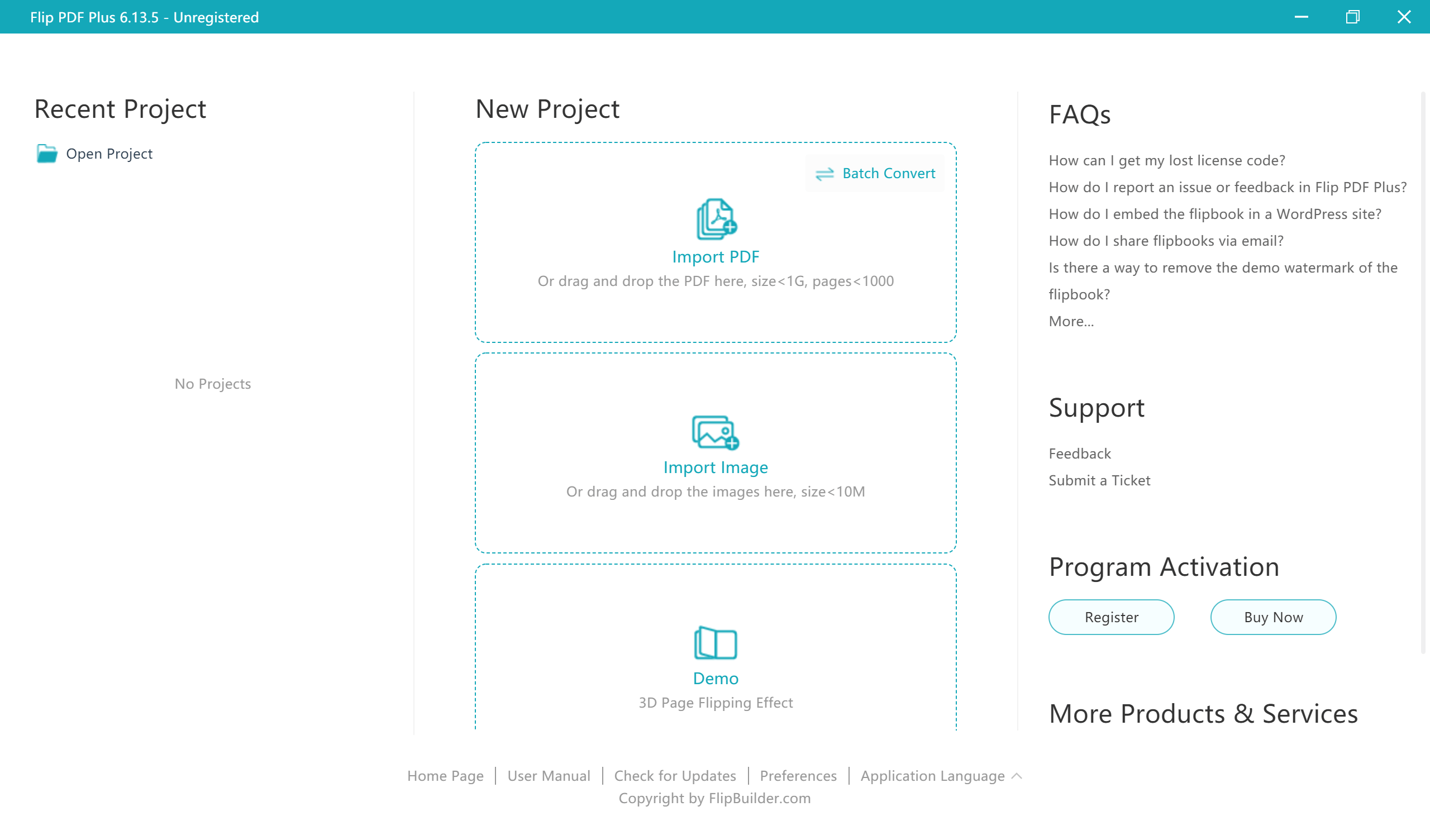 Step 2: Customize your book's appearance
After your PDF has been imported, it's time to start customizing your flipbook to make it look how you want. This is where the fun begins as you can really let your creativity shine through.
There are a variety of built-in templates, themes, and scenes to choose from that will help you get started, so take your time to browse through them and find the perfect one for your needs. You can also customize the colors, logos, background music, and more to really make your flipbook stand out.
If your PDF document doesn't include a table of contents, you can add one or create bookmarks on the pages to make browsing easier for readers.
Step 3: Alter the language as desired
This step is entirely optional, but if you want to change or add a display language to your flipbook, it's easy to do. Just click on the "Language" tab and then select one or many languages from the options. There are 20 different languages to choose from.
This won't change the actual contents of your PDF document, but it will change the language of any tooltips or pop-ups that appear throughout your flipbook. It's a great way to make your publication more accessible to a wider audience.
Step 4: Publish the flipbook
Determining how you want to publish your flipbook is the next step. You can host it online, make it available for offline reading, or even distribute it as a WordPress plugin or an app in the application store. If you choose to host it online, you can do so with FlipBuilder's servers or your own.
Once you've decided how to publish your flipbook, click on the "Confirm" button and wait for the process to finish. Within a few minutes, you'll have a flipbook version of your PDF document that can be used for a variety of purposes.
That's it! You've now successfully converted your dull, static PDF document into animated, fully functional flipbook pages that are easy and fun to browse through. Not only will your readers be more engaged with your content, but you'll also be able to track their activity and gather valuable insights into how they interact with your publication.
If you haven't tried it yourself yet, it's time to put your newfound skills to the test. Grab a PDF document and get started. You might be surprised at just how easy it is to create a visually appealing flipbook from your PDF document.
Free Download Free Download
*The free trial of Flip PDF Plus allows you to add 12 pages and has a watermark. Aside from these two limitations, you have complete freedom to use all other features.