Document
How to Crack Word Document Password without Software
Rather than installing software, you may prefer to find solutions that do not require downloading extra software first. But is it possible to crack Word documents only with system tools? Maybe you can try using VBA (Microsoft Visual Basic for Applications), but it needs you to write the execution statement yourself and it isn't as good as some free open-source password crackers such as John the Ripper. Having said all of above, the best way to crack Word document password without using software is to find some online Word password crackers. Here we list two sites for your reference.
Crack Word Document Password with Online Password Decryptor
LostMyPass runs on the Cloud, which means there is no need to use your computer resources to run the cracking process. You give them your Word document, and they will perform calculations with their computing cluster. You can then close the website window and wait for the result from mail notification.
Step 1. Click on "TRY IT NOW!"
Go to the homepage of LostMyPass and click on the red "Try IT NOW!" button, or you can go through this direct link.
Step 2. Upload Your Word Document
Drop your Word document to the box or click on the upload button. Weak Password Recovery will automatically start after the Word file upload is complete.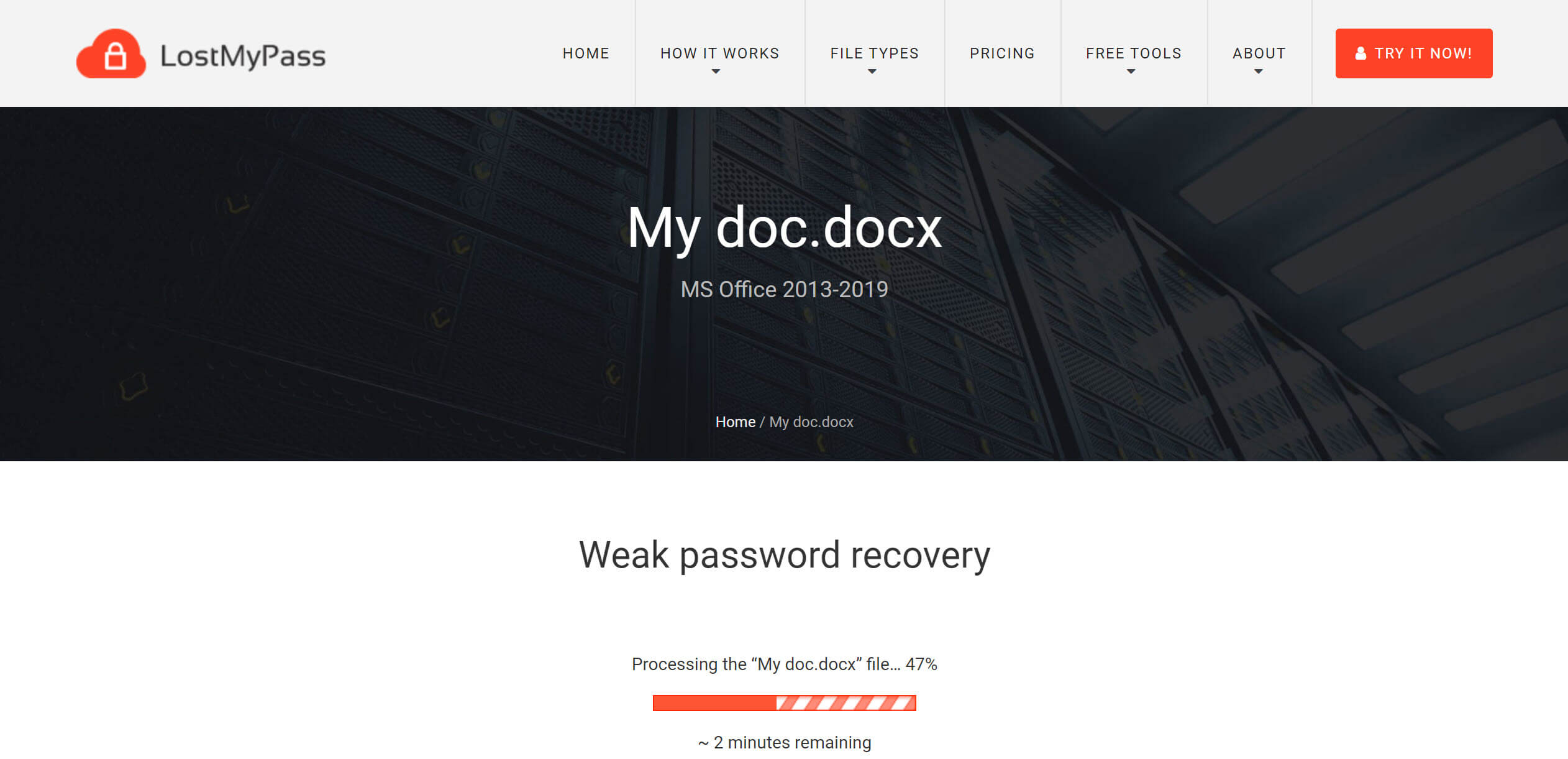 Step 3. Process Strong Password Recovery if Weak Password Recovery Failed
If Weak Password Recovery successes, that's great! You can get your Word password back for free. But in most instances, we may not be so fortunate. At this point you need to consider whether to verify your email to run Strong Password Recovery because this is not a free service. If that works, you will have to pay to get the password back (it's okay not to pay, you just don't get the password). Take an MS Office 2010-2019 Word document as an example, it takes 49 USD to take back the successfully cracked password.
Step 4. Process Custom Password Recovery if Strong Password Recovery Failed
I tested with a Word document with password 0412. The Strong Password Recovery successfully recovered it within 24 hours. What if Strong Password Recovery is still failed? Well, the last thing LostMyPass can provide is Custom Password Recovery. It will have a box for you to fill in the information you know about the password. The more detailed the better, such as what characters are there and what the positions are.
They will get in touch with you by email later, mainly to inform you of the price and ask if you are willing to continue. It takes 199 USD to get the password back from Custom Password Recovery.
The steps to use Word Password Recovery Online from PASSWORD Online-Recovery are really similar to LostMyPass, so I don't have to write them again. You only pay for results; you don't need to pay anything if the decryption failed.
The biggest difference may be the price. The cost of PASSWORD Online-Recovery service is 10 Euros.
If "Crack Word Document Password Without Software" Is Not for You, Here Is Another Way You Can Try
There are pros and cons to different ways of recovering Word passwords. Online Word document password removers are convenient because you just need to let them handle your Word file and then wait until they give the file back to you (maybe with the password together), but that will bring privacy concerns. Second, "Pay only for successful recovery" means the single price will be higher. For people who have lots of Word files to recover, it is not cheap.
Here are several main advantages of cracking Word document passwords with software, for example, Passper for Word.
Despite "dictionary attack" and "brute force", it offers "combination attack" and "mask attack" at the very beginning. The more you know about the password, the shorter the decryption time it takes.
If you don't care about the time spent so much, you can run the software on a computer for a long time to decrypt unlimited Word documents (Note: It might take seconds, hours, weeks, months, years, and sometimes, forever, to decrypt a Word document, which depends critically on the password complexity).
You don't have to concern about your Word document privacy. This is software that does not need Internet connection once it downloads the dictionaries. No document will be uploaded to the server.
Here I'm going to show how to crack Word document passwords with Passper for Word. It's a popular Word password recovery software with three plans for choosing: $19.95 (1-Month Plan), $29.95 (1-Year Plan), and $49.95 (Lifetime Plan).
Step 1. Download and install the software on your Windows PC.
Step 2. Since we want to recover the opening password of the Word document, so tap on the "Recover Passwords" module.
Step 3. Upload your Word document and select a recovery method.
As long as you know a little bit of information about your Word password, you can use Mask Attack to reduce the time it takes.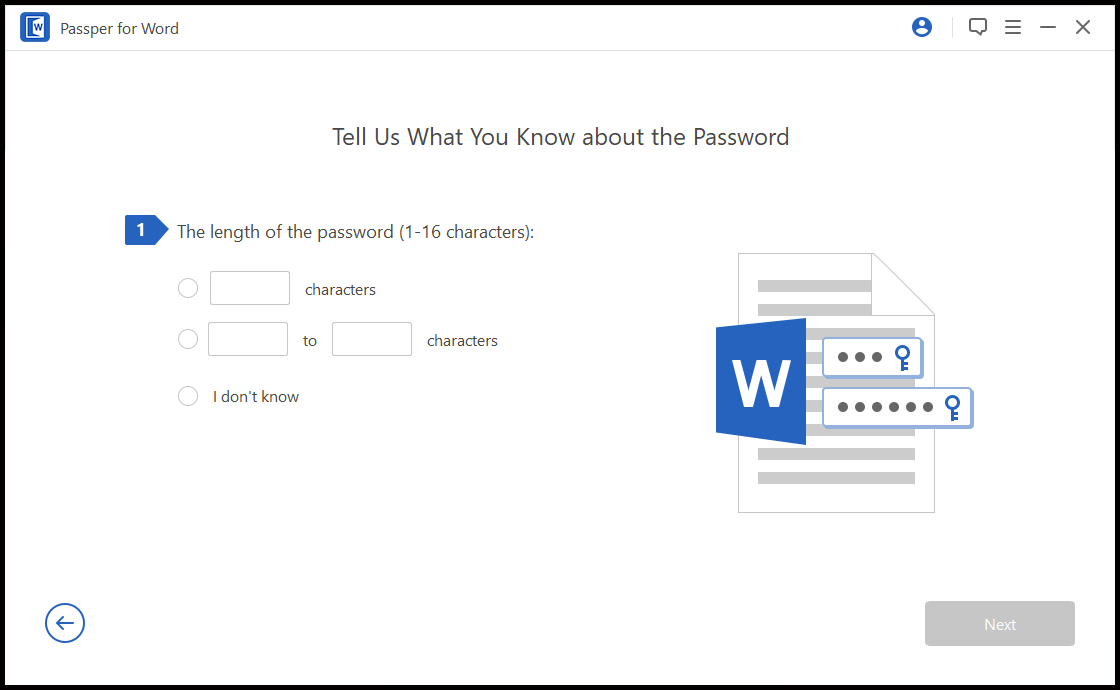 Step 4. Start recovering Word document password.
To sum up, if your password is very complex and you have completely forgotten it, I will recommend you to crack Word document password without using software, although it will cost a hefty price for recovering using an online password decryptor. Is the Word document worth it? This may be the most important question.