Kindle
How to Convert ACSM to Kindle
ACSM to Kindle is one file problem in which a conversion is really needed. For those who are using Kindle e-readers, ACSM-to-Kindle is a hindrance to your reading. Read on to know why you can't read ACSM on Kindle and what ways you can do to solve this problem.
But, before we get to the ACSM-to-Kindle solution let's first know what ACSM means and what's keeping these files away from Kindle devices.
What is an ACSM File?
An ACSM file is a short abbreviation of Adobe Content Server Message. It is a message file for a specific software namely, Adobe Digital Editions. Unlike what most people believe, ACSM only contains data to activate and download an eBook, and is not the eBook itself.
For example: When you download an eBook online what you are really downloading is an ACSM file, not an actual eBook. That ACSM file will serve as an authorization link to the actual book allowing your device to download "a copy" of the book.
So why can't you open an ACSM file on Kindle?
The answer lies behind these reasons:
It can only be open through ADE. Since ACSMs are made by Adobe it is obvious that they can only be using Adobe software. In fact, the only eReader software that Adobe permits to open an ACSM file is Adobe Digital Editions.
DRM-protection. The actual books from your ACSM files are encrypted with DRM. DRM serves as a restriction to anyone who'll try to distribute copies of the file illegally.
Kindle format restrictions. Kindle also has restrictions on its own. While Kindle has a variety of supported formats, not all can pass its software, including ACSM formats.
Well now, how will we be able to open our ACSM file on Kindle? Based on the reasons discussed above there are a few things we need to do. 1. Download ADE 2. Remove DRM-protection 3. Convert ACSM to a Kindle-supported format.
How to Convert ACSM for Reading on Kindle eReader
Step 1. Open ACSM File with Adobe Digital Editions
For this step you will need to install and use Adobe Digital Editions. Why? Because opening the file directly is useless unless you open through ADE. Adobe Digital Editions can also automatically restore the ACSM file to EPUB or PDF (depending on your choice when you download the book).
While PDF has already become Kindle supported format, EPUB is still not. And even after your ACSM got changed to PDF/EPUB, the DRM is still in the file. So not just conversion, you'll need to do DRM decryption.
Follow the steps below orderly, as to how to use Adobe Digital Editions effectively.
⇨Download and Install Adobe Digital Edition software.
⇨Create an Adobe account/ID and then after, authorize the program using the Adobe account/ID you just created.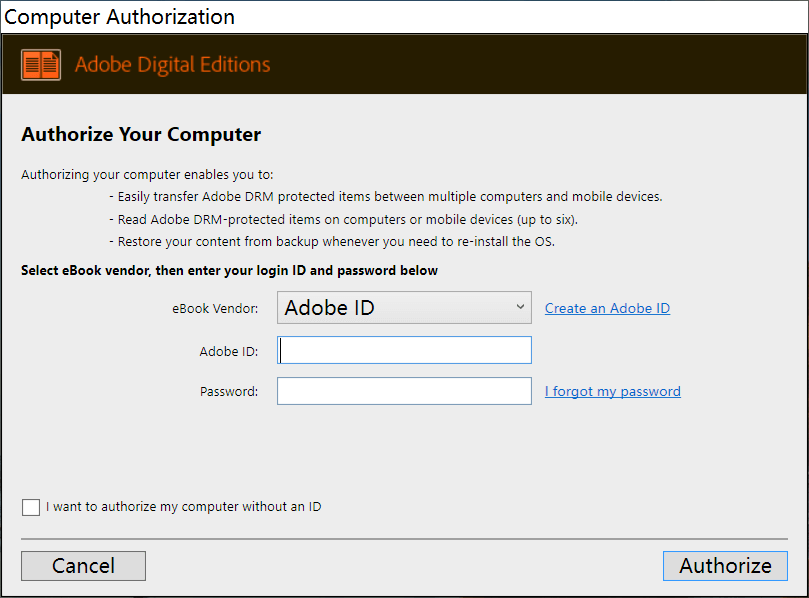 ⇨Locate the file on your computer, click the file and by default it will appear in the Adobe Digital Editions software.
⇨After opening your ACSM file using Adobe Digital Editions, you'll find that these files are now in EPUB (or PDF). The output path of the Adobe Digital Editions files is located …Local\Documents\My Digital Editions… or right-click the file and click show file in folder.
Now, since EPUBs are not included in the list of Kindle-supported formats, we'll have to convert EPUB to MOBI.
MOBI is one of the Kindle-friendly formats together with DOCX, RTF, HTML, TXT, PDF and more.
As we have previously talked about, the file or book extracted from your ACSM link is still bound to your account or computer because of its DRM protection. Therefore, you still can't share, copy, or transfer the file to another device. So meaning to say, you'll need to remove the DRM first before you can transfer it to your Kindle device.
That is why the tool we will be needing for the next step is a tool that can do both conversion and DRM decryption.
Epubor Ultimate is a tool that you can use to convert an EPUB to any Kindle-friendly format. It also has the capability to remove DRM from legally acquired books.
Step 2. Convert ACSM to Kindle MOBI
The steps below show how to convert an ACSM file using Epubor Ultimate. Epubor Ultimate is easy to use so you won't have any problem tagging along.
⇨After installation open the app then go to Adobe selection. 
⇨ Drag the file to the right pane.
⇨ Once you transfer your file to the right pane Epubor Ultimate will by default, remove the encrypted DRM.
⇨ Set the "Convert to" option to MOBI format or any format that Kindle supports and click Convert to.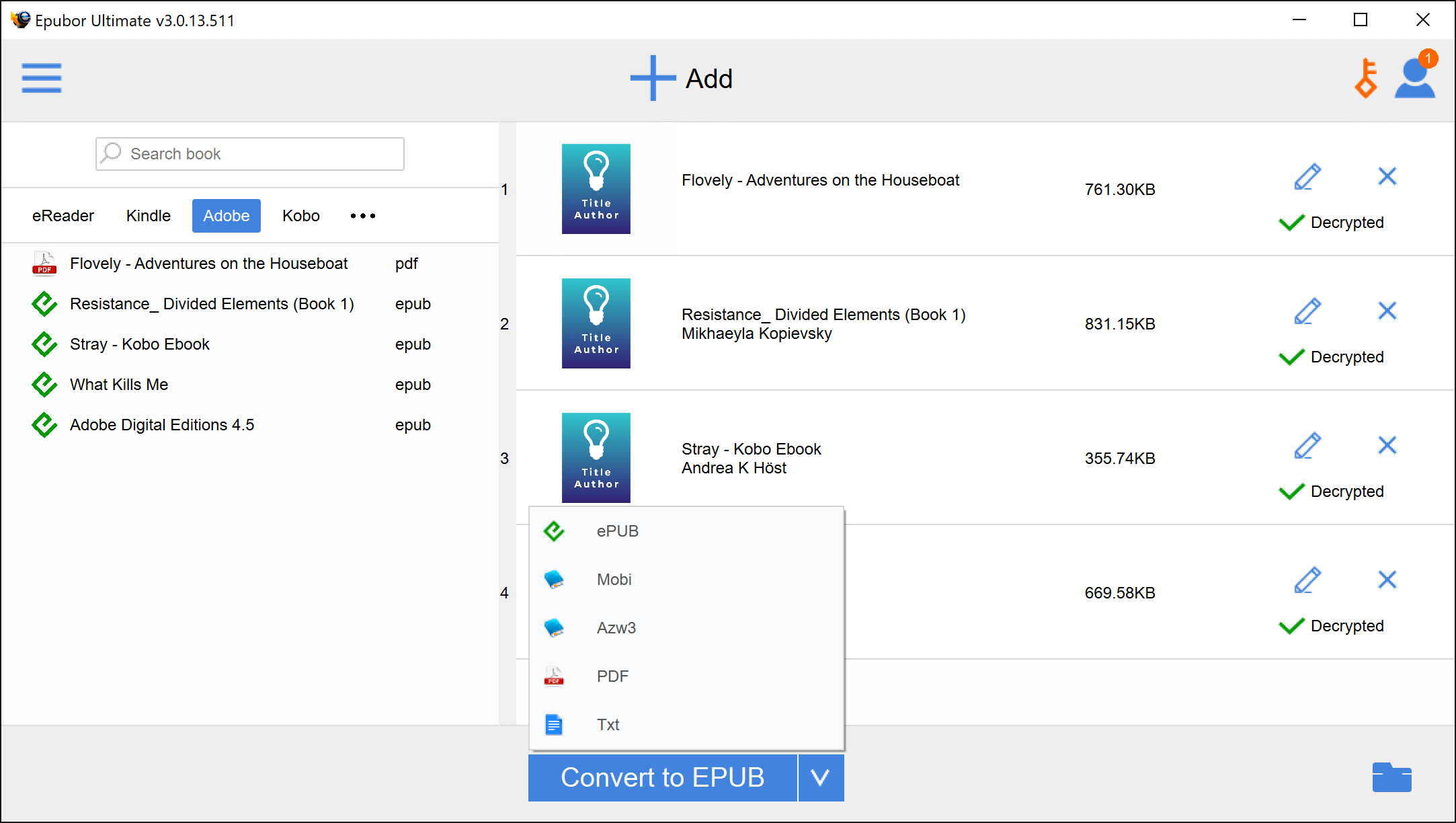 ⇨Click the output folder beside the "Convert to" option, there you can see your converted files.
Transfer ACSM to Kindle
Now that you have successfully converted your ACSM files, it's time to transfer them to your Kindle device.
⇨Using a USB cable, connect your Kindle device to your computer. Then, copy your newly converted files to your Kindle document folder.
⇨At the homepage of your Kindle you'll see the list of newly added files. There, you can open the file for reading.