Document
Useful Online Tool to Unprotect Excel Sheet
Description: If you need to edit or open an Excel sheet that has been password protected and you don't know the password, then read this tutorial. It will show you how to unprotect your Excel files online without downloading any software.
Introduction
Microsoft Excel, one of the mostly used applications by a lot of business people and accountants, has been available since 1989 as a part of the Office pack. There's a lot to love about Excel. It has all sorts of tools for data analysis and reporting, includes many different types of graphs and calculation methods to help you understand your numbers more clearly.
Since Excel sheets are usually used for important data storage, sometimes it is necessary to protect cells from unauthorized access. A restrict-editing password can be set to prevent unauthorized users from altering the sheet or individual cells. Users can also protect multiple worksheets at once by locking the entire workbook, preventing others without a password from viewing it.
In these cases, it becomes necessary to unprotect the Excels before modifying them or sharing them with others. However, if you have forgotten the password, or if it was set by someone else and you no longer have access to it, the task can seem daunting.

Fortunately, there are a few online crackers that can help you unprotect your Excel sheets without having to download any software. In this article, I will show you one of the easiest and most popular methods:
password-find.com
Let's take a look at how it works.
How to Unprotect Excel Sheet Online?
Password-Find is a website that offers to recover lost Excel, Word and PowerPoint passwords without the need for any software. The process is very simple.
First, you need to click "UNPROTECT YOUR FILE" on the homepage of Password-Find.
After that, click "Browse" and choose the Excel file you want to upload. The maximum size is 20 MB so make sure your spreadsheet isn't too big.
Once the file has been uploaded, click on the "Next step" button.
You will then be asked to choose the unlock approach. The first option is "Remove password", Removing the password will unprotect the Excel sheet so that anyone can edit it.
The second option is "Find password". Finding the password will allow you to unlock the Excel sheet with the original password.
That is to say, if your Excel file can be opened, but editing permissions are restricted or the Excel VBA code is locked, you should pick the first option; but if you don't have access to the contents of the Excel file because you don't know the opening password, you must choose the second approach.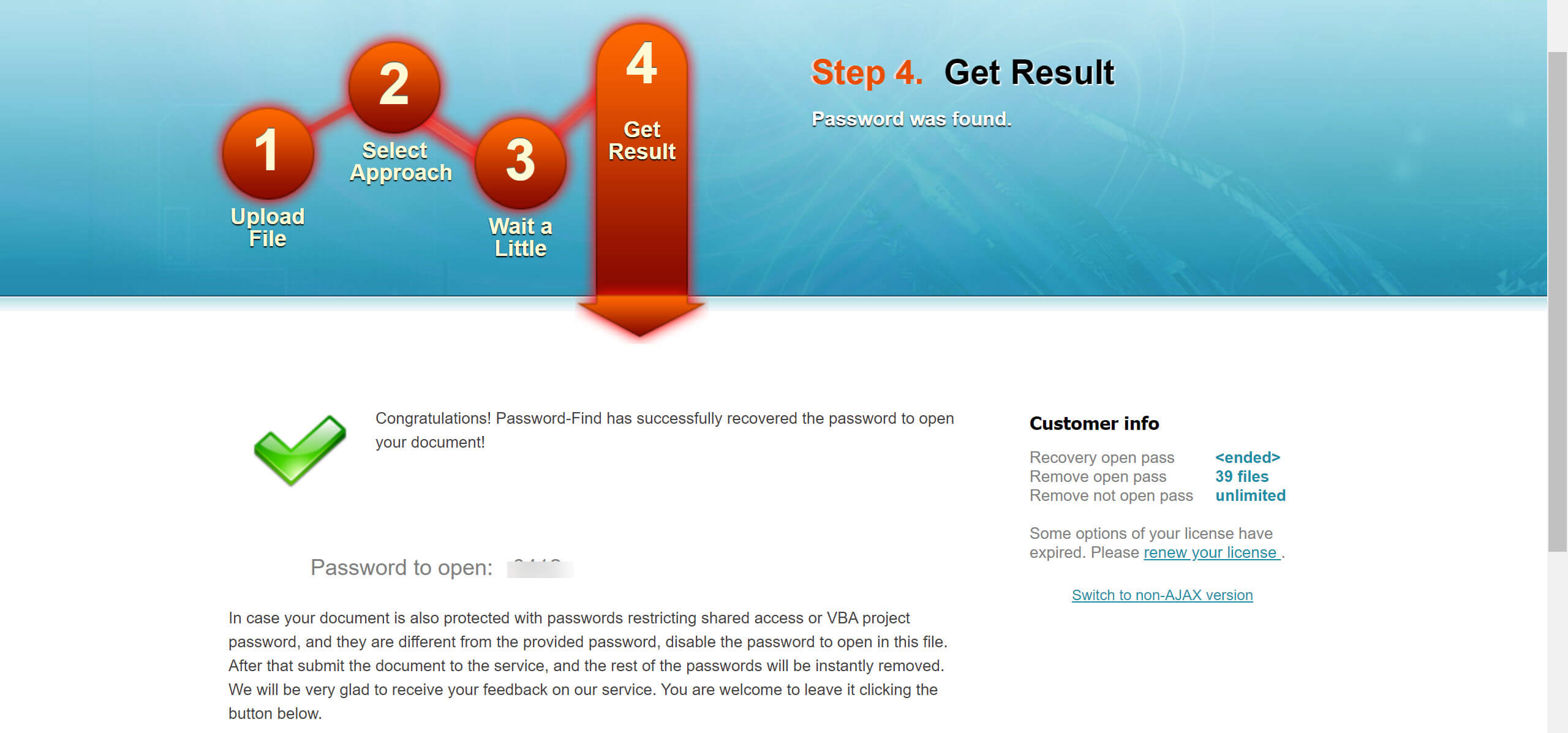 Password-Find will then try to recover the password for your file. You will be able to see it on the screen if the recovery is completed within 24 hours. Then you can download the Excel file to view and edit the sheet as you please.
Overall, it is a fairly quick and simple operation. The tool should be able to handle all Microsoft Office files dating from Office 97 onwards.
What Are the Advantages and Disadvantages of Excel Password Removal Tool That Operates via the Internet?
Thoroughly understanding the advantages and disadvantages of any tool before buying it is critical, and the same is true for Excel password removers.
The advantage is obviously that you don't have to download any software to your computer, which can be helpful if your computer is already overloaded with programs.
Another benefit is that web applications will employ supercomputers comprised of many GPU farms, which can execute faster than a regular home computer. Unlike software, shutting down your PC won't have an impact on the cracking process.
Mac users, on the other hand, will almost always require an online Excel password remover since most password removal programs lack a Mac version. They only function on Windows systems.
Disadvantage of online removers is that you have to upload your Excel file to a third party website, which could be risky if the website is not reputable or if it gets hacked. In this respect, Password-Find is relatively a reliable and safe website to use. It allows you to delete your Excel file right away after removing the password. If you don't take action yourself, the server will automatically delete it after 24 hours.
Another thing to consider is the cost. When it comes to finding a forgotten password, online tools charge per file cracked. If you only have one Excel file to recover, internet services and software applications (such as the popular Passper for Excel) are usually comparable in price; but if you have many, the cost of online solutions will be far greater, since once you've purchased the software, you can use it without limitation.
It's important to weigh these pros and cons befores making a decision about the right tool for the job.
Conclusion
As you can see, Password-Find is a website that can be very helpful in recovering lost Excel passwords. The process is straightforward, and the website is reliable and safe. So if you have an Excel file with a forgotten password, give Password-Find a try. It just might be the solution you're looking for.