Document
How to Password Protect a ZIP File on Window 10 [Detailed Guides]
Why Encrypt a ZIP File?
ZIP (with .zip file extension) is an archiving format that used to pack and compress various digital files to save device space, ease file management, or ease the transfer process. Generally there are two situations where we need to encrypt a ZIP file.
Number one is storing some personal files on a public computer. It could be a PC at the office, or a home computer that other family members could access, and you don't want others to open or inadvertently make changes to the files. In this situation, remember to delete the unprotected original files and folders after you package them in a password-protected ZIP.
Number two is sending some files to intended people only. In this situation, you'd better send the ZIP archive and its password through different platforms to increase security, such as if you print a bank statement from the app, the bank may send you an encrypted package by E-mail but the password remains on its app. You cannot get both the archive and the password on the same platform.
Dropping a document into a password-protected ZIP archive will NOT make the document also protected. The file will remain in a normal area and can be accessed without entering the password.
Next, I will show you how to password protect a ZIP file on all Windows 10 computers with these two most used archiver extractor programs: WinRAR and 7-Zip.
For Windows 10 Professional, Windows 10 Enterprise, and Windows 10 Education users, you can also use the Encrypting File System to protect your ZIP packages. This method is not suitable for file transfer but it is suitable when your machine has multiple user accounts and you are the only one who can access the administrator account.
How to Put a Password on a ZIP File with WinRAR
WinRAR traces its history back to April 1995. and it's now the best-known file archiver.
When you download the program from their official website, you can see the "Download" button along with the "Buy" button. For individual users, you can see it as freeware. The differences between the trial and the paid versions? Only two. The nag message about your trial expiring, and the Logging function that people rarely use. Needn't purchase it, so to speak.
Here's how to use WinRAR to password protect a ZIP file on your Windows system.
Step 1. Select "Add to Archive"
Right click the folder or the files, and click on "Add to archive" with a WinRAR icon at the front.
* If you already have an unprotected ZIP file saved on your computer, you need to extract the ZIP to a folder before you add it to an archive.
Step 2. Set "Archive format" to ZIP, and Click on "Set password"
The default option is to save the package as RAR. But since what we want is a ZIP file, we should change the "Archive format" to ZIP. Then click on "Set password".
Step 3. Enter Password to Protect the ZIP
Input a password, re-enter the password, and then you can hit "OK" twice to confirm. A Compressed (zipped) Folder file with a .zip extension will be created.
Note that, WinRAR uses AES-256 CTR mode to password protect a ZIP file by default. This is an enhanced encryption algorithm but it may not be compatible with some old extractors. If you care about this, you can check the "ZIP legacy encryption" checkbox to choose a weaker but strong compatible encryption method.
How to Use 7-Zip to Password Protect a ZIP File for Free
7-Zip is the file extractor software that I will install every time I get a new PC. Thanks to its free open source, clean, powerful, and safety, it becomes the best free WinRAR alternative.
Follow the steps below to password protect a ZIP file or folder(s) with 7-Zip,
Step 1. Download and Install 7-Zip on Your Window 10 Computer
Go to 7-Zip's official download page. We suggest you download the stable version instead of the beta one.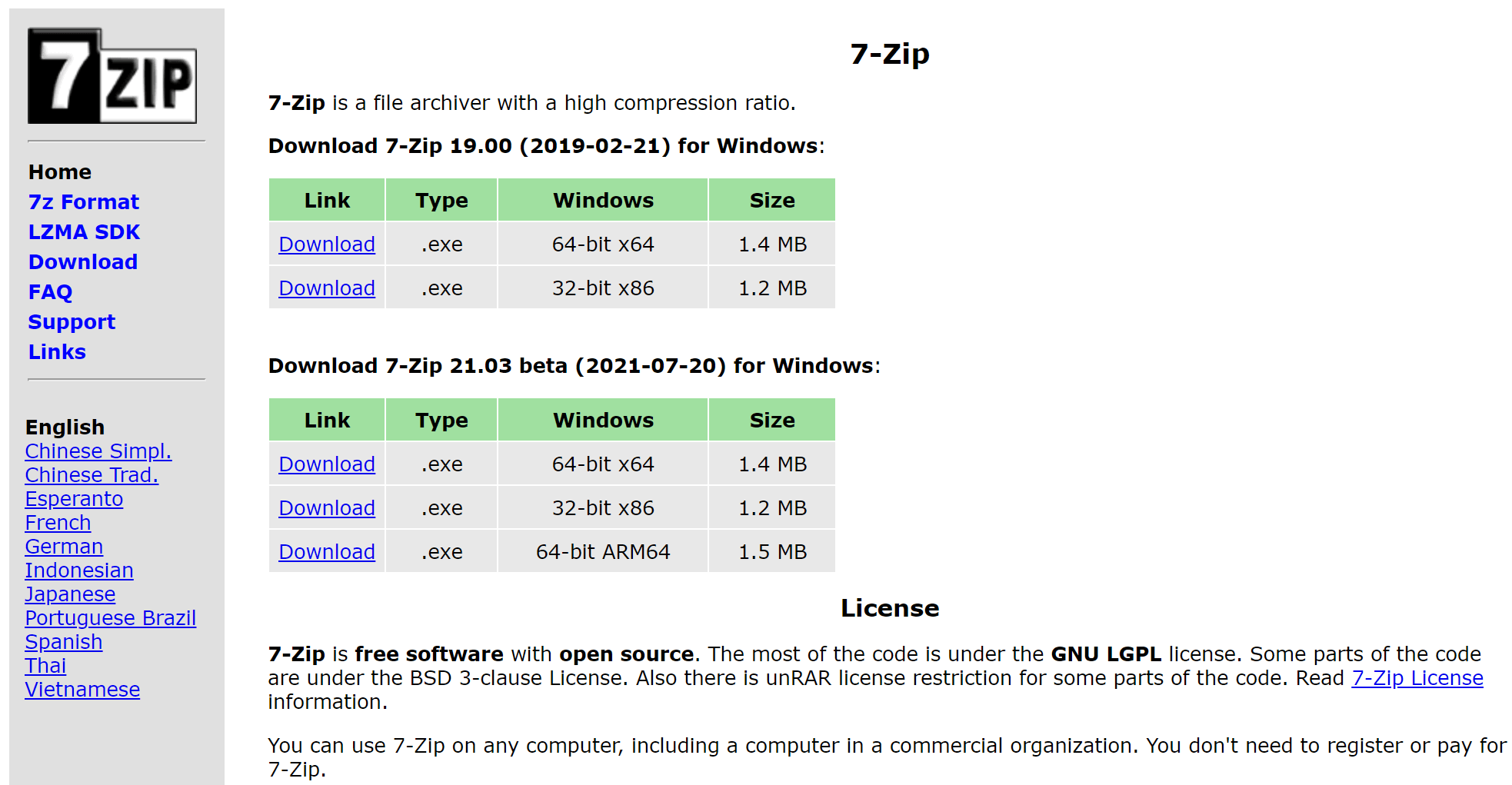 Step 2. Add the Folder(s) or Files to an Archive
If you already have a ZIP package without any password protection, you can extract the package to a folder by doing this
Right click the ZIP archive, hover your mouse over "7-Zip". Then click on "Extract to…".
Now you have files that you want to add to an archive. Select the file, or Ctrl select multiple files/folders, right click the highlighted file, navigate to "7-Zip", and then click on "Add to archive…".
Step 3. Set a Password for Protecting the ZIP File
After you click "Add to archive…", a settings panel will appear. It's okay to only focus on "Encryption" and leave others as default settings.
7-Zip provides two methods to encrypt a ZIP file, that is "ZipCrypto" and a very strong encryption method called "AES-256". We recommend choosing the latter. If you choose "ZipCrypto", the files in your encrypted ZIP package may remain decrypted after the password is entered.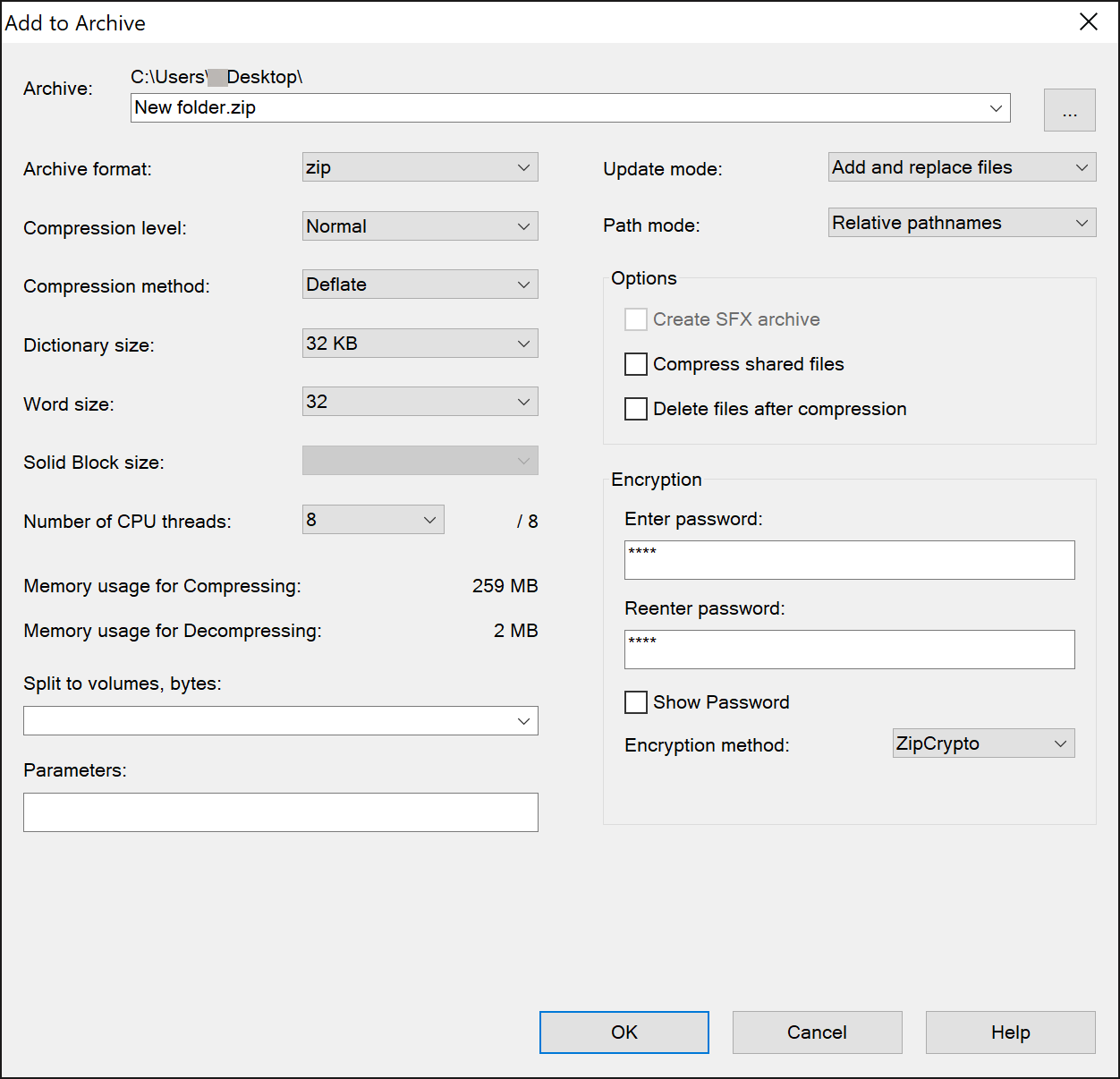 After done, you can try to extract your ZIP package. If it needs entering a password, things are well set up. Make sure to keep your password safe.
Available for Windows 10 Pro, Enterprise, Education Users: Encrypt a ZIP File with Encrypting File System
EFS (Encrypting File System) can encrypt individual files and folders including a ZIP file by generating a File Encryption Key.
Unlike using WinRAR and 7-Zip to add a password, EFS encryption is tied to the PC user. There are three points to note:
Once you log in to the user account, you can access the file normally without importing the certificate.
If there are other admin users on the PC, it's not difficult for them to access your files.
Encryption will be lost when you move or copy the encrypted files (including network transmission).
Step 1. Right click your ZIP file, and then click on "Properties".
Step 2. Click "Advanced", and then check "Encrypt contents to secure data".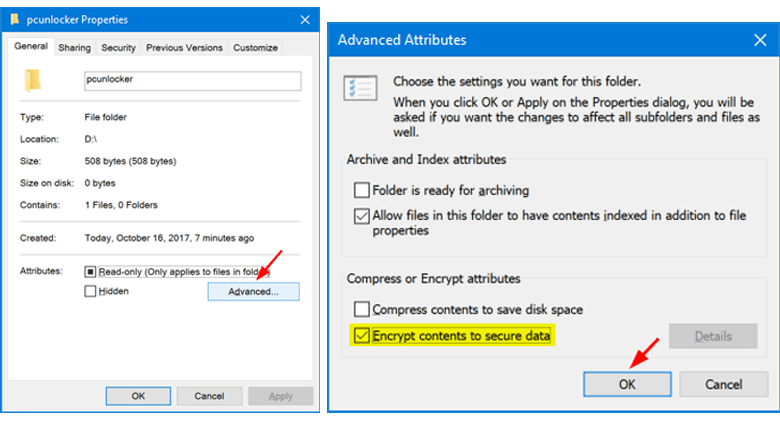 Step 3. Click "OK" > "Apply" > "Apply changes to this folder, subfolders, and files". And finally, click "OK" to confirm.
Don't forget to back up your File Encryption Key on another device like a USB flash.
The Remedy for Lost ZIP Passwords
The last thing we want to encounter after setting the protection is that we forget the password and cannot open the file.
In this situation, you can try using Passper for ZIP. It provides four recovery modes to recover passwords created by software tools like WinRAR/7-Zip/WinZip/Bandizip, etc. Do your best to input the information you know about the ZIP password. If you don't remember anything, you can only choose Dictionary or Brute Force cracking method.
Download Passper for ZIP
Anyway, we should always keep our passwords in a safe place. Don't just remember them in our brain.