Document
How to Recover Deleted Files from USB Flash Drive for Free
I know you would probably super panic because of losing files on USB drive, but right now you must calm down to not making things worse.
The most important is, stop what you are doing with your USB – don't write any data into it, otherwise it will higher the risk of irretrievable file loss.
To recover deleted files from a USB flash drive, bring back the important documents, images, audios and everything, you need to install USB data recovery software on your computer. Here I'm going to use Stellar Data Recovery Free Edition as an example.
You can download the program from the button below. It'll lead you to the official site.
Free Edition Download Free Edition Download
Here's a quick bio of this software: Stellar is one of the best brands out there making data recovery software. It offers a FREE version that allows you to process quick scan, deep scan, and recover files up to 1 GB from your USB flash drive, computer and more. Compare with the "free trial version" of some other data recovery software, Stellar offers something good and truly free.
It's notable that if you already know your deleted file would be larger than 1 GB, then the free edition won't be able to recover the large file you select. However, you can still download the Free Edition and upgrade it to Standard Version by clicking the Cart icon on its interface. I highly recommend this, because it will give you an extra $10 discount!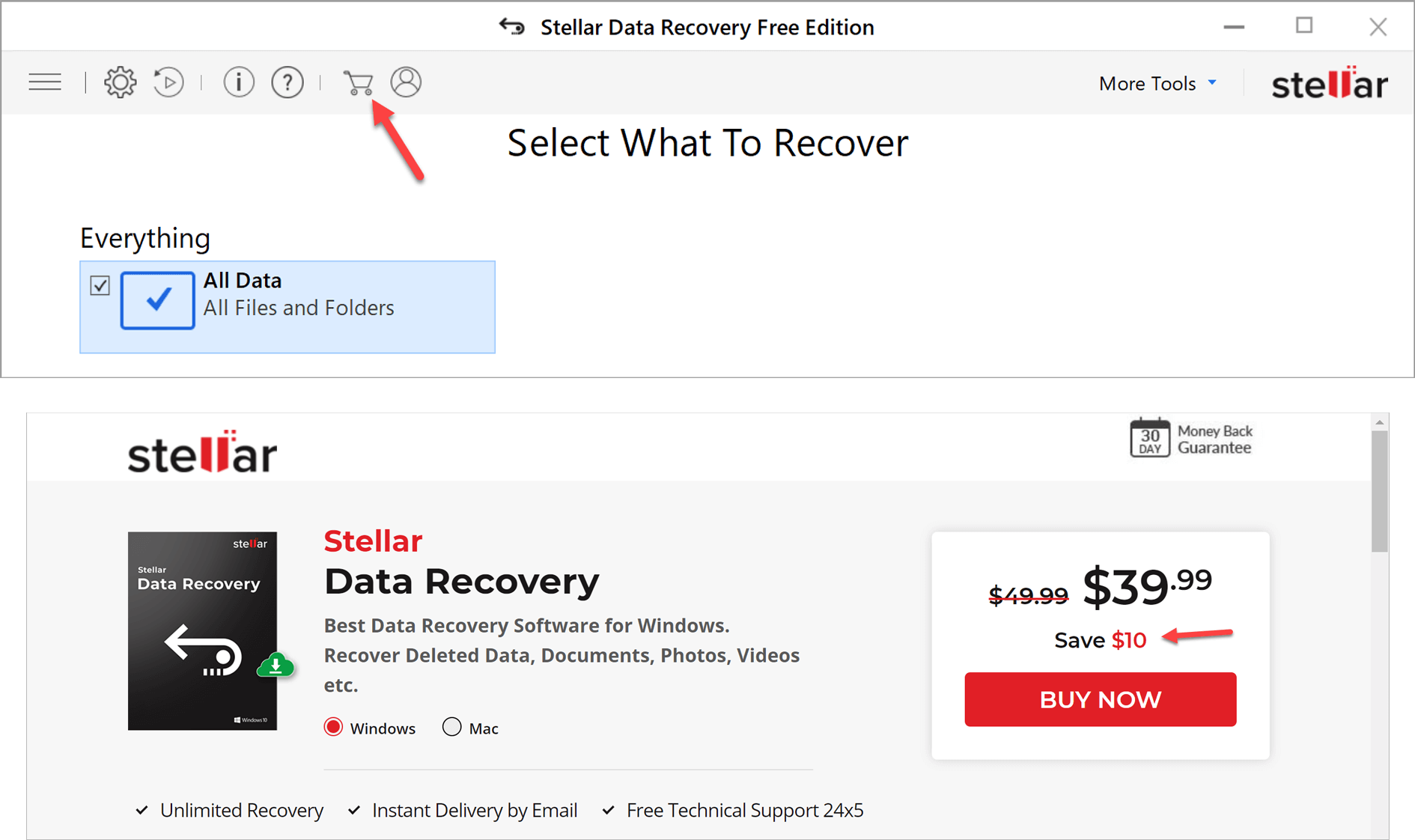 Or maybe, you can buy Stellar Data Recovery Professional Version, or select your preferred data recovery software for recovering large files from USB. The Professional version offers a free demo, which enables you to scan and preview the deleted file but won't allow you to recover anything if you don't pay for it.
All right, let's go straight to the point. Here are how to recover the deleted files of your USB stick.
[Know-how] Recover Deleted Files from USB Thumb Drive
After downloading and installing Stellar Data Recovery Free Edition on your computer, launch it and this is the initial interface.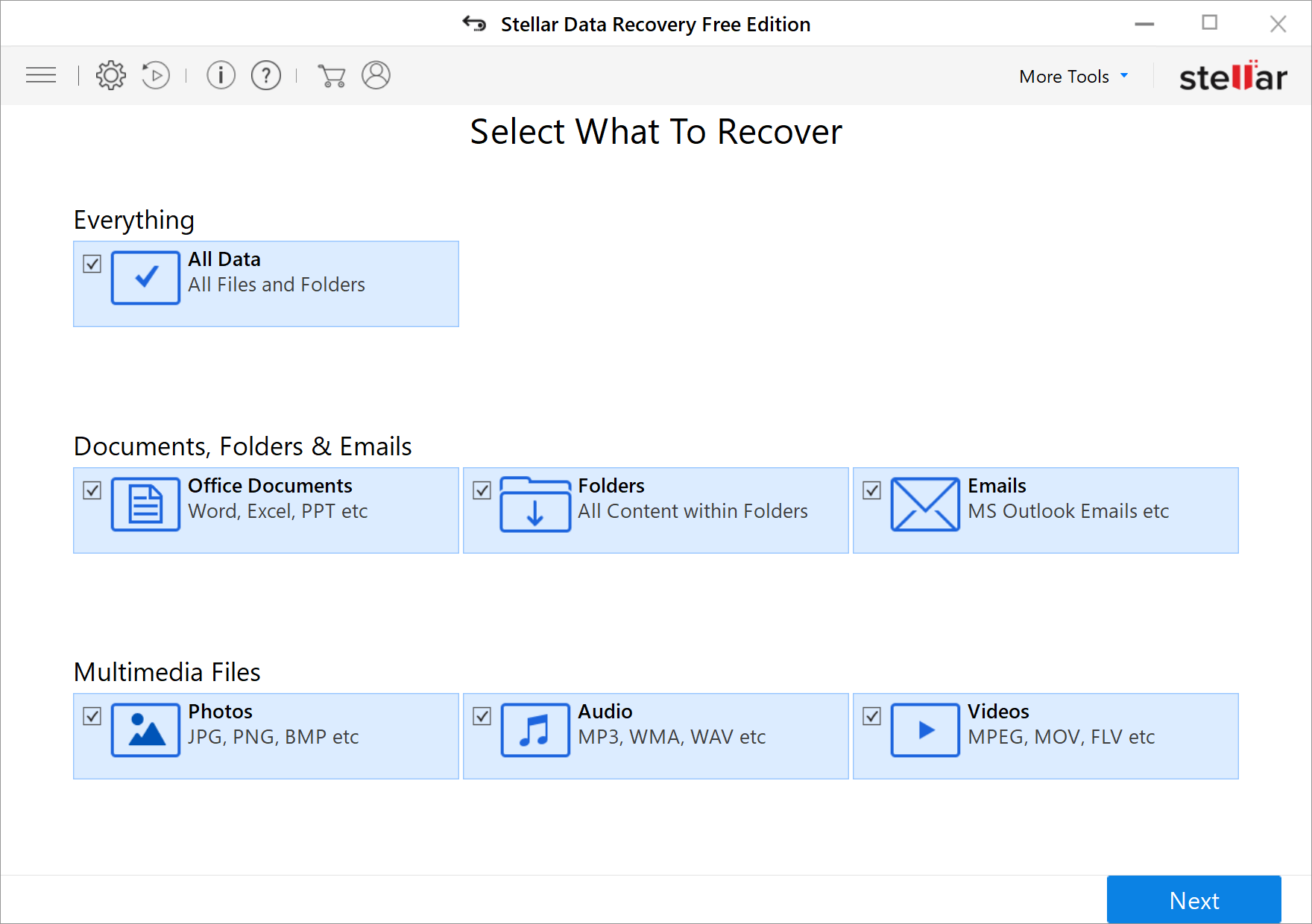 If you know exactly what file type of your deleted file is, don't select "All Data", just choose what it is. It will make the recovery software's life easier, and reduce your waiting time.
You have selected what to recover, and the next is to select where to recover. In this case, tick your external USB drive and press "Scan".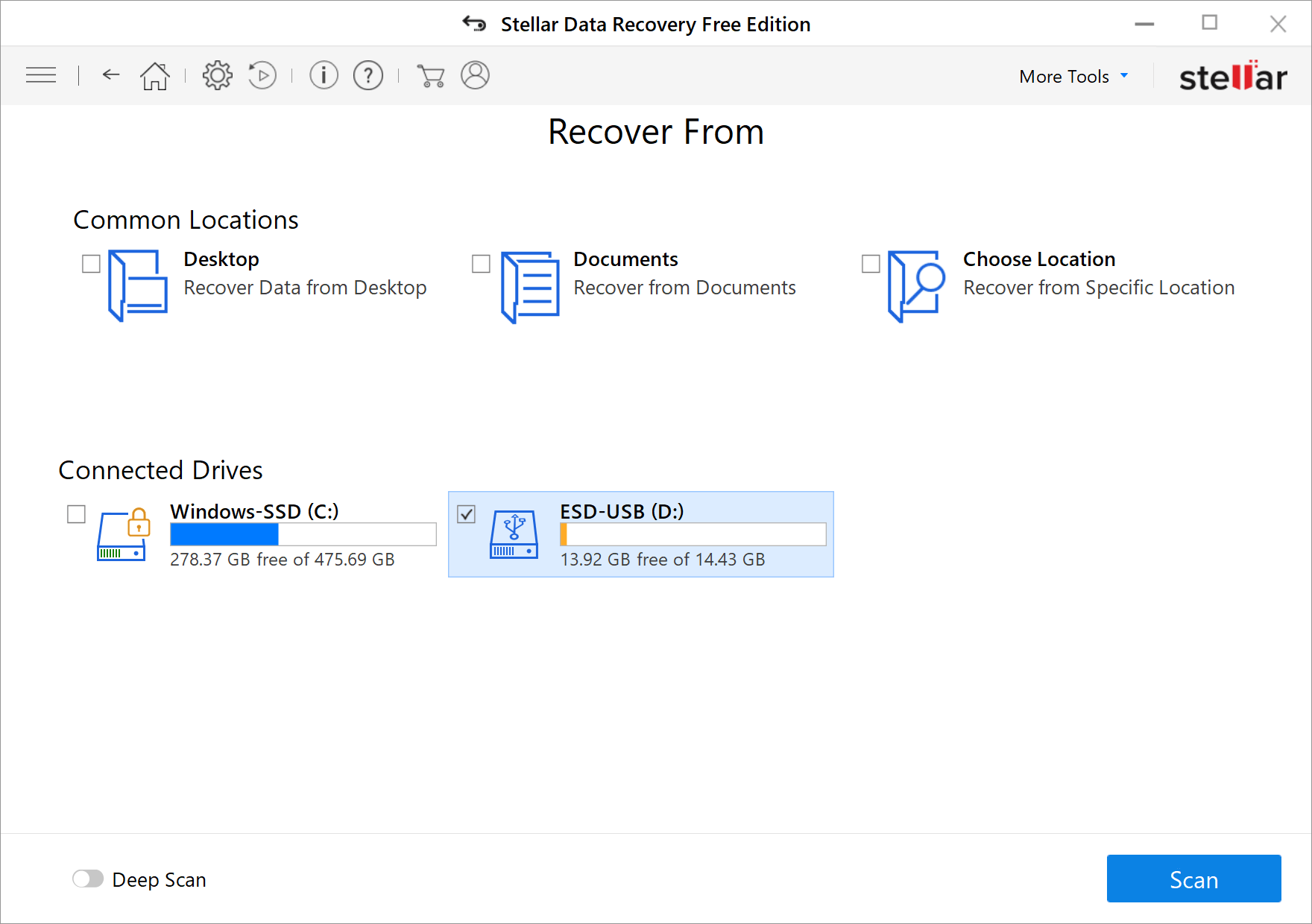 With just a few seconds, it pops up a window and prompts "Scanning Completed". There's 4.22 GB of data recoverable.
Click on "Close", and look for your files in the pane. "File Tyle", "Tree View" and "Deleted List" is designed for you to easily locate the deleted files. You can also search the file name in the "Search Files" box.
If a quick scan doesn't work for you, it provides another useful option: "Deep Scan".
During deep scanning, you'd better turn off preview to boost the scan speed. The deep scan will really take some time, so staring at the interface to preview doesn't make lots of sense.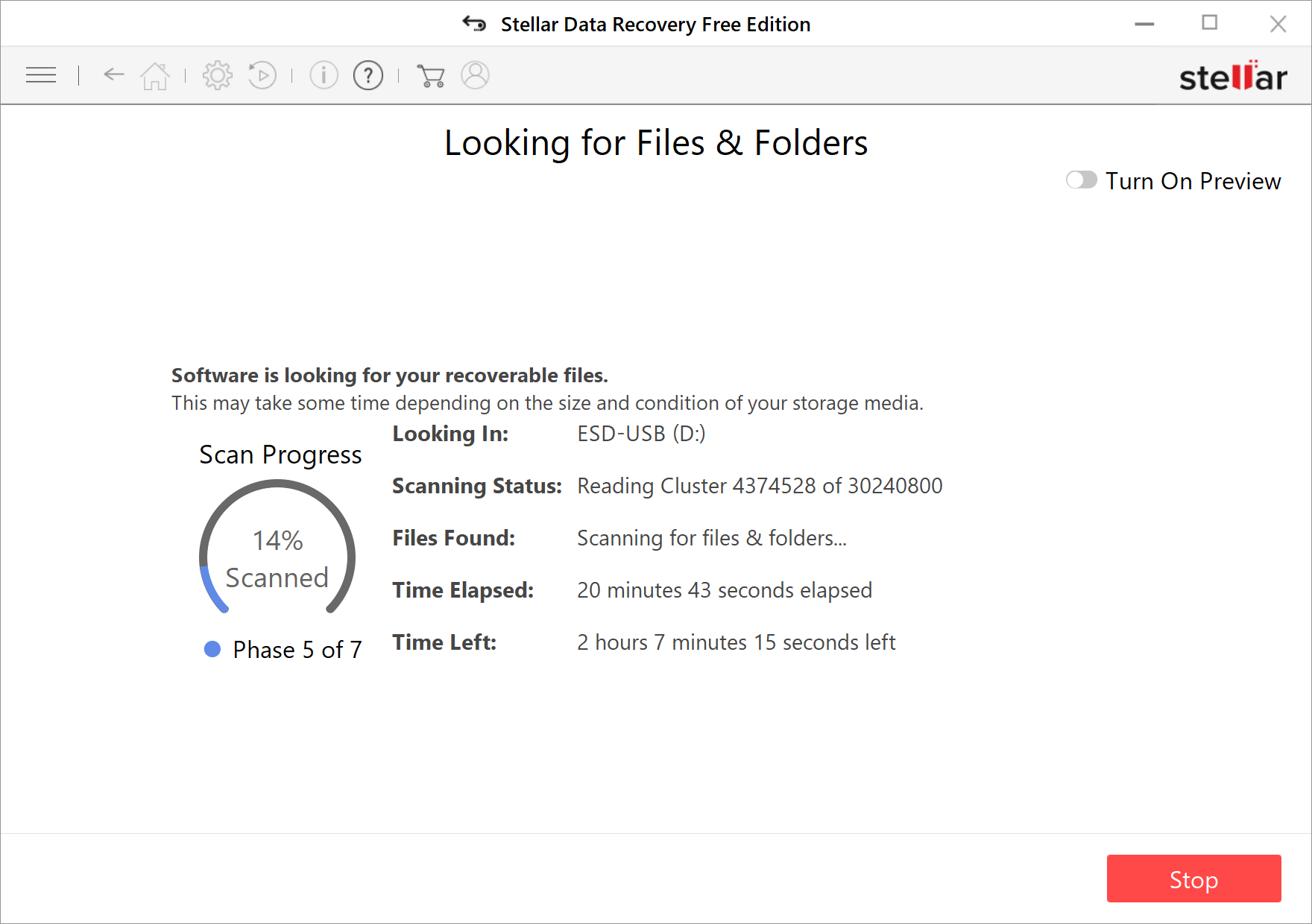 After 1 hour of waiting (though the Time Left indicates it needs more than 2h), it shows up with 37.83 GB of data recoverable. This time, it's more likely to find out the deleted files.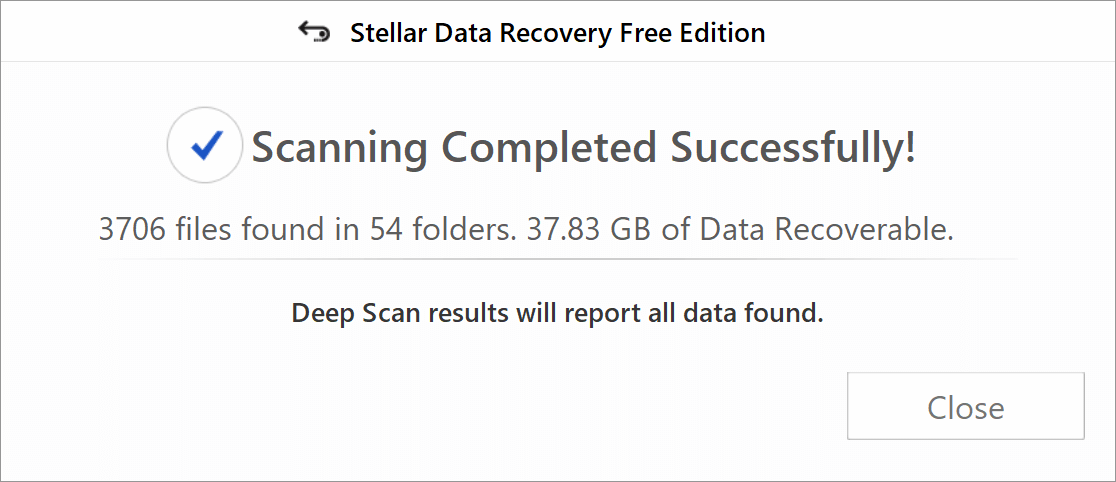 Now you can turn on preview to look for the file.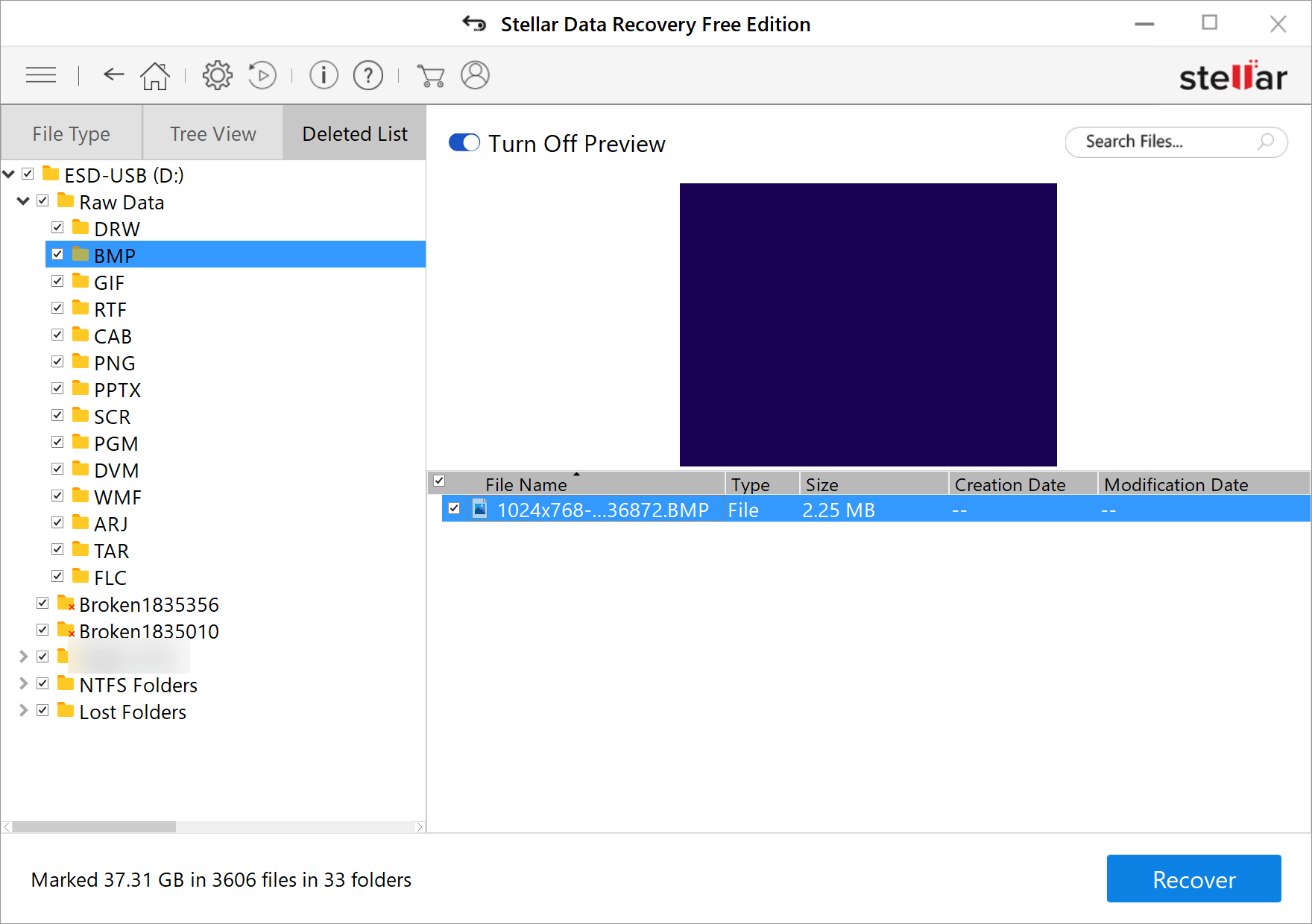 Tick the file you want to recover from USB, press "Recover", and select the destination to save the file.
I must remind again that if you want to free recover a file that is less than 1 GB, you need to download its free edition from here or click the button below. The demo of the paid version can scan your USB drive and show you the result but won't allow you to recover anything.