Kindle
14-Year Evolution of Kindle Models and Services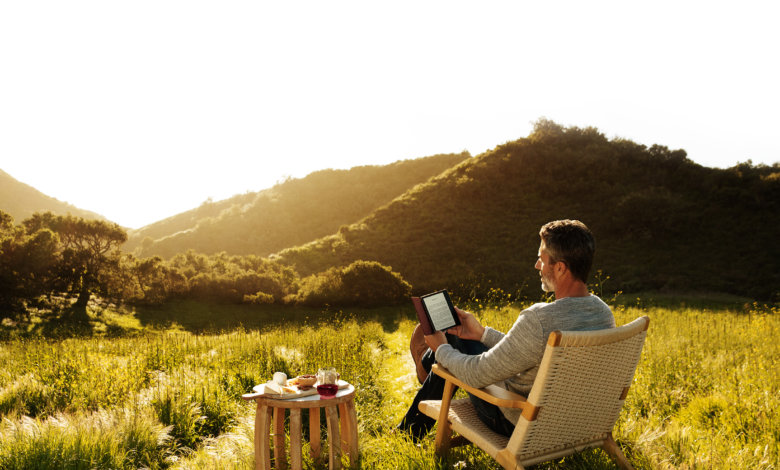 The Kindle has come a long way since its inception in 2007. Here are brief descriptions of each model's features in order to give you a better understanding of how Kindle E-reader has evolved over the years.
First Generation
November 19, 2007, Original Kindle
Display: 167 ppi, 4-level gray scale.
Size: 6-inch diagonal.
Internal storage: 250MB; The SD card slot allows for additional storage. This is the only Kindle with this capability.
Price: costing $399 and only available in the United States.
Network: Amazon books may be purchased and downloaded utilizing a free 3G wireless data connection within the U.S.
Equipped with a built-in speaker and a 3.5mm headphone jack.
The Original Kindle is the revolutionary E-reader that started it all. With its intuitive keyboard, buttons, and selection wheel, it's easy to navigate your way through your favorite books as well as the options you wish to pick. And with Amazon Whispernet, you can download new books wirelessly in less than 60 seconds.
On the same day, Amazon launched its official Kindle Store. It offers a selection of books which can be read on the Kindle and on the web.
The first-generation Kindle product page can be viewed at the Internet Archive.
January 31, 2008, Amazon Announced to Buy Audible
Audible is a company that provides audio entertainment, information, and educational programming. It was founded in 1995 by Donald Katz, a journalist and author who wanted to create an audio equivalent of books. On January 31, 2008, Amazon announced that it would acquire Audible for roughly $300 million. The addition of Audible gives Amazon a formidable foothold in the spoken word audio book market.
The Original Kindle has supported Audible from the very beginning. All Kindle E-readers (with the exception of the Kindle 4, 5, 7, Kindle Paperwhite 1, 2, 3, and Kindle Voyage) can play Audible. Visit the link for more information: How to Listen to Audible on Kindle E-readers.
Now Audible offers a wide range of audiobooks, original audio shows and podcasts, and exclusive performances. The Audible free trial includes one credit to get you started, so be sure to check it out if you love listening to audiobooks.
Second Generation
February 10, 2009, Kindle 2
Display: 167 ppi; Offering 16 levels of grays to give your texts and images an extra crispness.
Size: 6-inch.
Internal storage: 2GB.
Price: $299.
Network: The device utilizes CDMA2000 for use of Sprint's 3G network and supports free access anywhere in America.
The first Kindle with Read-To-Me function that gives you the ability to hear what your eyes are seeing.
The Kindle 2 is much slimmer and lighter than its predecessor, the Original Kindle.
Kindle 2 is the first ever to include Whispersync. With Whispersync, you can synchronize your last page read, bookmarks and annotations across devices. So if you read a book on your Kindle 2 and then have to switch to your another Kindle, you can pick up where you left off without losing any of your progress.
Additionally, the Kindle 2 includes a new feature called Text-to-Speech. With Text-to-Speech, you can listen to texts that are stored on your Kindle 2. You can also have your Kindle 2 read books to you in text-to-speech mode with the aid of an automated computer voice with a human-like cadence.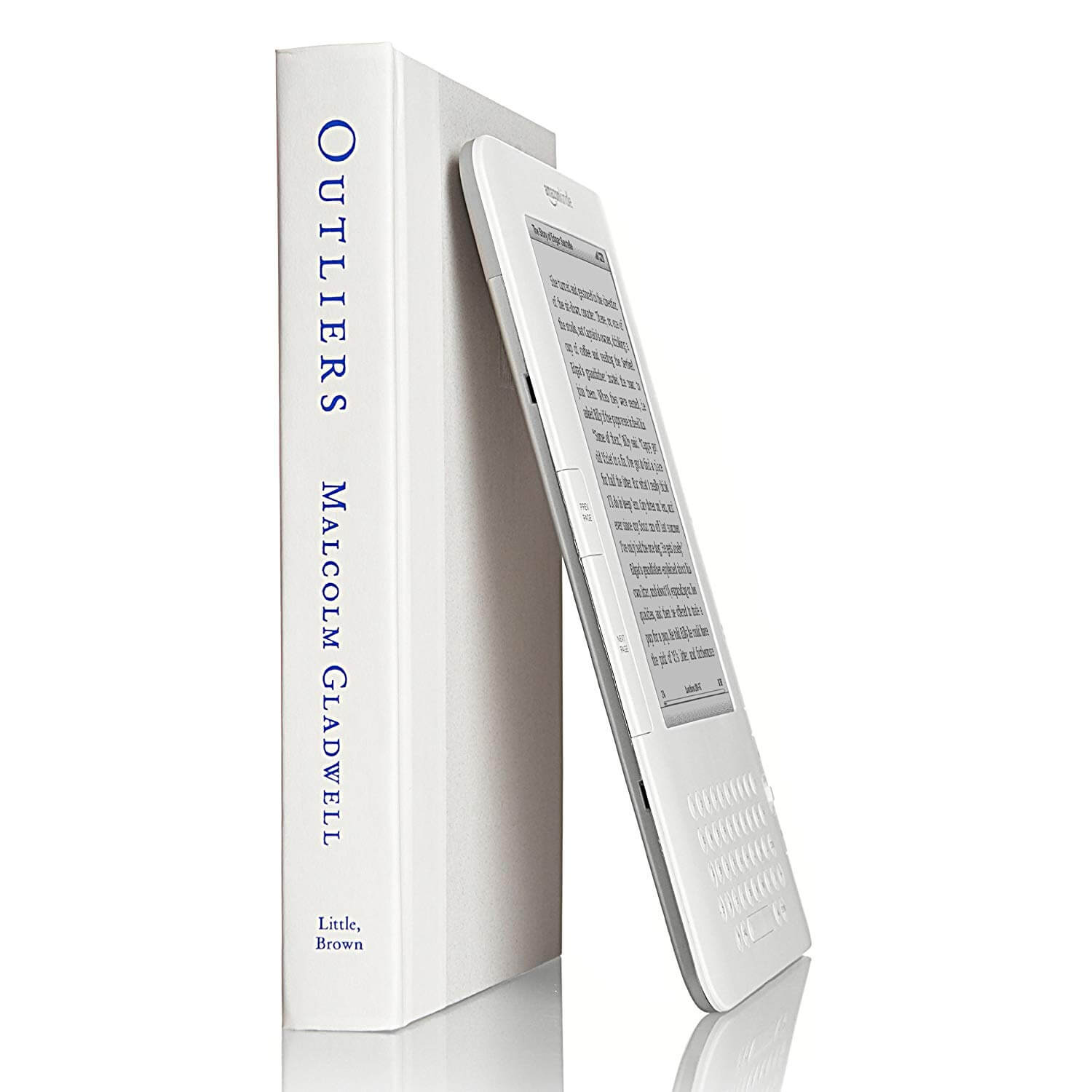 May 6, 2009, Kindle DX
Display: The e-ink screen has 150 ppi and 1200 x 824 resolution for clarity, 16 shades of gray to make text and images easy on the eyes.
Size: Features a beautifully 7 inches large display so it's easy to read whatever book, magazine article or web page that catches your fancy without straining either of these eyesight-dependent organs in any way.
Internal storage: 4GB.
Price: $489.
Network: Only able to connect with 3G wireless in America.
The Kindle DX is the first Kindle E-reader to have an auto rotating screen that automatically rotates according to your orientation. This makes it perfect for both landscape and portrait orientations, giving you a more comfortable reading experience. The Kindle DX also has a very large screen that is 9.7″ diagonally, making it perfect for viewing larger text, scanned PDFs or graphics. It also has double the storage capacity of the Kindle 2 allowing you to store more books.
Kindle DX product page by Amazon
October 19, 2009, Kindle 2 international
The Kindle 2 international version was able to be used on both AT&T's U.S.-based mobile network and in 100 other countries around the world, thanks to its support for both GSM (Global System for Mobile Communications) standards as well 3G. Whereas the Kindle 2 could only be used in the United States.
Kindle 2 international becomes the first Kindle to offer free 3G connections outside of the U.S.
January 19, 2010, Kindle DX International
The Kindle DX is 9.7 inches, as opposed to the standard 6-inch Kindle. This makes it more ideal for textbooks and newspapers, which often require more real estate on the page. The international version of the Kindle DX is identical to its U.S.-based counterpart, with one exception: it supports global wireless 3G data for when you're on traveler's abroad and need access to internet.
Kindle DX International can ship from Amazon.com to over 100 countries and destinations, allowing readers all around the world to enjoy their favorite books on one easy-to-read device.
Kindle DX International product page by Amazon
July 1, 2010, Kindle DX Graphite
Also known as Kindle DX 2.
Display: 150 ppi; 16 shades of gray; 10:1 contrast ratio.
Size: 9.7-inch.
Internal storage: 4GB.
Price: $379.
Network: Free global 3G wireless coverage so you don't have to worry about not being able to read something because of where you are located in relation the Kindle.
Kindle DX Graphite has a graphite color case and a 50% higher contrast than the original white Kindle DX. The higher contrast results in black text on a white background being easier to read, making it better for reading in low light conditions and making the text and images easier to see.
Third Generation
July 28, 2010, Kindle Keyboard
The Kindle Keyboard is also known as the Kindle 3.
Display: The device has a 167 ppi E Ink display with 800 x 600 resolution and provides 16 levels of grayscale.
Size: 6″.
Internal storage: 4GB.
Network: It comes in two versions—one with Wi-Fi capabilities only and another that includes free 3G connectivity as well.
Price: $139 (Wi-Fi only), $189 (3G + Wi-Fi), $114 (Wi-Fi only with ads), $139 (3G + Wi-Fi with ads).
The Kindle Keyboard is the first ever Wi-Fi enabled E-reader, which means that you can access the Kindle Store and download books anywhere there is a Wi-Fi hotspot. The 3G version of this E-reader also offers 3G access, so you can download books anytime, anywhere. The Kindle Keyboard has a 6-inch screen and a Pearl eInk so your reading experience will be more realistic.
This innovative E-reader has a built-in experimental web browser that makes it easy and fun to surf the net using Wi-Fi. And it supports a variety of text and image formats so you can easily send your own files to Kindle Keyboard through email or Send to Kindle. Plus, with its long battery life, you can enjoy hours of reading without having to worry about running out of power.
August 10, 2011, Amazon Released Kindle Cloud Reader
Kindle Cloud Reader is a browser-based application that allows users to read Kindle books without having to install the Kindle app. It's also a great option for people who don't have a Kindle E-reader. With the Cloud Reader, you can read your Kindle books on any computer or mobile device with a web browser – Firefox, Safari, Chrome – it doesn't matter.
The reader has many features that typical eBook readers have like bookmarking, text highlighting and the ability to change font sizes. What's also cool is that you can pick up on whatever page of a book you left off on.
Here's a quick rundown of the basic features and tips you'll find on our website: Kindle Cloud Reader Facts and Tips.
Fourth Generation
September 28, 2011, Kindle 4
Display: 167 ppi; 16 levels of grayscale.
Size: 6-inch.
Internal storage: 2GB.
Price: $79 (with ads), $109 (non-ad).
Network: just Wi-Fi.
For the fourth generation of their E-reader, Amazon has decided to scrap the audio support that was one of the main selling points of earlier models, so you can't listen to music or audiobooks on it. They've also done away with the physical keyboard, instead opting for an on-screen keyboard. Additionally, the storage on this model has been reduced down to just 2GB. Its battery life is shorter than that of Kindle 3, so you may find yourself needing to charge it more often.
November 15, 2011, Kindle Touch
Display: 167ppi.
Size: 6″ E Ink Pearl screen.
Internal storage: 4GB.
Network: Two versions—Wi-Fi only and 3G + Wi-Fi. The usage of the 3G data is heavily restricted to 50MB per month.
Price: $99 (Wi-Fi only and ad-supported version), $139 (Wi-Fi only with no ads), $149 (3G + Wi-Fi, ad-supported version), $189 (3G + Wi-Fi, no ads).
Kindle Touch is the first to come with a touch-screen display.
With its touch screen, you can easily flip through your favorite books with just the swipe of a finger. Plus, Kindle Touch is the first Kindle to support X-Ray, which lets you explore the "inside" of books by revealing passages that mention specific characters, ideas, or places.
Although it was released on the same day as Kindle 4, the Kindle Touch still has all of the great features that loved in previous models—like 4GB memory and audio playback.
On September 28, Amazon also launched their new tablet device—the Kindle Fire. It runs a modified version of Google's Android operating system and can be used with apps from Amazon's Appstore.
Fifth Generation
September 6, 2012, Kindle 5
Kindle 5 is also known as the Kindle Black because it has pure black bezels, as opposed to the previous generations' silver-greys or white ones.
Display: 167 ppi.
Size: 6″.
Internal storage: 2GB.
Price: $70 (with ads), $90 (non-ad).
Network: Wi-Fi connectivity only.
Kindle 5 has a better display contrast and faster page loads than the previous model, Kindle 4. It is also lighter, making it easier to take with you on the go.
Kindle 5 doesn't have a touch screen like the Kindle Touch, but it does continue the Kindle 4's on-screen keyboard design.
October 1, 2012, Kindle Paperwhite 1
Display: The 1024 × 758 display makes text look clear and sharp, while the 212 pixels per inch ensure that your words will be easy to read.
Size: 6-Inch.
Internal storage: 2 GB, 4GB (Japan version).
Network: Wi-Fi only or Wi-Fi plus free 3G (with a 50MB monthly limit).
Kindle Paperwhite 1 is the first Kindle with built-in LEDs that provide a bright, even light for reading.
Its capacitive touch screen makes turning pages easy and enjoyable, while its four built-in LEDs provide a bright and clear reading experience.
Sixth Generation
September 3, 2013, Kindle Paperwhite 2
Display: 212 ppi.
Size: 6″ screen.
Internal storage: 2GB.
Network: Wi-Fi and "Wi-Fi + 3G" are the options. 3G will be available on AT&T's network in the US as well as partner networks in other countries.
Kindle Paperwhite 2 has a much better frontlight so you won't be left in the dark, you can keep reading even when the lights go out. And with less page flashing, you can read longer without fatigue.
Seventh Generation
October 2, 2014, Kindle 7
Display: 800 × 600, 167ppi.
Size: 6-Inch.
Price: $80 (with lockscreen ads), $100.
Its touchscreen is the first such feature of a standard Kindle.
The enhanced 1GHz processor allows you to turn the pages faster and more easily. Because the Kindle 7 lacks a built-in light, you'll need an external light source if you wish to read in low light situations.
Kindle 7 product page by Amazon
October 21, 2014, Kindle Voyage
Display: 1448 × 1072, High-resolution 300 ppi display.
Size: 6″.
Internal storage: 4GB.
The device has a sleek, lightweight design and features an impressive 300 ppi resolution display that makes text look incredibly sharp. Plus, it includes PagePress buttons that provide a more tactile reading experience.
But what really sets Kindle Voyage apart is its adaptive front light. This feature automatically adjusts the brightness of the display based on your environment, so you can read comfortably no matter where you are. Plus, the built-in ambient light sensor ensures that the light is always just right.
Kindle Voyage product page by Amazon
June 30, 2015, Kindle Paperwhite 3
Display: 300 ppi Carta HD display and 1440×1080 pixels.
Size: 6-inch.
Internal storage: 4GB.
Kindle Paperwhite 3 is a perfect upgrade from its predecessor. The Page Flip lets you skim through your book without losing your spot, the X-Ray feature gives you instant insight on characters and terms, and Goodreads is always there to help you find your next read.
Paperwhite 3 comes with new fonts including Bookerly. The new font has been optimized for readability, with fewer distractions and sharper letterforms. and it's Amazon's new take on an ideal serif e-book typeface. This font was designed by Dalton Maag for Amazon Publishing.
Kindle Paperwhite 3 product page by Amazon
Eighth Generation
April 27, 2016, Kindle Oasis 1
Display: 300 ppi.
Size: 6-Inch.
Internal storage: 4GB.
Kindle Oasis 1 has Bluetooth, so you can connect it with wireless headphones or speakers and listen to your story without holding the device in your hand. The built-in Audible app allows you to wirelessly sync books from both Audible and Kindle libraries.
The first thing that stands out is the ergonomics of the new Oasis. It's thicker up top, tapering down on the bottom half to a mere 3.4mm. This makes it easier and more comfortable to hold for long periods of time.
Kindle Oasis 1 has a 6-inch E Ink Carta HD display with built-in light. The brightness has been increased by 20 percent, and there are 10 LED lights now instead of 4, promising uniform illumination of the screen. The frontlight will automatically adjust to your environment through a built-in ambient light sensor. It has an adaptive light sensor that can detect natural sunlight and set the optimal brightness for reading outside.
The hardware page turn buttons are more flush on the side of the new Oasis, but they're still there if you need them.
Its removable leather cover also includes a built-in battery that provides additional power to the device. This feature is not available on other Kindle models. The cover charges the Kindle while it's attached, It also protects the Kindle's screen, so it's a good idea to keep it on at all times.
Kindle Oasis 1 product page by Amazon
June 22, 2016, Kindle 8
Display: a 167 ppi, 800 × 600 touchscreen display.
Size: 6-Inch.
Internal storage: 4GB memory.
Available in black or white.
The new Kindle 8 is thinner and lighter than the Kindle 7. It also has 512 MB of RAM, which makes it faster and smoother to use. The battery life is still excellent, with up to four weeks of usage on a single charge.
Kindle 8 product page by Amazon
Ninth Generation
October 31, 2017, Kindle Oasis 2
Display: 300 ppi; The screen on this Kindle is a full 1680 × 1264 resolution and has 12 LED lights built in.
Size: 7″.
Internal storage: 8 GB version and 32GB versions to suit your needs.
Network: Wi-Fi/Wi-Fi plus 3G data capabilities.
IPX8 rated waterproofing is a new feature coming to the Kindle Oasis 2. Kindle Oasis 1 doesn't have any waterproof features. This new Kindle will have both water-resistance and free Audible support. You can read in the bathtub without fear of breaking it.
The Kindle Oasis 2 price is $249.99 for the 8GB model and $279.99 for the 32GB model. This makes it one of the most expensive Kindle at that time.
Kindle Oasis 2 product page by Amazon
Tenth Generation
November 7, 2018, Kindle Paperwhite 4
Display: 300 ppi glare-free display with five LED lights on it.
Size: 6-inch.
Network and Memory: You can get an 8GB Wi-Fi model or 32GB Wi-Fi model or 32GB plus a finally LTE-enabled 4G network.
The device is now water-resistant, allowing you to enjoy it by the pool or at the beach.
Kindle Paperwhite 4 product page by Amazon
April 10, 2019, Kindle 10
Display: Features a glare-free display with 167 ppi resolution for crisp, clear text.
Size: 6″.
Internal storage: 8GB.
Price: Without ads, the price is $109. With ads it's a more affordable $89.
Kindle 10 is Amazon's first entry level E-reader to feature a front light. The four LED lights make it easier to read in low-light settings, and the higher contrast improves the overall reading experience.
Kindle 10 product page by Amazon
July 24, 2019, Kindle Oasis 3
Display: 300ppi.
Size: 7″.
Internal storage: 8GB, 32GB.
The Kindle Oasis has always been Amazon's premium E-reader. Kindle Oasis 3 has many features that make it a great choice for people who enjoy reading. Some of these features include the ability to adjust the color temperature, a 25 LED built-in light, and a 6-week battery life. The color temperature can be adjusted to make the screen appear warmer or cooler, depending on your preference.
This waterproof device comes in two colors: graphite or champagne gold. It also has Audible support, so you can listen to audiobooks with Bluetooth headphones.
The design of Kindle Oasis 3 is such that you can read on it for hours without getting tired. The page turn buttons and touch screen allow this E-reader to be used in various ways, making sure there's always a way that's comfortable for your hands.
Kindle Oasis 3 product page by Amazon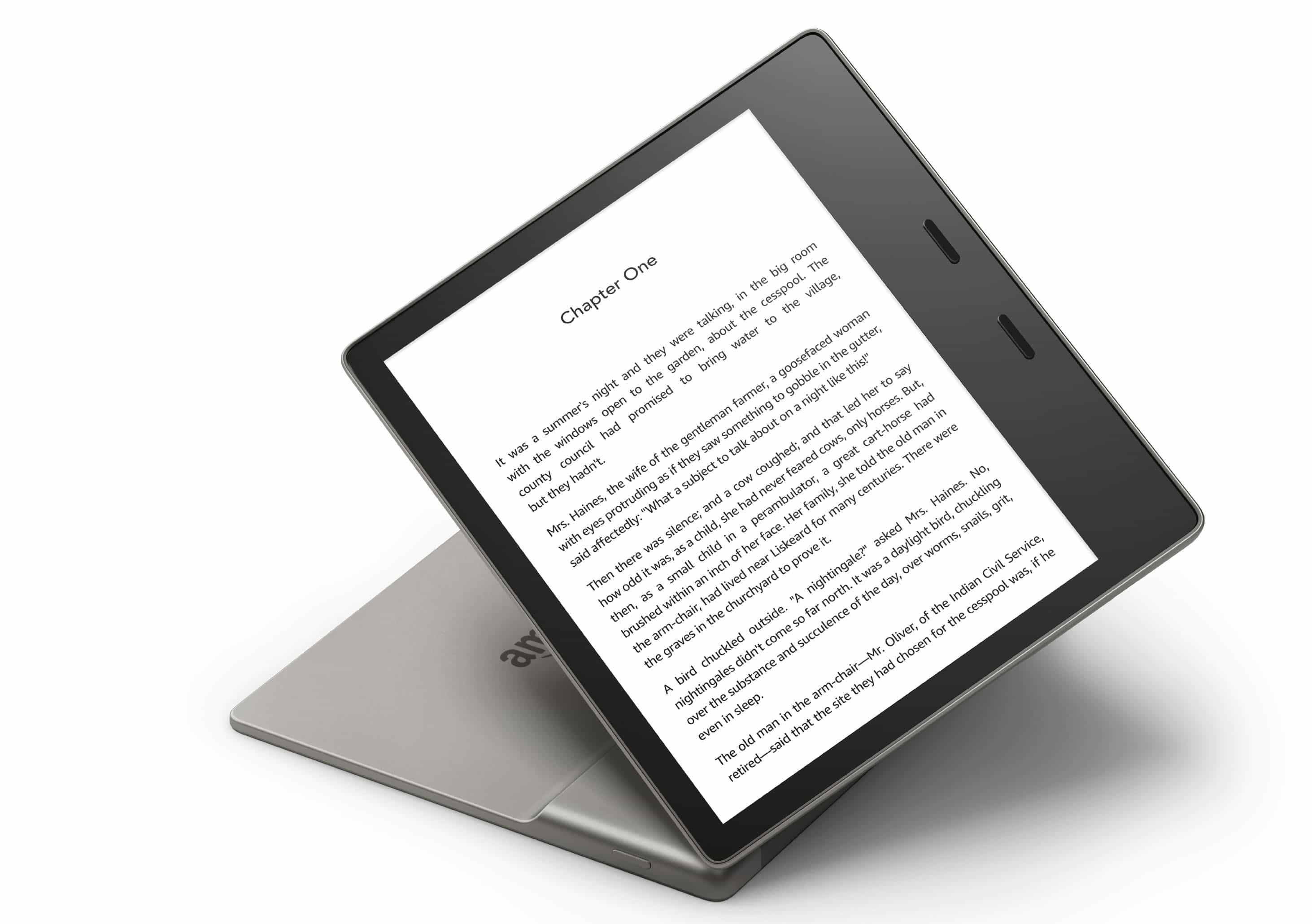 Eleventh Generation
October 27, 2021, Kindle Paperwhite 5
Display: A 300 ppi, 17-LED display.
Size: 6.8″.
Internal storage: Available in 32GB (Signature Edition) and 8GB.
Network: Wi-Fi only.
The 2021 Kindle Paperwhite now has a USB-C port. The battery can last up to 10 weeks. Kindle Paperwhite 5 is also the first Paperwhite to have a backlight that can be adjusted for color temperature.
The Kindle Paperwhite 5 Signature Edition supports Qi wireless charging. You can buy a Wireless Charging Dock, like the one shown here, and just place your Kindle on it to start charging.
Over 14 years, Amazon has improved the device with features that make reading easier and more enjoyable for all users, from highlighting passages to wireless charging, from X-Ray to translation, from taking screenshots on Kindle to sharing your annotations with friends. With this kind of innovation under its belt, there is no telling where Amazon will take us next or how much better our world might become because of it…Stay tuned for future updates on this story.