Document
Guide About Uninstalling Unwanted Apps on Your Mac
Mac computers are great performers and use any given resources very effectively, but even the best of the best can get pushed to the brink of exhaustion if we are not careful with what we install on these machines, which means that sometimes it's time to downsize on the amount of apps and programs, after all if you haven't used it in a while most likely it will remain that way. Therefore, it's a good idea to take a look at your apps folder and get a sense of what's in there, what's useful or not and get rid of some of those apps. In order to make this process simpler, here are a few pointers to make it easy on yourself and your Mac device.
Third-Party Solutions
As with every possible problem you may encounter on a Mac device or any other device for that matter, someone has already faced the same shortcomings and a solution has been created for it, this is not the exception. There are heaps of third-party apps and programs to solve the shortage of storage and therefore to delete and get rid of any app installed on a Mac computer, but here's a perfect starting point.
If you're wondering what would be a good option to uninstall apps, CleanMyMac by MacPaw does a pretty good job, it gives you a simple interface to not only uninstall undesired apps but also to check for malware and hidden dead files that may have been left behind after an update, you can be sure that it will delete absolutely everything that came with any app you want gone, and it won't leave any junk files remaining. CleanMyMac also acts as an updater and performance monitor, so your computer keeps running as fast as it did on the beginning.
Free Download
In order to uninstall any app, all you have to do is this:
Go to the Launchpad and click on the CleanMyMac icon. The first interface you will see is pretty straightforward, it has a scan button that will check your system and free memory by looking for dead files, malware, broken downloads and any other hidden files that are using space without being useful but if you want to skip the whole process just go to step 2 and follow the next steps.
In the smart scan menu to the left you will see an applications section, there you can find the Uninstaller, when you click on it, you get presented with a list of all the applications installed on your Mac computer.
To remove one of the undesired programs just click on the circle next to the app you wish to delete from your Mac and hit the "Uninstall" button, it will run a prompt and show you the final result in no time, leaving you with a deleted app without trouble or any further steps.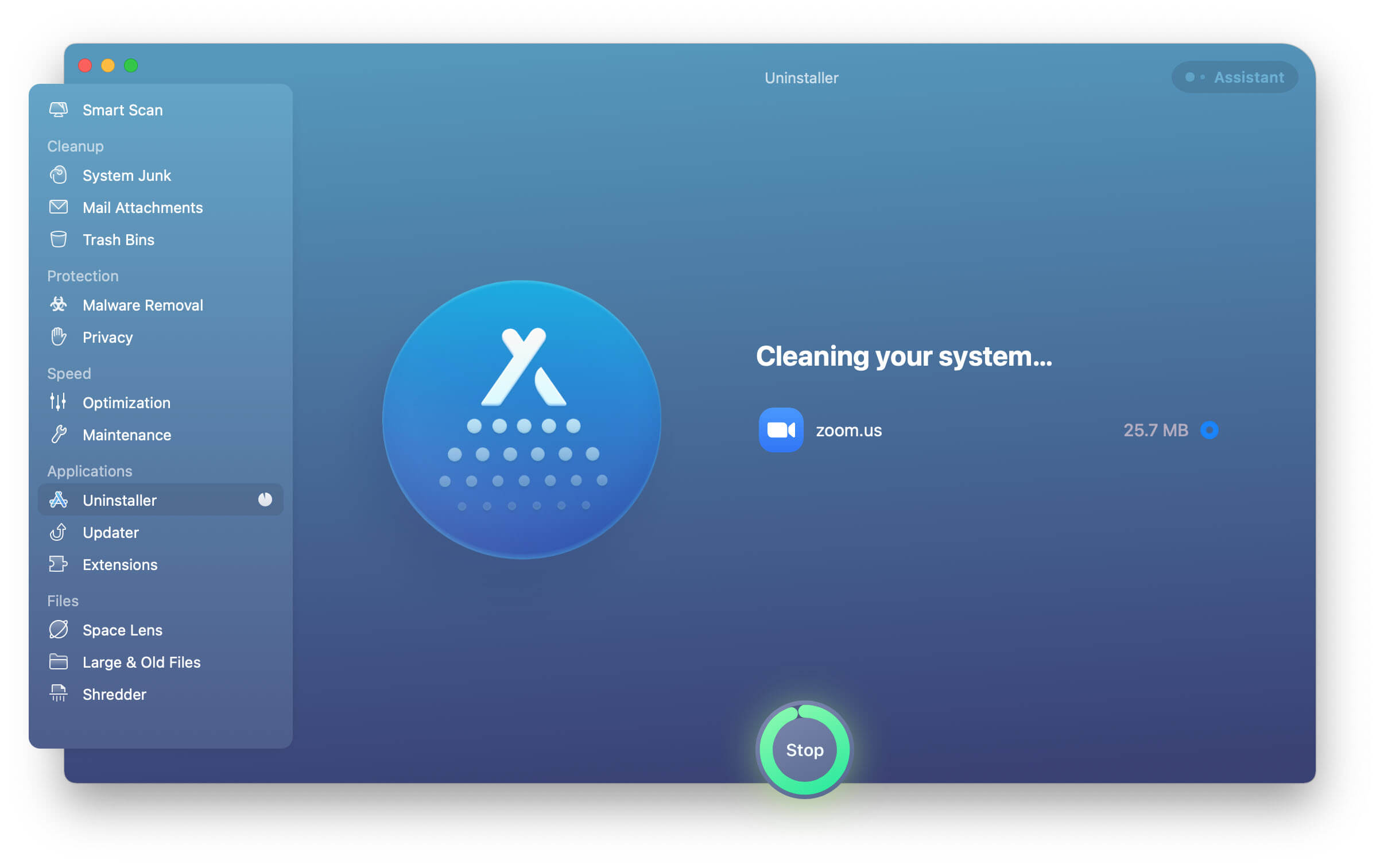 Use the Launchpad
If you are sure that you are not keeping that many apps that need to be uninstalled, you might want to go straight to the Launchpad, this is an easy and straightforward tool to use, the only downfall to this is that you will have to go one by one deleting what you need to remove, and one more thing you might want to take in consideration is that after some updates you might be left with some dead files from that software that might not get removed this way. But still, this is a cheaper option than third-party software since it's part of the system features.
To do this just go to your computer's dock located at the bottom of the screen, you might have to hover your mouse to make it visible. When you click on the launchpad icon the screen maximizes, and you get a view of all the apps installed, in case you don't see it straight away you can swipe on the trackpad to the left or right to the next pages and locate the app, in case you're missing it, you can also just type the name of the app on the search bar located at the top of the page.
When you've located the app, press and hold the Option key (⌥) or just click and hold the app until it starts jiggling, then you can just click the x mark next to it. As a reminder, just know that some apps don't allow you to delete them because either they are essential to the system hence it will not be possible to delete or were not acquired through the Apple App Store, and you will have to use the Finder to delete them.
Apps Not Purchased Through the App Store
To be honest this works for all apps not only for those purchased through the App Store but, for these particularly it might be the best option unless you want to consider purchasing a third-party software to delete them, and as we mentioned before, consider that this option will require you to delete the undesired apps one by one, which means you won't be able to select several of them and delete them at the same time. Having mentioned this, to more forward with the deletion all you have to do is go to the launch bar at the bottom of the screen, open the finder, locate the Applications folder which you will see on the left side of the window, then just find the app you want gone and drag it to the Trash, you can alternatively select the app and chose file, then move to trash.
Other Things to Consider When Deleting Apps
A few other things to keep in mind is that when you delete an app you just erase the files from your computer, but it does not cancel your subscriptions automatically and if you want to stop being charged for them, you will be required to go to their website or the App Store and follow the cancellation process.
While deleting an app from your Mac, you might get asked to provide an administrator username and password, this will probably be the same as the one you use as your login for the computer, in case you have forgotten them you can go to the Apple menu icon, then go down to System Preferences and then hit the Apple ID option. Then click on the Password and Security option, and you will get asked to provide your Apple ID again, but underneath that you can click on the "Forgot Apple ID or Password" and follow the instructions to recover them.
If you're not using third-party programs to delete and upkeep your Mac, remember to empty your trash regularly so that those files don't end up still holding space on your computer.
Final Thoughts
In conclusion, remember that no matter how you decide to delete your apps from your Mac, this is an essential process to do every certain amount of time depending on how often you try out new software and the storage space you have available, but a good guess would be once every year to a couple of years, since every software not used in this span of time is most likely not essential. Third-party programs help you deep clean files that you might be leaving behind when deleting apps, and most usually they will also come with other features to upkeep your device and maintain it in top shape. Finally, remember to empty your trash can frequently and cancel subscriptions to apps you don't wish to keep paying for.