eBook
4 Simple Steps to Convert Adobe Digital Editions to DRM-Free PDF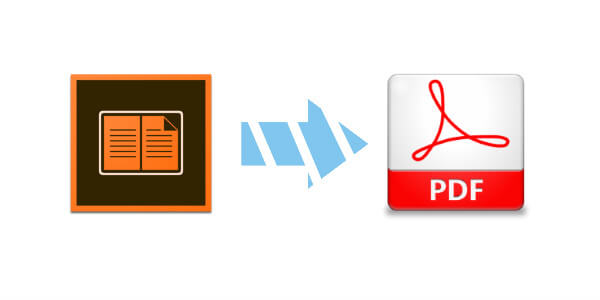 Remove the DRM from Adobe Digital Editions and convert it to PDF so you can read the books on your computer, tablet, smartphone, or E-readers without any restrictions. This article will walk you through the procedure in detail.
Adobe Digital Editions, often known as ADE, is a digital book reader program produced by Adobe. It can open ACSM (Adobe Content Server Message) files purchased from Google, Kobo or other vendors and download the books as DRM-protected PDF/EPUB saved on your local drive.
DRM (digital rights management) means that the books are encrypted so only your authorized device can read them—like Kobo Aura, Sony E-reader, personal computer for instance. But what about Amazon's Kindle? Doesn't support opening Adobe Digital Editions files. Also, Adobe Digital Editions requires the use of ADEPT (Adobe Digital Experience Protection Technology), which restricts content to up to 6 machines.
If you want to get around these two restrictions, you may convert Adobe Digital Editions to regular PDF files. Almost all devices can read PDF, which is a widely used document format.
All You Need Is an Adobe Digital Editions to PDF Converter
We are glad to tell you there's an easy way—Epubor Ultimate, which can convert Adobe Digital Editions eBooks to normal PDF files. It will automatically identify the downloaded PDFs/EPUBs in your Adobe folder, after which you can double-click them to decrypt.
Download the free trial of Epubor Ultimate from the button below and follow the instructions to convert Adobe Digital Editions to PDF.
Free Download Free Download
You can also immediately go to Step 3 if you have previously started reading with the ACSM files in Adobe Digital Editions.
Step 1. Install Adobe Digital Editions and Authorize It on Your Computer
Install Adobe Digital Editions on your computer, which is available for both Windows and Mac. To open ACSM files, you must first authorize your Adobe Digital Editions. We recommend that you use a Vendor ID rather than without one. So if your computer dies, you can reload these ACSM files onto other devices that are logged in to the same Vendor ID.
How to authorize: go to Adobe Digital Editions, click on "Help" > "Authorize Computer…" and then provide your Adobe ID and password. After that, simply click on "Authorize".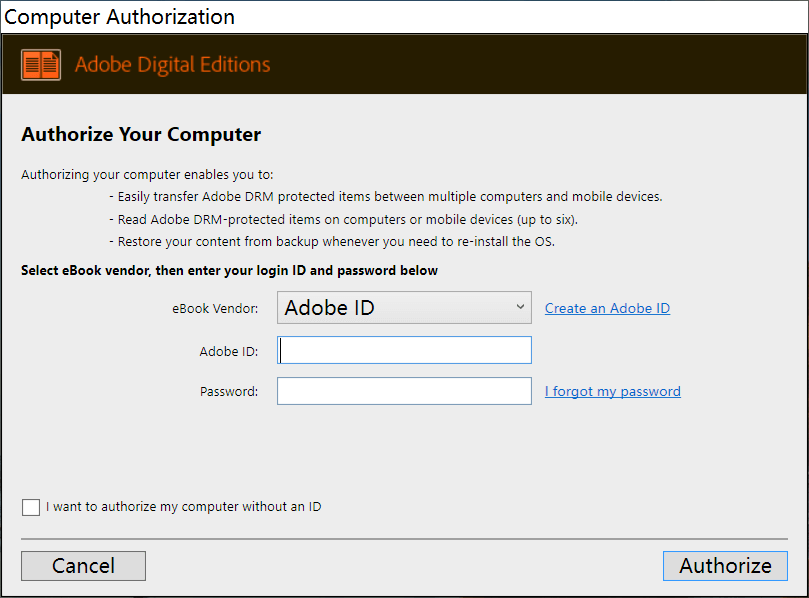 Step 2. Load ACSM Book into Adobe Digital Editions
ACSM files should have been automatically associated with Adobe Digital Editions so you can double click and open it up straight away. Alternatively, you can right-click to launch with ADE or simply drag and drop them into the program.

Adobe Digital Editions will begin downloading your eBooks to the device.
You can see where your downloaded PDF/EPUB books are stored by right-clicking the book and selecting "Show File in Explorer".
Step 3. Open the 'Adobe Digital Editions to PDF' Converter
Launch Epubor Ultimate and go to the Adobe tab. You can see all of your Adobe Digital Editions books on this page. The program will figure out the default path so it will spare you the trouble of adding eBooks manually.
Simply drag the files from left to right pane for decryption.
Step 4. Select "Convert to PDF" to Begin the Adobe Digital Editions to PDF Conversion
Select "Convert to PDF" from the drop-down menu (there is a down arrow next to "Convert to EPUB"). In a matter of seconds, your DRMed PDF/EPUB books will be saved as DRM-free PDFs.
The task of converting Adobe Digital Editions to PDF is now complete. The decrypted books may be transferred to other platforms and read freely!
The free trial of Epubor Ultimate gives you a chance to convert 20% of each Adobe Digital Editions book. It's enough for an initial test-drive, so that your satisfaction with the program is guaranteed before making any purchase decisions.
Free Download Free Download