Audiobook
Epubor Audible Converter Review [Updated 2021]
Review of: Epubor Audible Converter
Use: convert purchased Audible audiobooks to MP3/M4B on Windows and Mac
Effectiveness
⭐⭐⭐⭐⭐
Decrypt DRM-protected Audible books in one-click
Price
⭐⭐⭐⭐☆
Get a lifetime license for less than $30
Ease of use
⭐⭐⭐⭐☆
Add Audible books with simply drag and drop

Support
⭐⭐⭐⭐☆
Complete email, ticket, and live chat support
Summary: Audible audiobooks are in AAX format. In order to convert a book, you need a tool to strip DRM protection and then change its format, and these are what exactly Epubor Audible Converter will help you.
Free Trial Download Free Trial Download
The free trial can convert 10min of each Audible book.
The key problem that uses a normal audio converter to convert Audible books is blocked in DRM (Digital Rights Management) protection. Books purchased from Audible are DRM-protected and therefore in order to convert Audible to MP3/M4B you need a specific tool. This tool Epubor Audible Converter is the star of our review today.
What is it? How to use the software? Is it worth the price? You will probably have your answers after reading this review and trying the product.
This tool exists for one purpose: get you DRM-free Audible books. By converting the purchased books to normal audiobooks, you can break free from Amazon Audible.
Allows you to import AAX, AA Audible books and convert them to MP3/M4B
In 2020, Audible abandoned the old AA format. Now you can only download AAX books from Audible. AAX audiobook file has better quality but at the same time the file size has also become larger. If you prefer the AA format and have some books in this format, Epubor Audible Converter is still gonna work very well.
MP3 and M4B are two optional output formats of this software. MP3 is the most widely accepted audio format, but M4B also has its own advantages. M4B audiobook files can carry more information including chapters. If you convert AAX to M4B, all the chapter info will be kept.
Support batch conversion in 1 click
It's easy to use. You can add Audible books in batch, and convert the books in batch too. The conversion speed is super fast.
Split Audible books
The paid version allows you to split Audible books by "chapters", "every () minutes", "into () segments averagely", or "no split". You're free to choose what you like.
Step-by-Step User Guide & Using Experience
There are only three main steps to use Epubor Audible Converter: download the Audible books, add the books, and click on "Convert". Let's see the detailed procedure.
Step 1. Download & install the software
Step 2. Download your Audible books to your computer
Go to Audible Library, and click on the "Download" button of the book. Books in AAX format (.aax) will be saved to your Windows or Mac computer.
* If you feel hard to see the book, you can search the library by typing the audiobook title in the box.
For Windows users, there's another way to download Audible books to computers. That is, you can download the books from the Audible app.
First, get the Audible app.
Sign in to your Audible account.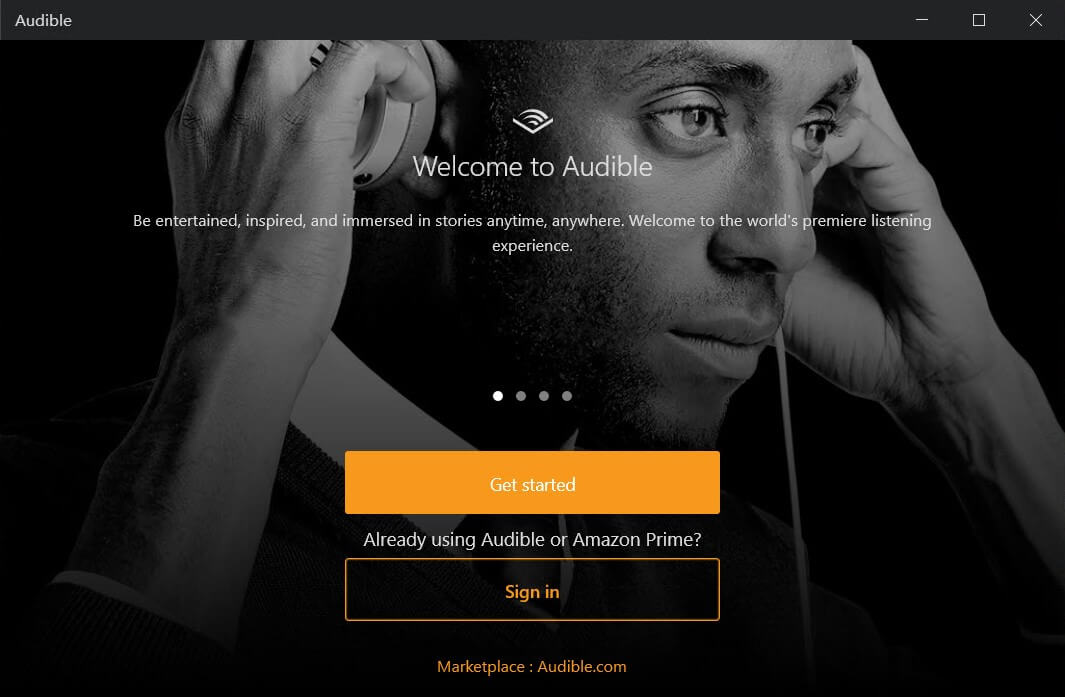 Download the Audible books you want.
The files will be stored in the Audible app "Settings" > "Downloads" > "Open Download Location in File Explorer"
or
The path: C:\Users\UserName\AppData\Local\Packages\AudibleInc.AudibleforWindowsPhone_xns73kv1ymhp2\LocalState\Content
Step 3. Launch Epubor Audible Converter
Double-click to launch the software. It will pop up a window to remind you to register for the program. Epubor will send you a registration code after you pay for it, but now we are just testing so close the pop-up window and keep using the free trial.
Step 4. Add books to Audible converter
Drag-drop the downloaded books or click on "+Add" to import Audible books in batch.
Step 5. Convert the Audible books
Select the output format from MP3/M4B, and then click on the "Convert to" button. It only takes a few seconds to convert a dozen books.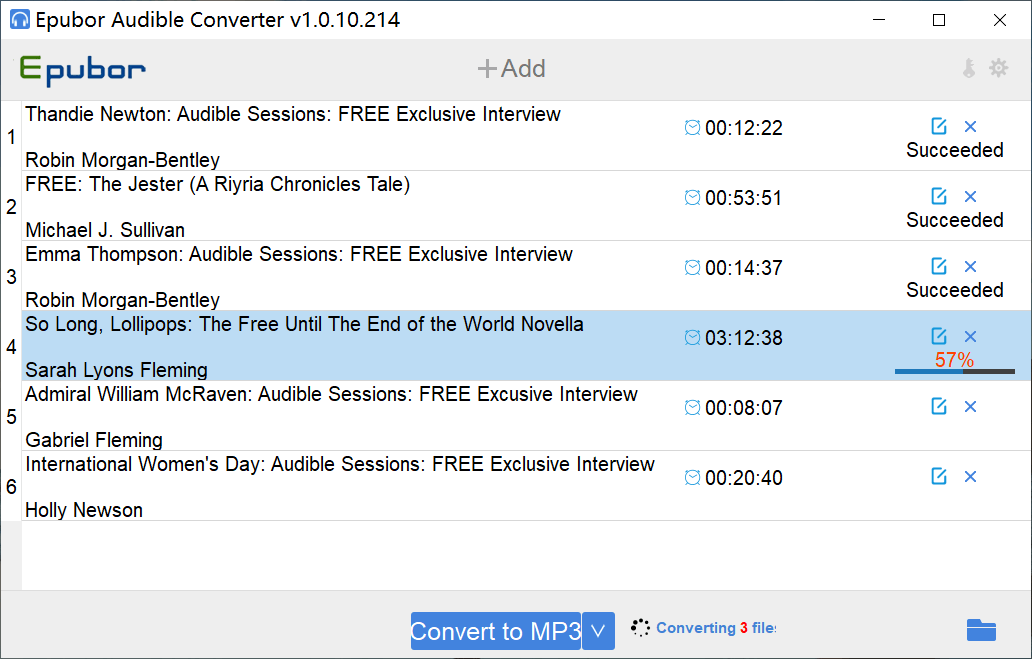 * If you want to split the audiobook, you can click on the Edit icon and change the option before the conversion start.
The Most Commonly Asked Questions and Answers
Why is the converted Audible book incomplete?
There is no limit to how long you can use the free trial but there is a limit that you can only convert around 10 minutes of each Audible book (restriction will be removed after payment).
How much does Epubor Audible Converter cost?
| | | | |
| --- | --- | --- | --- |
| License Type | 1-Year License | Lifetime License | Family License |
| Fee | $22.99 | $29.99 | $59.99 |
| Description | 1 PC / 1 Year with free 1 year updates | 1 PC / Lifetime with free future updates | 2-5 PCs / Lifetime with free future updates |
* If you purchase a new PC, don't worry. You can de-register the product from your old machine, and then tie the registration code to your new PC's Audible Converter.
Does this software allow me to change the interface language? What languages are there?
There are 6 language choices: English, Simplified Chinese, Japanese, French, Italian, and German. You can change that by going to "Settings" > "Language".
Where are the output files store?
The simplest way to open the output folder is to click on the Folder icon in the lower right corner. The default path is C:\Users\UserName\EpuborAudible. To change the path, just go to "Settings" > "Output", and then set another source location.
What if I encounter problems during use… or want to refund?
Live chat, Ticket, and Email are three different ways to get connected with Epubor Support if you face problems. But don't expect too much from its "live chat" to reply to you immediately. I personally recommend ticket or email. You can essentially get a response in 1-2 days.
If you dislike the software, according to their current refund policy, they have 30 days unconditional refund. But to reduce unnecessary time spent, it will be best to test the free trial before you pay for it. That's what the free trial is made for.
This tool has all the essential features you need: decrypt Audible books, convert the books' format, batch conversion, and split Audible books. The interface design is not very beautiful, but it's neat, and easy to use.
If you are a long-term user of Audible, I think Epubor Audible Converter's lifetime license will be a happy deal. It makes your Audible books become yours Forever, also brings many other conveniences.
Here's the official download of the free trial, try it on your computer to see if it works for you. Enjoy!