Audiobook
Is Audible Worth It? (2021 Updated Review)
One big name in the audiobook service industry is Audible. If you searched for this topic, then it is evident that you're considering their service.
You might be asking yourself, does Audible's name backs up with credibility? Well, this article will answer your question.
You see, I myself am also an audiobook guy. I find audiobooks as my practical way of "modern reading" wherever I go and whether I walk or commute. Then, I got introduced to Audible, I tried their service and decided to write down this review.
So as you read on, you'll learn the vital things you need to know before you make a credit commitment with Amazon's audiobook service. Take this article as a basis for your decision.
Now, let's start first with Audible's history.
What is Audible?
Audible is Amazon's audiobook and podcast platform service. You can make an online stream or purchase any spoken word content (especially audiobooks) in Audible. Audible starts as an independent audio player company way back in the 1990s up until 2008, when Amazon took over. So in other words, Audible has been existing for over two decades! Well, how does it work?
How Does Audible Work?
I was surprised how generous Audible is for its starters. Audible has two main plans, Audible Plus and Audible Premium Plus (formerly Gold & Platinum Plans). What's good about this is you'll have a 30-day "free trial" in both which will give you access to over 500,000 titles! The screenshot below shows what benefits you will be having in each plan.
Try Audible Free
It is worth remembering that only if you choose Audible Premium Plus, you'll have at least one credit when you start your trial and continue every month if you decide to become an official member.
You can use the credit you'll receive to purchase any title you want. How? I found out that you can exchange a single credit to any audiobook no matter what price it has. Amazing right? And according to Audible's official website, if you decide to have the Audible Premium Plus you'll have access to the Plus catalog along with the exclusive premium title selections.
"Take note that I did not include Prime membership since it's a separate membership. And I did not see any free trial on Prime members when I tried looking for Audible free trials". If you are a Prime member, you still need to create a membership account to either Audible Plus or Audible Premium Plus to avail the 30-Day Free Trial.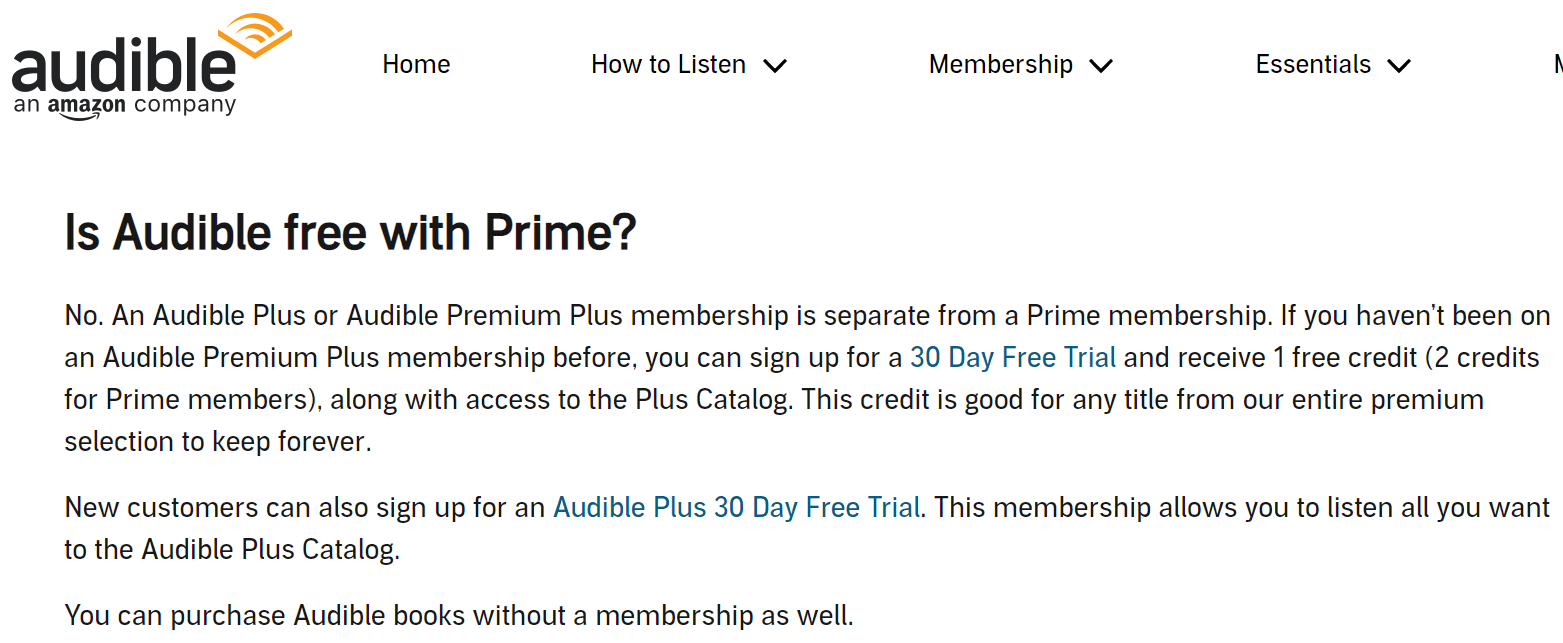 Aside from this, there are also other additional pricings (listed below) about Audible memberships with each of its perks.
To avail of the free trial, all you need to do is sign up an account (or use your existing Amazon account if you already have) on Audible's official website. You don't have to worry about signing because you can cancel the free trial anytime you want. But what about Audible audiobooks?
Why Should You Listen to Audible Audiobooks?
You can expect no shortage of audiobook content in your Audible library and in multiple categories. Since Audible has the largest audiobook library in the world, I advise you to browse first to see how many books you can handle.
You can find the audiobook you want by typing the title on Audible's search bar or go to the browse section and find the audiobook under its category. You can also buy a book from Amazon and pay for it using the Audible credit you have. And since you're using a single account on both Audible and Amazon, the book you bought will be automatically added to your Audible library.
The overall quality of the audiobook will ultimately depend on the listener. Why? It is because most of the audiobooks available are written and recorded by notable writers and narrators. So, you will be getting a high-quality voice and tone on most audiobooks that you'll listen to.
The Audible Enhanced Format is currently at 64kbps, 50% higher than other audiobook brands. I also heard that Audible is also experimenting with a bit rate of 128kbps, which I look forward to. However, this also means that the audiobook file is larger and will take more time to download. The default speed of Audible audiobooks is 1x but I have tried adjusting the speed from 0.5x to 3.5x.
Usually, the available audiobooks in Audible can take long hours in order for you to finish. And not all of us have a lot of time to spare. Gladly, I discovered that along with full versions, some audiobooks in Audible have summarized versions (this is not available with all the titles) at a budget price.
A sleep timer is also an additional feature for Audible audiobooks. I just set the timer when to stop without worrying about how to pick up right where I left off. Because I know Audible will automatically save my last place via Whispersync so I never lose track. I even tried pausing, rewinding, and forwarding some Audible books that I have listened to.
When it comes to being user-friendly, I was amazed by the universal compatibility of Audible. It can be accessed on both Windows and Mac computers. Even with phones and tablets (Kindle, Android, iOS, and Amazon Fire). And mp3 players like SanDisk Clip Jam, Victor Reader Stream, and Milestone 312 Ace. Hence, with Echo device, Alexa can play Audible audiobooks for you.
What Will Happen if You Cancel/Hold Your Subscription?
Like what I mentioned earlier, you can cancel any time you feel like it even if you're still within the trial period.
But what about your unused credits and the books you already downloaded?
Audible credits expire around 1 year after being purchased, but you will lose it "even if it is yet to expire" when you cancel your membership.
If you become an official Audible subscriber, you'll have the privilege to place your account on hold once a year for up to 3 months.
In the case of membership holding, only Audible Premium Plus members can use credits but minus the Audible Plus Catalog.
On the other hand, your Audible books will stay forever in your library even after you cancel your subscription.
To be able to place your membership on hold, you need to contact an Audible customer service representative.
To cancel your subscription, just head on to your Account Details page, and then click "Cancel Membership" located at the bottom of the View Membership details section. After this, cite your reasons and later you'll receive an automated email confirming the cancellation.
So what's my verdict? Is Audible Worth It? Hmmmp… Before we get to my final thoughts, let's have a recap. Here are the Pros and Cons I found when I tried Audible.
Audible Pros & Cons
Pros
Both Audible Plus and Premium Plus has a 30-day free membership trial
Accessible to many devices
Portal to potentially limitless library
Your audiobooks are forever yours
High-quality audiobooks
You can return the book you don't like
Cons
Membership plans have higher pricing compared to its competitors
Doesn't normally introduce samples of similar length to the Kindle eBook samples
Honestly, while Audible has a lot of good stuff to offer, these are the downsides I saw when I compared it to other brands; such as Scribd. See my Scribd vs Audible comparison.
Final Verdict: Is Audible worth it?
Now let's get back to my last question, is Audible worth it?
Well… As I take everything into consideration I can pretty much say that the Audible service is worth taking. I just see that the Pros of Audible compensate for its flaws. My interest in audiobooks gets stimulated whenever I listen to a quality-voice narration. Because, frankly, who would enjoy listening to an audiobook that skips and throttles? Right?
If you really are an audiobook fanatic, I'm sure you'll go with the service that offers not just audiobooks, but high-quality audiobooks.
Needless to say, I suggest you try the free trial first and try it for yourself. So that you'll have your own conclusion.
Try Audible Free
FAQ
Can I purchase a book in the Audible App?
Yes, now you. However this is not the case before, last year a lot of complaints claim that customers can't buy audiobooks directly in the App. Gladly Amazon changed it.
Will I be able to try the Audible free trial with Amazon Prime?
Sadly No, you can't use your Prime account since Amazon and Audible (though under one company) have separate membership rules. But Prime members can get two premium selection titles when they start the Audible Premium Plus trial.
If I become an official member, how many books will I receive each month?
If you become an Audible Premium Plus member, you'll receive at least one credit. This means you'll have a chance to have 1 free Audible book every month, and you'll need to pay for the rest. If you upgrade your membership to annual plans, then you will have more than one credit each month.
Is there a return and exchange policy for Audible books?
Yes, there is. You will be given 365 days to return the title you are not satisfied with. There's also a book swapping or exchange policy. But you need to specify why you want to exchange or return the book (I don't know if this is the same case with a free trial). However, this privilege will be null when you cancel your membership. And oh, I almost forgot, you'll have your credit back if you return your book.
Read more: To Return Audible Books You'll Need to Know This
Are Audible Books Protected by DRM?
For ownership protection, most Audible books are encrypted with DRM protection. So expect a limitation when trying to create a backup of a titled book even if you have purchased it. I recommend Epubor Audible Converter. It's my go-to tool whenever there's an Audible audiobook I want to make DRM-free.