Audiobook
Best Audiobook Apps: A Feast for the Ears
It's no wonder that audiobooks are gaining popularity nowadays, it's probably the most time-saving and cost-effective way of reading a book since the information is coming in from your ears and at the same time you can still multitask just fine while other parts of the body is not being occupied, which broadens the possibilities of listening to audiobooks. Meanwhile, audiobooks are getting more and more accessible, unlike the days when you still needed a CD player to listen to the recordings, now a mobile phone can bring tons of fictions, non-fictions and almost everything one can imagine to your daily routine. Though it sounds overwhelming, there is only one simple task on your list: Find a solid audiobook player, and dig deep into it. Next up we have the best audiobook apps chosen for you, we'll guide you through the features, the prices and all the other things that you care about so that you can make the most reasonable decision.
Audible
Most of the eBook lovers are familiar with Kindle, Amazon's ace card in the field. Also powered by Amazon, while Kindle's main purpose is to create an enjoyable experience for reading eBooks, Audible offers a playground for audiobook lovers to have fun, inside it the members or non-members can choose freely from a selection of more than 470,000 titles, spanning from old-time classics to modern hits, all materials within reach.
The Audible app offers a built-in store for you to scan and search for your next favorites. You can choose to pay for audiobooks or pay a subscription fee to enjoy the benefits as a member. And of course there are books free of charge so that you can get a taste of the app itself. The more you listen, the more achievements you will claim, just like playing video games.
As you are listening to audiobooks, you can play around with the technologies like playback speed, sleep timer, chapter and clip navigation, playback position syncing etc. There is a lot of room for customization as long as the changes made suit you better.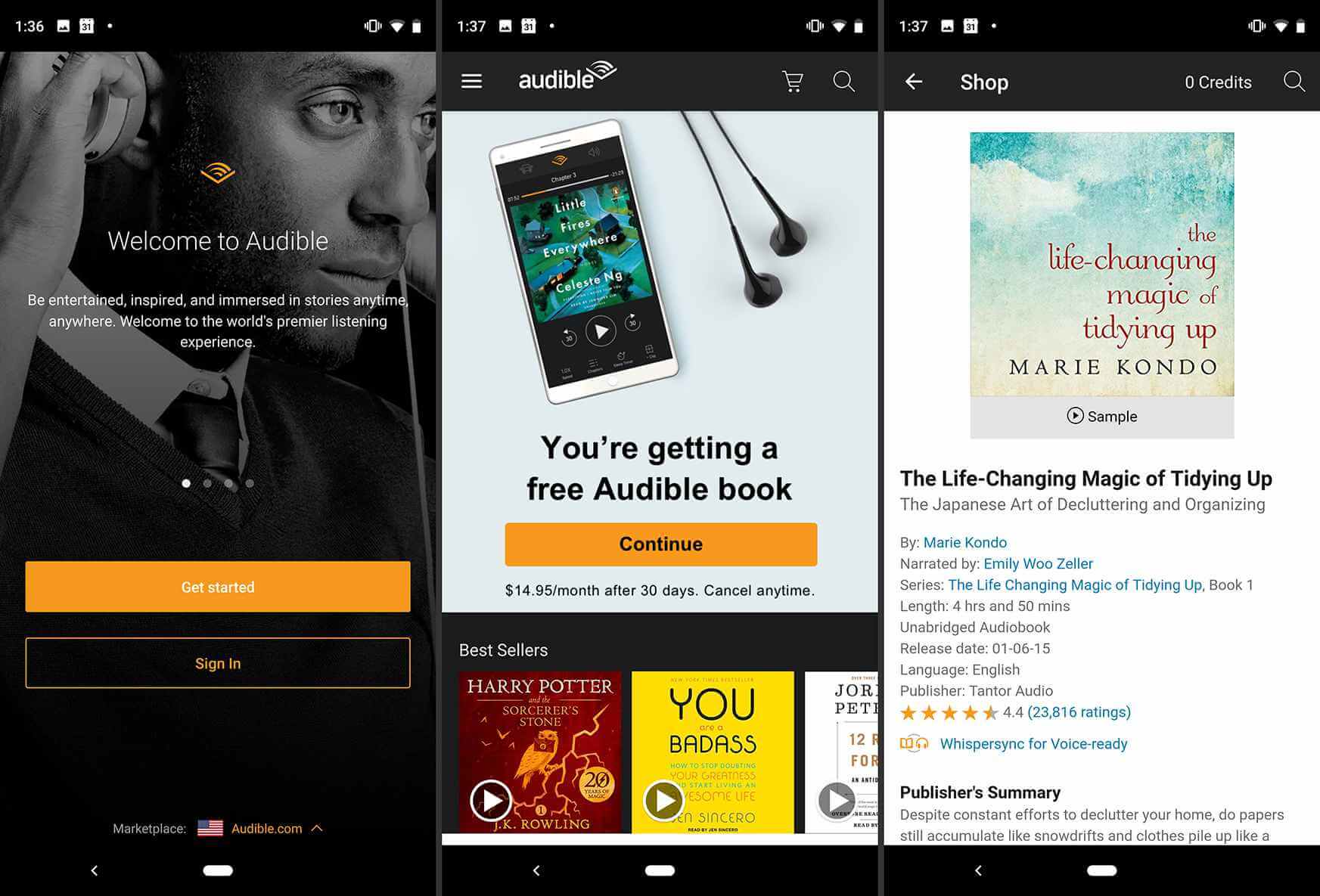 Key words: Wide variety of audiobooks, built-in audiobook store, stable and smooth user experience, support Apple CarPlay and Android Auto
Price: The app itself is free; Subscription fee: $14.95 per month after 30 days of free trial
Supported Platforms: iOS, Android
Audiobooks.com
Audiobooks.com includes a collection of over 150,000 premium and more than 8,000 free audiobooks. As a subscription-based service, the price is $14.95 per month after a 30-day free trial, but without upgrading to a premium member, there are still titles free to download.
The menu in the app's main interface is straight-forward and user-friendly, as it clearly divides the whole thing into three main areas: audiobook-related, account and customer service, making it easy for users to navigate around the audiobook neighborhood. Besides, you can change playback speed, set a sleep timer, fast forward or rewind, add notes (which can be reviewed from My Notes) and so on. A bonus is that you can reach out to the customer service department conveniently within the app in case problems occur.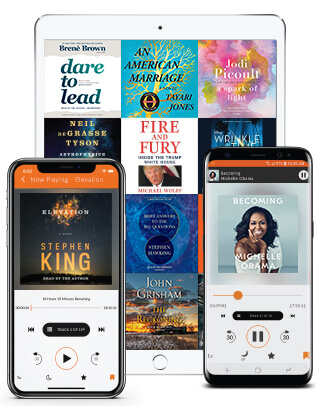 Key words: Built-in store, free audiobooks, neat UI design, user-friendly features, helpful customer service, support CarPlay (iOS)
Price: The app itself is free; Subscription fee: $14.95 per month after 30 days of free trial
Supported Platforms: iOS, Android
Scribd
If you're looking for an alternative for Audible, Scribd may be the one for you. It's subscription-based, but cheaper than Audible, charging for $8.99 per month after a 30-day free trial. While Audible aims solely on audiobooks, after becoming a member, the contents included in Scribd's membership are not limited to audiobooks, they contain eBooks, magazines and newspapers, a wide range of media in the exhibition hall for you to choose from. The audiobook player in Scribd covers basic functions like adjusting playback speed, adding bookmarks, creating sleep timers etc.
But with more offers comes greater confusion. The sections are intertwined in a way that everything looks the same, the texts are squeezed together, highlights and key points blurred, making the interface complicated and confusing. And since Scribd's focus is not only placed on audiobooks, the features are reduced and not as versatile as other audiobook players mentioned.
Key words: Multiple member benefits, various choice of formats
Price: The app itself is free; Subscription fee: $8.99 per month after 30 days of free trial
Supported Platforms: iOS, Android
Google Play Books
Purchasing audiobooks or eBooks inside the app is made possible by the built-in store powered by the rich contents of Google, you don't have to submit a certain amount of money every month or two and worry about that money will be wasted, with Google you just need to pick one and buy one at a time, which might be a more economical approach for people with less desire and time for audiobooks.
Except for the basics, sleep timers and such, Google Play Books introduces a rather new and user-friendly function called Smart Resume. It means that every time you rewind or fast forward for some seconds, instead of beginning fresh at the middle of a word, the app will start from a point that sounds more natural and smooth.
Key words: Flexible pricing system, smart and user-friendly functions
Price: Free, offers in-app purchases
Supported Platforms: iOS, Android
Librivox
Librivox grants its users free access to more than 10,000 audiobooks that have entered public domain, these books can be streamed online, downloaded for offline listening or shared freely without boundaries. The player makes sure that you enjoy the basic features: fast forward and rewind, bookmarks, resume the listening position etc. And it adds a little detail to the sleep timer, there are no limits as to how many minutes you can really alter, as long as you want it, you can make it.
Android users are lucky to enjoy multiplatform syncing, but being unable to sync across platforms is a downside for iOS. Apart from this, ads that appear frequently in the app might bother some people, you will have to subscribe to the monthly or yearly ad-free service to remove ads.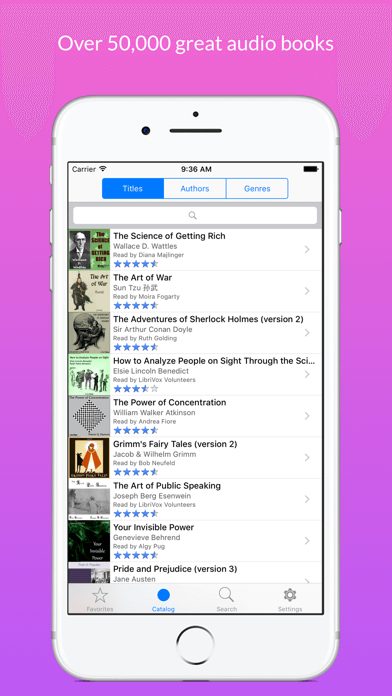 Key words: Various free books, simple to use
Price: Free, subscription-based ad-free service
Supported Platforms: iOS, Android
BookPlayer
BookPlayer is a beautifully-designed audiobook player on iOS that can be enjoyed at no cost, unlike any apps mentioned in the list, this app is born and created solely for playing non-DRMed audiobooks, so it doesn't come with a built-in store or library of such to serve as a source of audiobook selection. You need to have audiobooks imported into BookPlayer , which can be done comfortably in multiple ways, so be prepared to download audiobooks beforehand.
The interface is neat and minimalist, effortless for those who are new to audiobook players to navigate around and get the hang of it within just a few seconds. There are no complicated or perplexing instructions, with one click you can modify nearly everything, playback speed, sleep timers etc. What's more, you can manage the library and create playlists as you wish. Unfortunately CarPlay is still in progress, the updates of development can be seen here.
Key words: No ads, refined UI, seamless experience
Price: Free
Supported Platforms: iOS
Apple Books
As Apple's original eBook viewer, Apple Books not only supports reading various formats of eBooks, but also serves as an audiobook player. Because it's an Apple product, there will be no problem syncing the books on all your Apple devices, including iPhone, iPad, Mac and Apple Watch, which makes it a perfect choice for keen Apple users, allowing them to play audiobooks through Apple Books on multiple devices, in diverse occasions.
Like Audible, Apple Books provides the customers in selected countries the chance to shop at Apple's bookstore just inside the Apple Books app, if you are not in the mood for buying at once, a wish list can be created for the purpose of remembering some interesting choices.
In Apple Books, changes can be easily made with some simple clicks, like adjusting playback speed, setting a sleep timer, changing tracks and so on.
Key words: Built-in store, clear and practical UI, stable and smooth experience, compatible with all Apple devices, support CarPlay (iOS)
Price: Free, offers in-app purchases
Supported Platforms: iOS
Libby, by OverDrive
Created and published by OverDrive, Libby is designed for library goers, and is extremely helpful for those who need or want to borrow eBooks and audiobooks from libraries from time to time. It saves the time and energy going all the way to the library and back home, here you only need to input the card number of the library, and then browse online to see if there are any books that fit your current mood and read or hear them on LIbby, or go for the option to send the books to Kindle and read them there (currently only for U.S. libraries), all free of charge.
The functions regarding playing audiobooks of Libby can definitely meet the basic demands of loyal audiobook lovers, including letting you acclimate to the perfect playback speed, add bookmarks/notes/highlights, settle on a snooze time etc.
Key words: Free of charge, time-saving and energy-saving, friendly to library goers, support Carplay (iOS)
Price: Free
Supported Platforms: iOS, Android
Audiobooks are changing the narratives of storytelling, and open more possible gates for people to enjoy books in modern days. We hope this article makes it more straightforward for the decision making of the best audiobooks apps on iOS and Android. Happy listening!