Audiobook
Scribd vs. Audible: Know Your Audiobook
"Bibliophilia", if you are addressed with this term many times, then there's nothing that can capture your interest more than a good book. Well, there are so many available books to read, in both electronic copy and hardbound for folks like you. But for those who have hectic and busy schedules, many bibliophiles find it hard to insert time just to read.
However, reading is not the only option to enjoy a good book in our modern world. If you are that hooked to technology, then surely you know how audiobooks work.
What basically is an audiobook? Audiobooks are audiocassettes or CD recordings of a reading of a book. Meaning, rather than you read it, an audio recording will read it for you, and all you have to do is to listen. In simple terms, an audiobook is an aloud eBook. In fact, over the course of the past years in the digital publishing industry, there's a noticeable decline in the eBook market whereas audiobooks gain more and more popularity.
So whether you queue up a motivational book on your morning commute or at the gym, listen to a novel or enjoy some historical fiction on your lunch break, or even while you clean the house, audiobooks are the easiest go-to for busy bibliophilia like you.
Now that we have our brief discussion about audiobooks, let's talk about the things that you will be expecting in this article.
In this article, we are going to have a short comparison of the two most popular audiobook services that are going head-to-head in the audiobook service industry. Scribd and Audible. Not only that, but we also have the sets of pros and cons that will surely help you find what service is best for you.
We are going to make a review and compare these two services based on these criteria of judgment:
Years of Experience
Available Content
Quality and Performance of Audiobook Content
Price
Audiobooks App Compatibility
Audiobook Download Ownership
Disclaimer: This comparison is based on the results of the research and test that I've done. Any information provided in this article is intended for educational purposes only and is not intended to derogate any of the mentioned companies. I encourage you to try the free trial of the two brands for your own conclusion.
Try Audible Free
Scribd vs Audible: Years of Experience
Scribd
Scribd made its debut in March of 2007. It became the world's first reading subscription service and the world's first publishing platform. Now, over a decade has passed, Scribd increased its popularity and is now one of the most leading audiobook subscription services.
Audible
Audible existed since 1995 and has been producing digital audio players long before iPods became known to the market. Though the company reached its peak when Amazon bought it in 2008; climbing its way up to the top becoming the leading audiobook distributor.
Verdict
Based on the years of experience, Audible obviously got this one. Given the fact that Audible has over a decade ahead of Scribd gives it an edge experience-wise.
Scribd vs Audible: Available Content
Scribd
Scribd audiobooks library consists of over 150,000 titles. But Scribd offers a lot more than just audiobooks, there are also eBooks, sheets of music, magazines, journal articles, research papers, and surprisingly; snapshots (book summaries) that you can find on the Scribd platform. There is even a lot of exclusive original content available for you to listen to if you are a Scribd subscriber.
Audible
Audiobooks library contains more than 470,000 titles available, making it not one of but "the" largest audiobook library in existence. That is why Audible can be considered as the king of audiobooks. When it comes strictly to audiobooks, Audible is the pinnacle. Audible also has original recorded content. But what's best with these contents is that some of them are spoken and performed by some of the world's best actors, comedians, and writers.
However, this is as far as Audible can go. Though recently, the company is branching out with some high-quality podcasts.
Verdict
When it comes to audiobooks alone, I personally think audible has the best to offer. However, when deciding which of these two has richer and more diverse content to offer, Scribd still takes the lead over Audible. But who knows, we might see additional content on Audible if Amazon permits it. And I wouldn't be surprised if that time comes.
Scribd vs Audible: Quality and Performance of Audiobook Content
Scribd
Scribd has some recurring hiccups when it comes to performance. According to one subscriber "at times, the audiobook versions on Scribd are also faulty and hissy". Scribd's audiobooks quality is better when played as a download, rather than played via stream.
The speed of reading is also another thing to consider because Scribd audiobooks are a bit slower compared to other audiobook brands. They can't get faster than 2.01x which other audiobook brands have no problem reaching faster rates.
If you have a device with limited storage, go for Scribd indeed. Because in order to store a higher bit rate of the audiobook, you will be needing more storage space. As larger audiobooks tend to take 10 hours long, that is why an audio file with a higher bitrate would occupy more space. This standard 32knos digital format offered by Scribd is not your best option for audiobook recordings. So expect that most of the audiobooks don't sound that great.
Audible
I could not find any negative reports regarding Audible audiobooks. If there are some, it may be the minority. This is mostly because Audible is known to provide industry-leading quality. With its 64 bit in contrast to Scribd's standard 32 bit. This over a half-bit difference is great for audiophiles who use speakers and headphones. Audible audios are no doubt better with their, enhanced quality of sound and less distortion of noise.
Like what I have previously mentioned above, Audible can be considered as the king of audiobooks. Giving the fact that it has Amazon as its backup and there is this line of recording done by major celebrities.
Verdict
Unbiased, Audible takes the win here. It is already a veteran when it comes to audiobook publishing.
Scribd vs Audible: Price
Scribd
If you are going to become a Scribd subscriber, then expect a charge of a flat monthly fee of $8,99 with the given unlimited access to all of Scribd's content.
That means that you can enjoy reading as many books as you like every month. Not only that, but the Scribd membership plan also includes full access to millions of member-contributed written essays, short stories, articles, and a variety of different documents in addition to your traditional books.
This one-time membership from Scribd is equivalent to a premium membership on other brands, where you can enjoy thousands of different audiobooks in different genres. If you can't decide yet, then try their 30-day free trial.
Audible
Audible has a variety of membership plans that ranges from the lowest rate of $7.95/month to its highest $229.50/year subscription.
Though audible seems to be more expensive compared to other audiobook companies they do give a pricing bonus and heavy discounts on any additional purchases you'll make within your monthly subscription.
Verdict
If you are in pursuit of finding the cheapest option, then it may seem that Scribd is the one you're looking for.
Scribd vs Audible: Audiobook Apps Compatibility
Scribd
iOS devices with iOS9 or later (including Apple Watch)
Android devices with Android 4.4 or newer versions
Kindle devices with Fire OS 4 and its later version but this excludes Kindle Paperwhite
Latest versions of NOOK tablets
Audible 
iOS devices – iPhones, iPods (Touch and Classic), iPads,
macOS
Android devices – smartphones and tablets
Windows OS
Kindle Paperwhite(10th Gen)
Kindle Oasis (8-9 Gen)
MP3 players such as SanDisk Clipjam & Creative Zam
VictorReader Stream or VR Stream
Bones Milestone 312
Fire Tablets OS 5 and above versions
BrailleNote & Apex BrailleNote
Verdict
When it comes to the Scribd vs Audible audiobook apps it's a settlement. Both have similar functions like sleep timer and with just a slight difference in narration speed. So it is best known for their compatibility in order for you to go for the one that you can use in your respective device.
Scribd vs Audible: Download Ownership
Scribd 
Scribd's terms and conditions are not that far from the likes of Netflix. You may have the accessibility to download as many things as you want, but this does not mean you have full ownership of what you've downloaded. In fact, the truth is, you are just borrowing it from Scribd. You have the right to download but not to own it.
That being said, once you cancel your subscription, you will lose access to the book you downloaded.
Audible
When it comes to Audible, things are different. Any book you download within your subscription period is yours. It will stay in your library, on your device, and you can read or listen to it as many times as you would like. Technically, you are buying the book together with its copy.
Now, unlike Scribd, even if you decide to cancel your subscription, you will still have access to open and use your downloads.
Verdict
With subscription services like Scribd, you don't actually own any books, instead, they just lend you a copy. Your access to your books will stop as soon as you stop paying for your subscription. Whereas with Audible, you own every book you purchase. So for me, Audible wins this round.
Speaking of ownership, you may discover that some books in Scribd and Audible are DRM-protected.
Some audiobooks that have been downloaded from Audible are in AA and AAX formats with Audible DRM protection. Meaning, You need to remove Audible DRM from your Audible audiobook in order for you to listen to the audiobooks on other platforms freely. You can remove Audible DRM from your Audible audiobooks with the help of Epubor Audible Converter.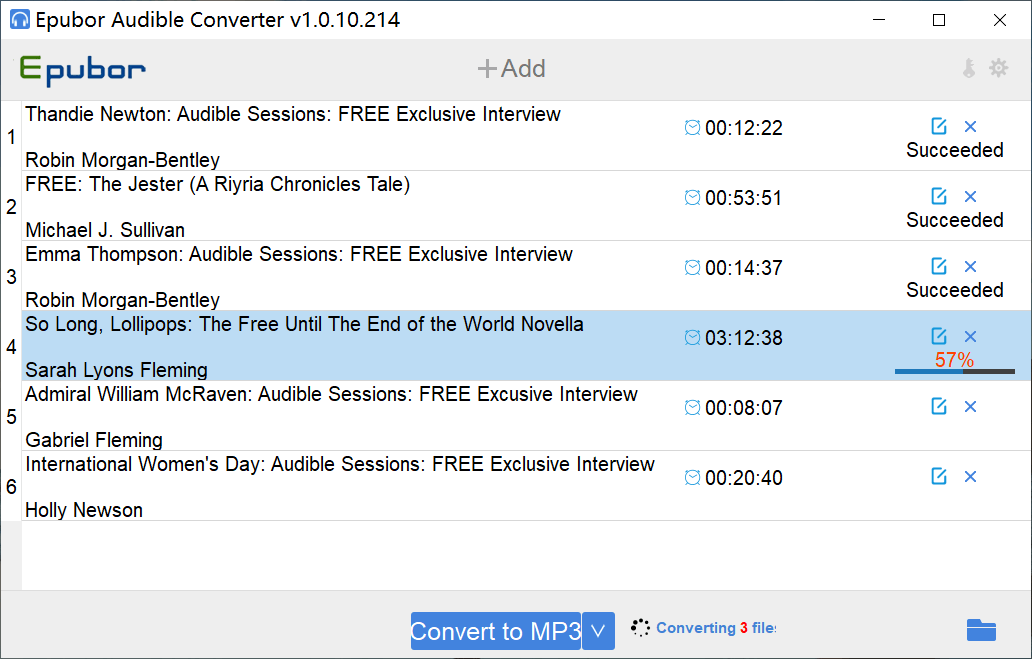 When it comes to removing DRM protection on Scribd audiobooks, so far there is no known way.
Summary: Scribd vs Audible Pros and Cons
Scribd Pros
Has a wide range of content available
Cheaper monthly price
One month free trial
Offline access
User-friendly Scribd App
Storage-friendly
Scribd Cons
Fewer audiobooks to choose from
Limits your accessibility to own a book
Lower audio quality at only 32 kbps
Audible Pros
Offers the largest audiobook library in the world
Has a return and exchange policy
Almost universal interface
You get to own every book you download in your library even after you stop your subscription
High-quality audiobook with up to 64kbps
Has whispersync and widgets
Free Podcast
Audible Cons
You might find it expensive if planning to get three to four audiobooks in a month
Only offers audio content
Final Verdict
Both Scribd and Audible offer a great deal for audiobook service. The final rundown still relies on who's service you think you'll get. The important thing is, you should consider first the value of the provided audiobook or if it's your money's worth. Even so, I came to the conclusion that soulfully for audiobook purposes, Audible has the best to offer. Audible costs less and can be played on a wider range of devices.
We encourage you to do your own research about this and find other alternatives. You can even sign up for a free trial with both Audible or Scribd to see how the service of these two audiobook brands is worth taking.
Try Audible Free