eBook
How to & Where to Download Free Manga Books
What are Manga Books
A significant rise of manga in the popularity poll is dramatically increasing. The word "manga" originated from Japan which translates to "whimsical pictures". Modern manga commonly covers 8 genres (though some mangas are mixed of two or more genres):
Shojo (idealistic romance)
Josei (realistic romance)
Shonen (young boy protagonist)
Gekiga (dramatic and mature)
Yaoi (gay manga)
Adventure
Comedy
Sports
Compared to its counterparts (American comic, Korean Manhwa, and Chinese Manhua) which usually consists of colorized pictures, Japanese manga's on the other hand are mostly printed in black and white. Mangas are released in chapters either weekly or monthly having around 17 to 40 pages.
Besides having limited time for serial publishing and printing cost, many manga artists believe that colouring could lessen the value of their artworks. That is why you can't find many colorized manga available.
The popular manga Astro Boy by Osamu Tezuka (1952) is one of the first and the oldest popular manga today.
Where to Download Manga
If you are one of those who are fascinated with manga's artistic drawn pictures, then you've come to the right place. If you ask me, downloading and reading manga online is more convenient compared to buying manga books in bookstores. There are two reasons why I prefer reading and downloading manga books. One is that it saves me money and the other is the huge amount of material that is available.
Well, there are a bunch of available manga websites you can find on the world wide web. However, not all offer safe and free browsing. Some websites don't even offer a free download option for manga books. But no worries, I did a deep digging to find the best and the safest websites where you can read and download free manga. All the listed websites in this article offer up-to-date and complete manga books which are absolutely free and compatible with any device.
So without any further delay, here are my best picks:
MangaFreak is one of the most popular and most visited manga websites for online manga reading. It has a manga genre of over 40 available categories. There's no need to log in or sign up for an account in order to read a manga. This website also makes your download of manga books easy.
Its features consist of 5 options aside from its webpage.
Manga List. The manga list option allows you to browse manga books from A-Z; find your favorite manga book by clicking the first letter of its title.
New Release. If you are already following a serial release of a manga book, you can click the new release option for the latest chapter of the manga.
Genre. If you are on to a specific genre of manga, then the genre option can help you. There are over 40 MangaFreak genres that you can choose from.
History. As the name implies, the history option is the place where you can revisit what manga books you previously opened on the MangaFreak website.
Random. By clicking the random option, you're letting the website randomly choose a manga book to recommend for you.
Another website that allows free online reading and download mangas is Mangairo. On the website's homepage, you will be welcomed by monthly trending, recently updated, and new manga.
It's also home to both Chinese comics (manhua) and Korean comics (manhwa). If you click on the dice icon, you'll be directed to a random manga chosen by the website for you to read.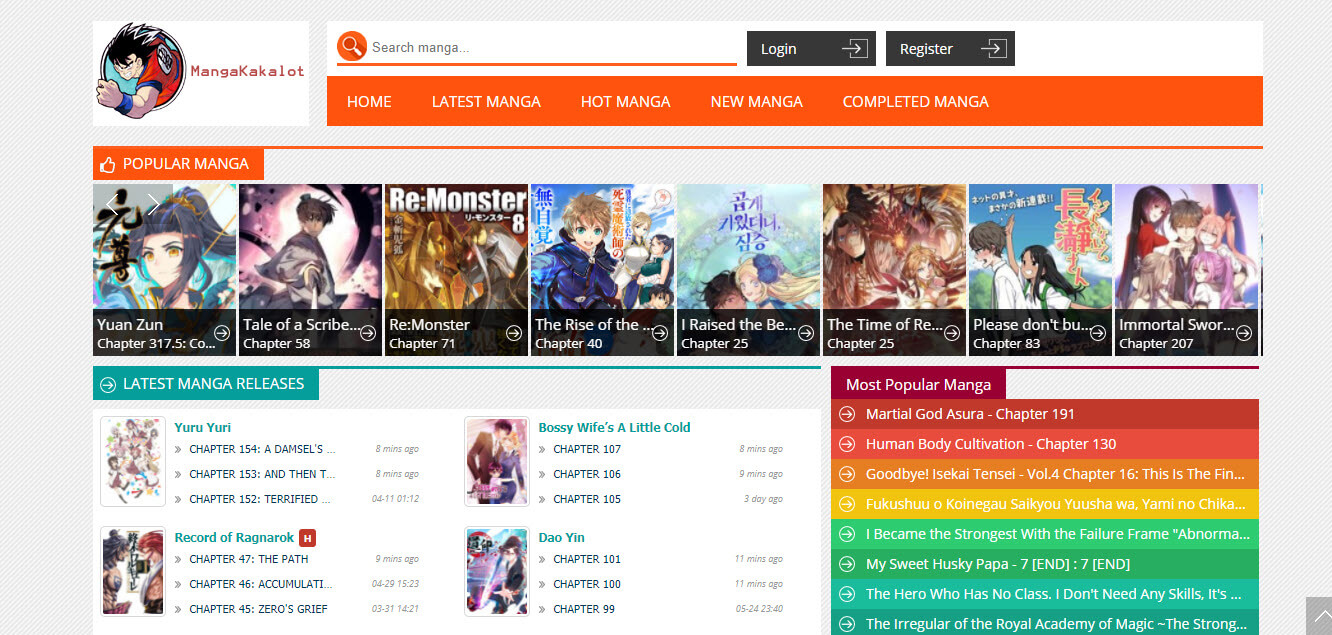 The name ring's a bell, right? If you're thinking what I'm thinking then Yes! Mangakakalot derives its name from the famous anime protagonist, Kakarot. In fact, it is obviously shown in the website's logo.
Mangakakalot is one of the longest-running manga websites available on the internet. Enjoy safe reading and downloads of your favorite manga book on this website.
When you search for a manga website, Manga Reader will surely be one of the websites that will be recommended for you. Like the other websites on the top of our list, Manga Reader also gives you your history, the latest, popular, and completed manga books. However, it has one unique feature that the previously mentioned websites don't have. I'm talking about the bookmark feature where you can bookmark your favorite manga book. With this, you can keep track of your reading progress on a manga book.
Manga Here is what the majority of online manga readers would love on a manga website. This website's unique design is best for mobile readers. It has ongoing and completed manga books. What's more unique about this website is that it has manga news and spoilers that keep you ahead on track.
Manga Rock is a hustle-free manga website. The distinct location of each of the options available on this website is easy to navigate. In the website's search bar, you can either type the title of a manga or the author of it.
MangaHub is a great place to read and download manga for free. There are a ton of regularly updated manga to choose from, both completed and ongoing series. You can check your history for the list of manga books you previously read. A tag will be denoted if there is an update on your favorite manga. The pages are usually scanned clearly, and while the translations sometimes aren't 100% perfect, they are very close.
MangaPark offers online manga reading without sign-up and registration. Its manga lists are arranged in different categories. You can find the popular and latest released manga in an organized grid pattern.
MangaSee is a manga website. There are not many options that you'll need to click in order to find a manga book. In fact, this is the simplest website on this list.
What's cool is that it has a discussion server where hot manga topics are talked about by manga fanatics.
Now we are down to the last website on this list, MangaInn. As soon as you open the website you'll notice a chat room in the right corner of MangaInn's webpage. This acts as a discussion room similar to MangaSee. Though it's easier to chat here with fellow weeb and otakus compared to the latter website.
How to Download Manga Books
Ok, now, you already have the knowledge on the best sites where you could download free manga books. The next thing that you should know now is how to download from these websites.
There are 3 ways you can download manga books. And one way may not be effective to you unlike the other. So it is best to try which of these 3 works for you.
Click Download Button. If you go to the manga book's home page instead of going directly to its chapter. You'll see a download button on the right side of each chapter. This is the easiest way to download a manga book. Sadly, I was not able to find a website that offers this download option besides MangaFreak.
Manual Download. Another way to download manga books is by doing it manually. After you browse a manga book, click on its chapter. Once you open the chapter, right-click to the chapter's title then click save as. You find a lot of YouTube video tutorials on how to download manga books this way. However, it's not possible for everybody. You might be able to download the chapter but pages are possibly scrambled and all are in image format.
Manga Download Tool. There are tools you can use to download manga for free. With these tools you'll be able to download manga books into PDF or image format:
Summary
Manga books offer an escape to reality adventure with their fantasy storytelling. We have the American comics, Chinese Manhua, Korean Manwha, and the ever-famous Japanese manga. Though diverse in cultural art styles, these books shared the same goal of entertainment through pages.
Download your favorite manga books online on these websites on our list. And use the manga tools to enjoy your full manga book reading.