eBook
Quick & Easy Steps on How to Remove DRM from Kobo eBooks
Like most Kindle and NOOK books, most Kobo eBooks also have standard DRM encryption. So it is normal that whenever you purchase eBooks from Kobo digital book store, you are pretty much going to have a DRM-protected eBook.
While this DRM protection brings security to the authors and retailers, it gives a nuisance to purchasers.
The fact that you can't share it or read it on any device (unless you have Kobo eReaders, but will get to that later) makes you feel you own it; but not.
To ease your problem, I'll show you the secrets of cracking Kobo DRM protection using a very viable tool, Epubor Ultimate. The following how-to-remove-DRM-guides using Epubor Ultimate will help you read and share the Kobo book you bought.
Free Download Free Download
Disclaimer: This article will teach you how to crack DRM from Kobo eBooks for legal purposes only.
How to remove DRM protection from Kobo eBooks using Epubor Ultimate
Depending on your circumstances, there are 3 methods to remove Kobo DRM with Epubor Ultimate.
METHOD 1: Using Kobo Desktop to sync the books and then use Epubor Ultimate for Kobo DRM removal.
Step 1: Download the Kobo Desktop app and sync your already downloaded/purchased Kobo books.
Go to https://www.kobo.com/us/en/p/desktop to download and install the app.
After the installation process, open the app and log in to your Kobo account.
Go to "My Books" and click "Sync"
You can locate the stored Kobo files or KEPUB in Windows file path: C:\Users\(user name)\AppData\Local\Kobo\Kobo Desktop Edition\kepub
Step 2: Install Epubor Ultimate app to use it in removing Kobo DRM protection. This is a general way of removing DRM on Kobo eBooks using Epubor Ultimate.
After you install the Epubor Ultimate, open the app and click on the "Kobo" tab at the left pane. Your downloaded Kobo eBooks will automatically appear there. Drag each book to the right to remove Kobo DRM.
Put in mind that some files need a key file in order to successfully decrypt DRM protection. If a dialogue box appears indicating a need for a key file, simply contact epubor support for the key of the specific file.
METHOD 2: Connect a Kobo E-reader or Kobo device (e.g. Kobo Glo and Kobo Aura) to your computer, and then use Epubor Ultimate.
Step 1: This method applies to someone who has a Kobo eReader device. And it will be pretty much easier if you already downloaded the eBook on your device. And since Epubor Ultimate doesn't work and can't be installed on Kobo firmware operating system, it is necessary to download your books to your device first. And then connect your device to a computer that has the Epubor software in order to use Epubor Ultimate efficiently.
Using a USB connector or other digital ports/cable, connect your Kobo device to your computer.
As soon as your Kobo device says "Computer Detected", you need to click "Connect".
If you have tried plugging in your device to your computer and notice that nothing happens; and if your computer has multiple USB ports, try changing by plugging your Kobo device in either one of them.
When you check that your Kobo device and computer are perfectly connected; your Kobo eBooks will automatically be detected under the "Kobo Device" column.
Step 2: Same principles as before. The general way of removing DRM on the Kobo app also applies to Kobo devices.
Drag the Kobo eBooks under the Kobo Device to the left area. Epubor Ultimate's DRM removal will quickly operate.
METHOD 3: Remove DRM from Kobo eBooks with Adobe Digital Editions (ADE)
Step 1: This method is the least common way of removing DRM in Kobo eBooks. If downloading a Kobo app is more suitable for you or you have a Kobo eReader, then you might not need Adobe Digital Editions. And please note that this method requires an internet connection.
Even so, once you're done, you'll find that this is still a conventional method as Epubor Ultimate synchronizes well with this app.
Open your Kobo library. Below your Kobo books, click the Ellipsis or the three periods.
Next, click the Download option. If a book is DRM-protected, a dialogue box like this will appear:
You can proceed to download the file though you still need to download the ADE app to open it. You can also download the Adobe Digital Editions app prior to opening your Kobo library.
Download Adobe Digital Editions.
Install Adobe Digital Editions and authorize your computer. To authorize your computer, you will need to create an authorization ID.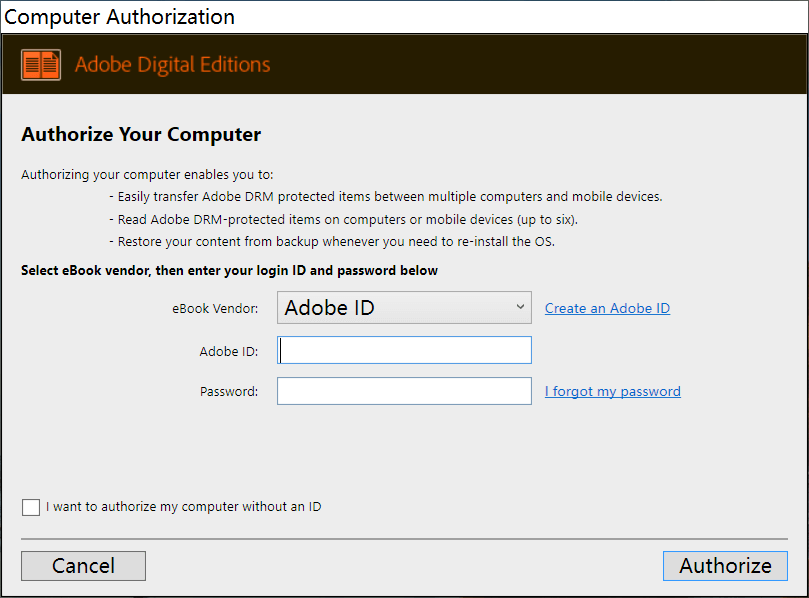 This authorization ID is necessary so that you can open the same file on other Adobe Digital Edition devices. Without it, you can only open the file solely on your computer.
Go to your computer's download folder then open the downloaded Adobe DRM Epub file (commonly named as URLLINK)
When you click open, you will be brought to the Adobe Digital Edition app's bookshelves.
Now open Epubor Ultimate. Because you will not use a Kobo app nor a Kobo device, all the Kobo eBooks will be under the Adobe column.
As you've already known, the general DRM removal of Epubor is a throughout the procedure.
You can check the decrypted files on the output section of Epubor Ultimate or file path Local\C:\Users\User\Ultimate
Some Final Thoughts
The DRM protection of any eBook is an attestation that you do not own the full ownership of the book. So any act of removing DRM encryption for illegal purposes is punishable by law.
But if you just wanted to remove Kobo DRM protection for leisure purposes and not to monetize then there's nothing to worry about. Enjoy sharing your Kobo eBooks on any device you want.
Free Download Free Download