Audiobook
Convert Audible to M4B: How and Why
Audible is the major provider for audiobooks on the market, if you are a member of Audible, or still considering the pros and cons, you definitely need to know the mechanism that Audible uses. You can hear or download Audible books on your computer, and convert the downloaded files to M4B or other formats, this process works differently on Windows and Mac.
The universal way that works both for Windows and Mac is to directly open audiobooks (click Listen Now) on your browser to launch Cloud Player, and the audiobook will start playing itself. But the audiobook won't be downloaded so that you can hear it offline. To be able to listen to the contents offline and back up your audiobooks, you need to first download the audiobooks.
Windows 10 users can directly download Audible books on the Audible app as an AAX formatted file and hear them offline. Windows users who don't have Windows 10 system can use Audible Download Manager to download Audible books on site and open them via Windows Media Player etc., or just hear them online through the web player. Mac users can download Audible files through the official website, open the downloaded contents via iTunes or Apple Books. Or just listen to them through the web player. (Details regarding downloading Audible books using different systems will be shared later in this article.)
We're not saying that you can't just listen to your audiobooks using these methods, but there's something special about converting them to M4B.
First of all, for those of you who just want to back up your data, in the meantime don't want to lose the chapters that are originally organized in Audible files, then M4B is your must-have. The popular format that everybody is familiar with, MP3, doesn't have this advantage. Secondly, if you want to change devices or applications to enjoy Audible, then using certain programs to convert the contents is a way to achieve this goal. Besides, M4B has better sound quality compared to other formats.
M4B is a format that is supported primarily by iTunes, which means that you can listen to Audible contents on all your iOS devices. In the Android system there are also lots of applications that can play M4B.
In this article, we'll share the best tool and a detailed tutorial to enable this conversion. With all that in mind, let's get started.
Epubor Audible Converter is the software that can help you remove the DRM (Digital Rights Management) of Audible and back up a non-DRMed file, which you don't have to worry about it getting lost, and is ready to be shared with others handily and has its original chapters remained. With a few clicks, Epubor makes the whole thing easy and quick: First download the Audible book, then add these books to Epubor, finally click Convert to M4B.
As you've noticed the good sides that M4B has, like better sound quality and keeping original chapters, you need to choose to download AAX files. This choice can be made before you open Audible Download Manager, which is an essential program for downloading Audible books. We will let you know the details later in this article.
Furthermore, Epubor allows users to split the converted files into chapters or segments with certain time-length, and store them as individual files.
Begin your free trial today and have a go at the whole progress. Note that with the free trial you can convert roughly 10-minute length of your desired file, and in this version you can't use the feature of splitting the converted files into certain parts.
How to Convert Audible to M4B on Windows
Step 1. Choose and download the audiobook you want
Audible offers a huge selection of audiobooks, including numerous genres and multiple languages. If you have subscribed to Audible, then just make the purchase. In case you are not a member, but want to know the eligibility of Audible, Audible will constantly remind you of its membership service, but you can totally find free audiobooks and have a little taste.
To download books on your Windows computer, Windows 10 users can go to Microsoft Store and download the Audible application.
In the library section, you can hear the purchased books online or download them. Note that the files that are downloaded via this app are automatically in AAX format.
If you are not using Windows 10, then in order to download Audible files to your computer, you will need to download Audible Download Manager, it's a software that plays the role of a medium that builds a bridge to help you download Audible files. There are basically two choices you can make before you click Download, the first is Format4, the other is Enhanced. They will both be downloaded as files with .adh extension after clicking Download, meaning that these files should be opened via Audible Download Helper. After opening them through Audible Download Manager, the downloading progress of real files that are in AAX (if you have chosen Enhanced) or AA (if you have chosen Format4) will start.
Again, to be able to get AAX format, which has better quality and well-organized chapters, you'll need to choose Enhanced beforehand in the browser.
Step 2. Add Audible files to Epubor Audible Converter
After installing Epubor Audible Converter, just double-click the program and launch it.
First off, choose the output format as M4B in the bottom section. The next thing is to add your desired files to Epubor. You can either click +Add icon in the upper section of the main interface, or you can open your file explorer and scan through what you have in store, then drag and drop the files to the Drag Drop Books Here area.
Windows 10 users can find their downloaded contents by opening Audible app > Settings > Downloads > Open Download Location in File Explorer. Normally, you can also find your files in C:/Users/computer username/ AppData/ Local/ Packages/ AudibleInc.AudibleforWindowsPhone_xns73kv1ymhp2/ LocalState/Content.
For people who use Audible Download Manager, clicking Downloads Folder will lead you to the destination, normally the files will be stored in C:/Users/Public/Documents/Audible/Downloads.
Step 3. Start converting with chapters remained
Before you click on the Convert to M4B button, there is something you need to pay attention to. Epubor supports dividing Audible files into chapters. If you have such needs, then you can click the Option icon, which is beside the little X, and make the choice according to your need. Checking the box before Apply to all can save you some time, so you don't have to customize the setting for each book.
If the situation mentioned above doesn't apply to you, then you can go directly to set M4B as the output format.
Click this blue area and the conversion will begin, which is fast and efficient. While converting, the progress bar under the Option icon will let you know how far you've gotten to.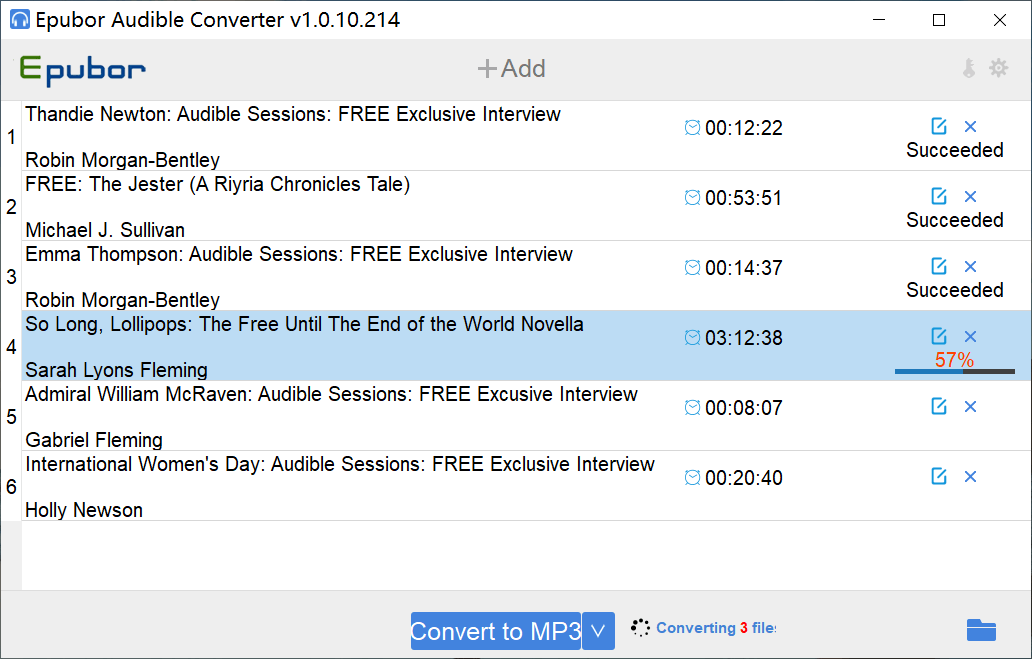 How to Convert Audible to M4B on Mac
Step 1. Download the audiobook that you like
Audible runs primarily with its membership mechanism, the membership service comes with a one-month free trial (for newcomers), and Amazon Prime members can enjoy discounts. You can nevertheless still purchase audiobooks without a membership. There are also some books and excerpts of books that are available for free.
When you have decided which book to download, switch to the Library section of your account, on the upper-right section there is a dropdown menu that says Format4 and Enhanced. Format4 means that you will get AA files if you choose it, Enhanced on the other hand will bring you AAX files, which have better sound quality and initial chapters. So we highly recommend you choose Enhanced.
After making your choices, click Download and the downloading progress will automatically start.
The downloaded contents can be opened via iTunes or Apple Books. But if you want to make it as M4B and be able to do all the things that the original format doesn't allow, then you'd want to choose the right path.
Step 2. Add your desired Audible files to Epubor Audible Converter
Launch Epubor Audible Converter that has been installed on your Mac and you are on the right track. The first move is simple, choose which audiobooks you want to convert. There are two ways to do this, the first is to click +Add icon in the upper section of the main interface and add whatever Audible books you wish to convert. The second is to open Finder and go over the books you have in your repository, then drag and drop the files to the Drag Drop Books Here area.
The files that have been added successfully will appear like this, with their time length attached to it.
Step 3. Start converting with chapters kept
Moving on, before you look at the final procedure, there is an optional offer that some of you might need: Split chapters. If your aim includes dividing a lengthy audiobook into several parts and storing them as individual files, then you can click the Option icon, which is beside the little X, and make the choice according to your need. Besides, if you check the box before Apply to all, then your option will be applied to all of the Audible files that are being converted.
If you just want to keep the converted file as a whole and don't have the intention to make any changes, then just check the bottom section where you can set the output format as M4B. Click this blue area and the conversion will begin, which is fast and efficient. You can just leave the program running, or check the progress bar from time to time to monitor how it goes.
When the conversion is finished, you can click the little blue folder at the bottom-right corner to check the location of your converted M4B files, then you can enjoy the non-DRMed Audible files on more devices anywhere you like!
Free Download Free Download