eBook
How to Remove DRM from Google Play Books
With 12 million digital books in store, and even some books that are no longer available from the publisher, Google offered a huge selection of eBooks to meet your demand. You have the choice to either purchase/rent an eBook or read a certain percentage of the book for free to see whether you'll like it. While it's convenient for those who have Google Play Books app already installed, things can be quite difficult for Kindle users and people who have devices that don't support Google Play Books. Don't worry, we are here to help.
Quick and Easy: Remove DRM from Google Play Books with Efficiency
DRM removal is not as hard as you think it is, get started with us and you won't regret it.
Step 1. Download an eBook on Google Play Books
You already have a book in mind that you want to read, for sure, right? If you don't, Google Play Books also have tons of recommendations on its interface and one of them is going to satisfy you. All you need to do is log in your Google account and click that book. Now you can see all the details that this book contains, it's up to you to buy it, rent it or read a free sample. Books that you have purchased will appear automatically on your bookshelf, simply click My Books to check them out. Nearly all books are downloadable in two formats: EPUB and PDF. Before you start, there's one thing you need to pay attention to: There are some books that can't be downloaded. You'll know whether it's downloadable on the detail page, just scroll your mouse all the way down. If the content is available for downloading, then click the button with three gray dots and choose the format according to your wish.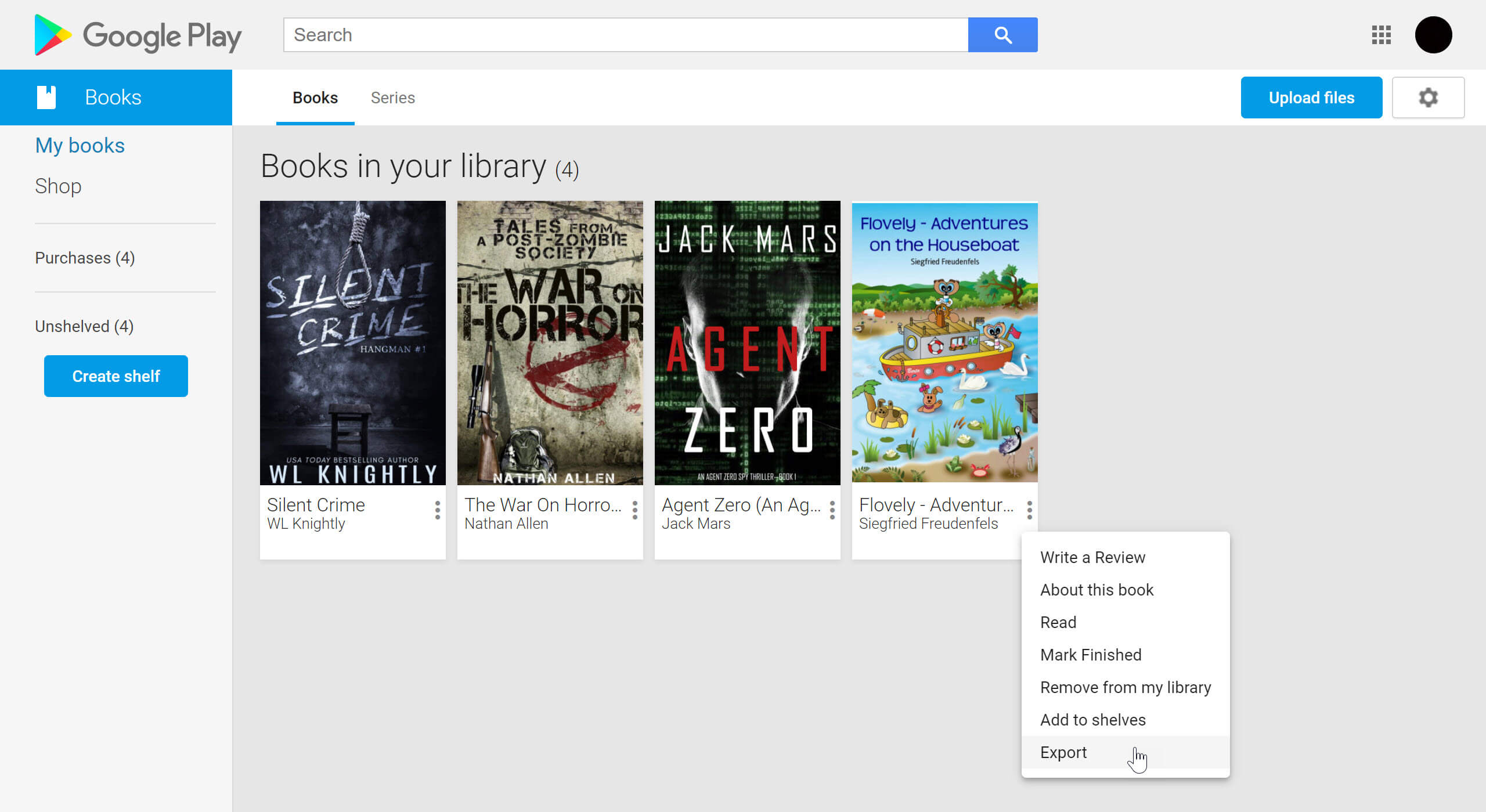 Step 2. Convert ACSM to EPUB/PDF
Now you can see an ACSM file lying in the Download document of your browser, it's not similar to any of the eBook formats you have ever encountered, but it's actually very easy to understand. Files with .acsm extension is called Adobe Content Server Message file, it's protected by Adobe Digital Rights Management (DRM), as the name suggests, you should open these files with an Adobe software, which in this case is Adobe Digital Editions (ADE). Other options won't work because an ACSM file is basically a door shielding the information, it's not information itself, and ADE is the only key that can lead you to whatever that's behind the door. Adobe Digital Editions has both Mac and Windows version, and it's free. Go to Adobe official website and download.
After installing ADE, double-click the book in your computer, and naturally ADE will launch. You can also launch ADE manually and drag the desired file onto ADE's icon.
Note that it's better to do this with your Adobe ID authorized, or it will be impossible to read the book on another device once you have switched to another computer.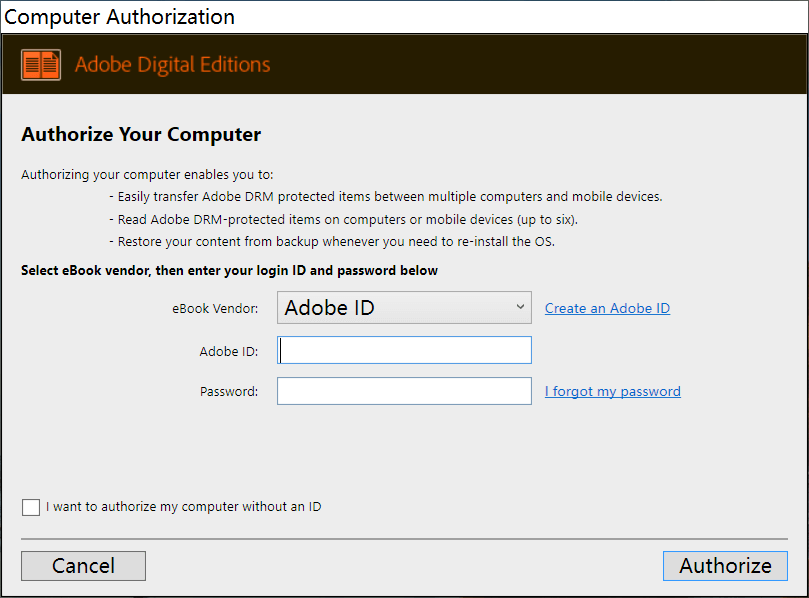 The book that you opened with ADE will produce a downloaded file in EPUB/PDF (depending on the original format of the file) version stored in your computer. It will also appear on bookshelf area on the interface. Right-click the book and click Item Info and you will know where it's stored.
Step 3. Get DRM protected books and know where to read them
After step 2, you will get a downloaded EPUB/PDF, and it's protected by Adobe DRM. It's originally a protection method for eBooks, preventing them from being illegally distributed or piracy. Many major tech companies and book retailers such as Google use Adobe's DRM. In fact, if you are careful enough to check the detail of books in Google Play store, under Content Protection you will more often than not see it reads "This content is DRM protected." It supports most e-readers except for Amazon Kindle.
If you want to read books purchased from Google Play Books on other devices, for example, on your iPhone/iPad with apps like Kindle or Apple Books, you will be disappointed just like those Kindle users. Also, ADE doesn't give you many choices in aspect of formats, with only EPUB and PDF it is not so versatile and practical. Removing DRM can help to cut out the inconvenience.
Step 4. Remove DRM using Epubor Ultimate and read anywhere you like
Now you might ask, how to remove DRM when it's so inconvenient and seemingly complicated? Epubor Ultimate is this quick-to-use software that makes removing DRM almost effortless. You can convert EPUB/PDF with DRM to formats like EPUB, Mobi, AZW3, TXT and PDF (Common font size and large font size). Epubor also supports alternation of meta data, such as the cover/author of the book. You can now download Epubor Ultimate for free on your computer.
Free Download Free Download
After installation is complete, open Epubor Ultimate, then a window will pop up and remind you to register your software, you can do that later if you do like using Epubor. On the interface, normally Epubor will detect devices and display all downloaded books in the left column. The program can also automatically load the books stored in the e-Reading Apps which installed on your computer. The program is for everyone who uses one of the most sold e-Reader brands, like Amazon Kindle (with models like Oasis, Paperwhite and Voyage), Kobo etc. For e-Reading apps, from Kindle (Win/Mac) to ADE and to Kobo, Epubor can always make it work.
If this doesn't come spontaneously, you can also drag books and drop them to the targeted section or click Add to browse all the files on your computer.
Here's how things go when you actually use Epubor to transfer books from Google:
Change the output format and double-click the books in the left column and you are all set — the books are now decrypted, meaning that DRM is successfully removed, now you can have fun reading them on your preferred devices!
The free trial version for Epubor Ultimate can only transfer 20% of the book, if you want to enjoy its full content, you can purchase the software for $29.99 (Mac version) or $24.99 (Windows version).
Free Download Free Download